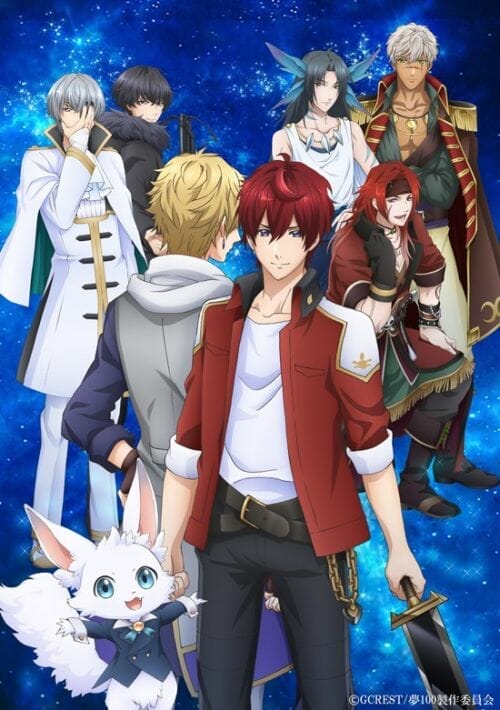 For fans of the smartphone game, this is a dream come true.
Earlier today, HIDIVE announced that they picked up the streaming rights to 100 Sleeping Princes & the Kingdom of Dreams. The publisher will stream the show as a simulcast in the United States, Canada, Australia, New Zealand, and other territories.
The title is slated to launch on July 5, at 3:00PM UTC (11:00AM Eastern, 8:00AM Pacific). New episodes will be added on Thursdays. They describe the series as:
Enter the mysterious Dream World, where a newly-crowned royal soon learns of an insatiable evil, the yumekui, feeding upon the energy and dreams of sleeping princes who are then unable to awaken. The brave monarch must save them and their world from the dream eater!
100 Sleeping Princes and the Kingdom of Dreams will hit Japanese TV on July 5. The full broadcast schedule is as follows (All times JST):
AT-X: 7/5/2018 at 22:30 (7/5/2018 at 10:30PM)
Tokyo MX: 7/5/2018 at 24:00 (7/6/2018 at midnight)
Sun TV: 7/5/2018 at 24:00 (7/6/2018 at midnight)
BS11: 7/5/2018 at 24:30 (7/6/2018 at 12:30AM)
The confirmed voice cast for the project includes:
Heroine: Haruka Kimura
Navi: Daiki Yamashita
Avi: Kenichi Suzumura
Gary: Satoshi Hino
Gilbert: Shinnosuke Tachibana
Douglas: Junichi Suwabe
Rosso: Masakazu Morita
Orion: Takahiro Sakurai
The 100 Sleeping Princes and the Kingdom of Dreams smartphone game launched on iOS and Android in 2015. Since its launch, the title has seen more than four million downloads. A stage adaptation of the game ran from July 21 – 25, 2017.
The title also received a series of web shorts, which ran from March through December of last year. Shin Katagai (My Sweet Tyrant, Neo Angelique Abyss) directed the 10-episode series at Satelight, and co-wrote the scripts with Sayaka Abe.
Source: HIDIVE (Press Release)