A sad tale, viewed in a new light.
Earlier today, the I Want to Eat Your Pancreas (Kimi no Suizō o Tabetai) anime film's official website updated with a new trailer and a key visual. We break the details down below.
Trailer
The 90-second promo features Sumika's opening theme song Shunkashūtō (Spring, Summer, Fall, and Winter) as a background track. The promo introduces the major cast members and offers a preview of their performances.
A new PV for the anime film "Kimi no Suizou wo Tabetai" is now currently streaming. The movie will open in Japanese theaters September 1st (Studio VOLN) https://t.co/ge0A1U2c8R pic.twitter.com/assEM1qma0

— moetron | pKjd (@pkjd818) July 16, 2018
Key Visual
The new visual features the lead character and Sakura Yamauchi standing back to back under the falling cherry blossoms.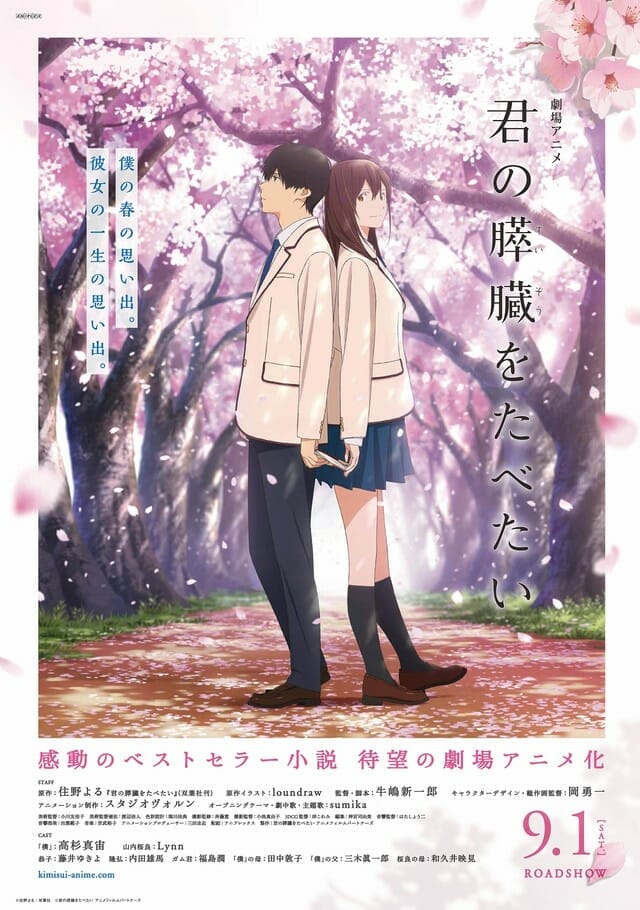 I Want to Eat Your Pancreas hits Japanese theaters on September 1. Aniplex of America holds the rights to the film and will give it a theatrical run in North America.
The project is based on a 2015 novel of the same name by Yoru Sumino. The feature revolves around a high school student, who discovers a "Disease Coexistence Journal" that belongs to his classmate Sakura. As fate would have it, Sakura has just one year to live, as she's fighting pancreatic cancer.
The book follows the narrator's journey through that year and beyond, as he recounts the time he spent with Sakura and (later) Sakura's friend Kyoko.
Shin'ichirō Ushijima is directing the film and writing the scripts at Studio VOLN, with Yūichi Oka (To Love Ru: Darkness, Argevollen) providing character designs.
Sumika will perform opening theme song Shunkashūtō (Spring, Summer, Fall, and Winter). The group will contribute a total of three songs to the feature, in total.
The confirmed voice cast includes:
Sakura Yamauchi: Lynn
Protagonist: Mahiro Takasugi
Kyōko: Yukiyo Fujii
Takahiro: Yūma Uchida
Protagonist's Mother: Atsuko Tanaka
Protagonist's Father: Shinichiro Miki
Gum-kun: Jun Fukushima
I Want to Eat Your Pancreas received a live-action adaptation in 2017, which starred Shun Oguri as the narrator and Keiko Kitagawa as Kyoko.
Source: Comic Natalie