That wait just got four weeks longer.
Earlier today, Sentai Filmworks sent out a notice stating that their Legend of the Galactic Heroes Blu-Ray set will be delayed. The box, which was originally slated to hit stores on July 24, was pushed back to August 24.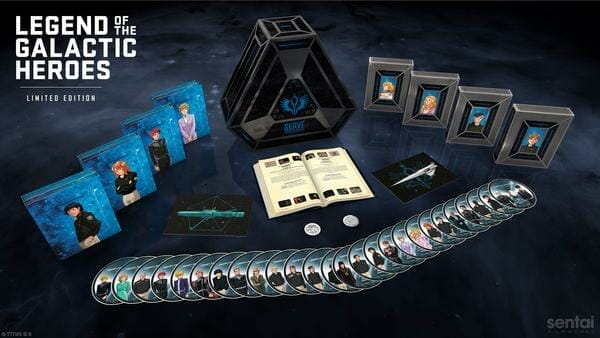 In the email, Sentai explained that they "want to make sure all aspects of this box set are of the highest quality and handled with extra care for the loyal customers of this title." Those affected by the delay also received a code for a free month of the HIDIVE streaming platform.
Sentai Filmworks first unveiled their Legend of the Galactic Heroes Blu-Ray set during their panel at Anime Boston 2018. The set, which will have a 1,000 unit run, retails for $799. Sentai is selling the release directly through their online storefront.
The 26-disc set will include the entire Legend of the Galactic Heroes OVA series, as well as the three films. The box will also include the following:
200-Page Artbook
Metal Collectible Coins
3D Art Cards
Sentai didn't specify digital extras for the set, and explicitly stated that this would be the only home video run for the title.
Legend of the Galactic Heroes is a long-running anime series, based on Yoshiki Tanaka's influential series of sci-fi novels. It was a passion project by late director Noboru Ishiguro (Macross, Megazone 23), and his Artland anime studio. Ishiguro spent over a decade adapting the works as OVAs and theatrical films. Over 100 installments were made between 1988 and 2000.
Sadly, he passed away in 2012, due to a lung infection.
Over the summer of 2015, Sentai Filmworks licensed the Legend of the Galactic Heroes anime series, while Viz Media added the original novels.
Sentai streamed the series on HIDIVE last year, after the publisher announced that they licensed the show in 2015.