This classic rom-com is making its way back in a big way!
Earlier today, Discotek Media hosted their industry panel at Otakon. During the presentation, the company announced that they acquired the rights to Kimagure Orange Road. Discotek will release the the entire series on Blu-Ray in two collections, which will include:
Set 1: Kimagure Orange Road TV (48 Episodes)
set 2: Kimagure Orange Road OVAs (8 Episodes) and Kimagure Orange Road: I Want to Return to That Day Movie
On Twitter, Discotek clarified that they have the rights to "the whole thing, except that one weird new movie," implying that they do not hold the rights to Kimagure Orange Road: Summer's Beginning.
The publisher released a trailer on Twitter, which you can check out below:
Kimagure Orange Road is coming to Blu-Ray! It's the whole thing, except that one weird new movie! (So raise your hand, who guessed this from our hint?) pic.twitter.com/asj9OTtK1j

— ???? Discotek Media at Otakon ???? (@discotekmedia) August 12, 2018
Kimagure Orange Road began airing in the Spring 1987 broadcast season. The 48-episode series was directed by Osamu Kobayashi (Lupin III: Secret Files, Onegai! Samia Don) at Studio Pierrot, with Akemi Takada (Urusei Yatsura, Maison Ikkoku) providing character designs. Kenji Terada (Sakura Diaries, Kenyū Densetsu Yaiba) was in charge of series composition.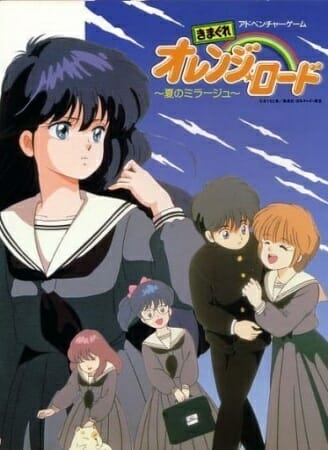 AnimEigo previously released the title in North America. They described the title as:
High School student Kasuga Kyosuke has problems with women. Big time!

First, he thinks he's falling in love with the beautiful and somewhat mysterious Ayukawa Madoka, but he's not at all sure if Madoka feels the same way about him.

Second, he's being pursued by the exceedingly sweet, cute and bubbly Hiyama Hikaru, who has taken to calling him "Darling" and asking him if she'll make a good wife.

The two girls are total opposites – and best friends since childhood. Which means that Kyosuke's love life is somwhat complicated.

But wait – Kyosuke's women troubles are far from over. He's got two bratty sisters to worry about, and his two sex-crazed buddies ar stalking them! And one of the toughest guys in the Karate Club, who is rather annoyed about him "stealing" Hikaru, is stalking him!

Now, Kyosuke does have one thing going for him. Both he and his sisters have inherited the family gift – Paranormal Powers! Teleportation, Telekinesis, Precognition – they can do it all. Unfortunately, if anyone catches them using their Powers, they'll have to leave town. And it turns out that Kyosuke's Powers are much better at getting him into trouble than out of it.

All this means that life is rarely boring (and always hilarious) on KIMAGURE ORANGE ROAD!
Source: Twitter (DiscotekMedia)