It looks like it's time to reveal the pilot of the Narrative Gundam.
Earlier today, the official Mobile Suit Gundam NT (Narrative) anime website updated with new details on the title. The first cast members,a key visual, and several stills were revealed.
We break the details down below.
Trailer
The 30-second trailer cuts between various action scenes, as Hiroyuki Sawano's theme song (vocals by mpi & Gemie) plays as a background track.
Key Visual
The image features Yona Bashuta, Michelle Luio, and Zoltan Akannen posing in front of headshots of the Narrative Gundam and the Sinanju Stein mobile suits.
Cast
The confirmed voice cast includes:
Yona Bashuta: Junya Enoki
Michelle Luio: Tomo Muranaka
Rita Bernal: Ayu Matsuura
Stills
Three stills were shown off, which feature the Narrative Gundam locked in battle.
Premiere
Mobile Suit Gundam Narrative will receive theatrical screenings, with the first episode hitting 90 cinemas on November 30. Tickets will go on sale on November 17. Customers who pre-order their tickets will receive a 20-page "Report-U.C.0097-" document.
Shunichi Yoshizawa will direct Mobile Suit Gundam NT at Sunrise, with Se Jun Kim (Mobile Suit Gundam Twilight AXIS) providing character designs. Harutoshi Fukui (Mobile Suit Gundam UC, Star Blazers: Space Battleship Yamato 2202) is writing the title's screenplay.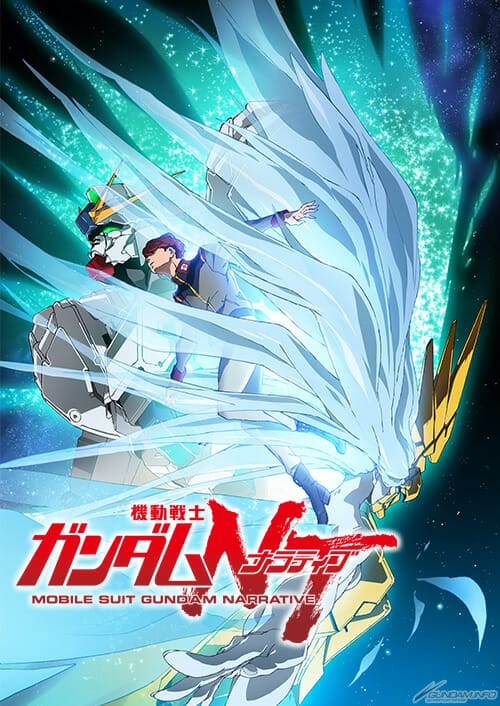 Other confirmed staffers include:
Original Character Design: Kumiko Takahashi
Mechanical Design: Hajime Katoki
Mechanical Design: Eiji Komatsu
Editor: Daisuke Imai
Special Effects Director: Kumiko Taniguchi
Director of Photography: Kentarō Waki
Color Design: Takako Suzuki
Art Director: Yukiko Maruyama
Art Director: Yoshimi Mineda
Sound Director: Eriko Kimura
Music: Hiroyuki Sawano
Original Work: Yoshiyuki Tomino
Original Work: Hajime Yatate
Sunrise describes Mobile Suit Gundam Narrative as:
U.C. 0097, one year after the opening of "Laplace's Box."
Despite the revelation of the Universal Century Charter that acknowledges the existence and rights of Newtypes, the framework of the world has not been greatly altered.

The conflict later dubbed the "Laplace Incident" is thought to have ended with the downfall of the Neo Zeon remnants known as the Sleeves. In its final battle, two full psycho-frame mobile suits displayed power beyond human understanding. The white unicorn and the black lion were sealed away to remove this danger from people's consciousness, and they should now be completely forgotten.

However, the RX-0 Unicorn Gundam 03, which disappeared two years earlier, is now about to show itself in the Earth Sphere once more. A golden phoenix… named Phenex.
Source: Comic Natalie