I hope you guys liked [email protected], because we're in for something similar!
Earlier today, a live event to celebrate the fourth anniversary for The [email protected] SideM was streamed on NicoNico. During the show, it was announced that the [email protected] SideM Wake Atte Mini! manga will receive an anime TV series. An official website was opened for the project, as well as details on the show's crew and theme songs, a key visual, and a trailer.
We break the details down below.
Trailer
The minute-long promo features a narrator explaining the show's main concept, as the video cycles through a series of character visuals.
Visual
A horizontal and vertical version of the key visual were revealed. Both feature a smattering of chibi-styled character visuals, posing against a white, star-spangled background.
Horizontal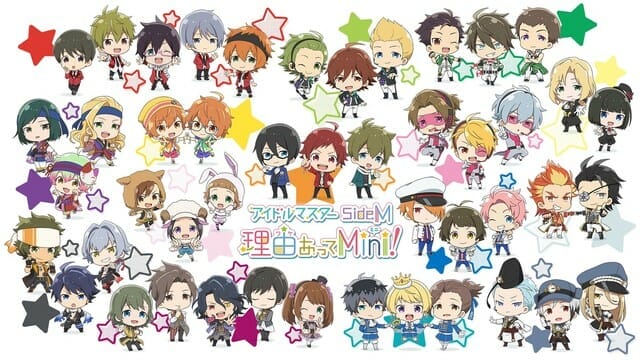 Vertical
Staff
Mankyū ([email protected], Fist of the North Star: Strawberry Flavor) will pull double duty as director and series composition for The [email protected] SideM Wake Atte Mini! at Zero-G. Sao Tamado (Mobile Suit Gundam-san, [email protected]) will provide character designs for the project.
Other confirmed crew members include:
Chief Animation Director: Kazuhiko Yokota
Director of Photography: Kosuke Tanaka
Art Setting: Hiroyuki Ochi
Art Director: Yuuya Kusumoto
Editor: Shun Tokuda
Color Design: Haruko Nobori
Music: EFFY
Music Production: Lantis
Music Director: Takatoshi Hamano
Original Character Design: Sumeragi
Cast
Fifty cast members were confirmed for the project, all of whom will reprise their roles from the original smartphone game:
Kaito Ishikawa as Producer
Teru Tendō: Shugo Nakamura (DRAMATIC STARS)
Tsubasa Kashiwagi: Taku Yashiro (DRAMATIC STARS)
Kaoru Sakuraba: Yūma Uchida (DRAMATIC STARS)
Tōma Amagase: Takuma Terashima (Jupiter)
Shōta Mitarai: Yoshitsugu Matsuoka (Jupiter)
Hokuto Ijūin: Daichi Kanbara (Jupiter)
Rei Kagura: Yuusuke Nagano (Altessimo)
Kei Tsuzuki: Shun'ichi Toki (Altessimo)
Kyōji Takajō: Yuichiro Umehara (Beit)
Pierre: Shun Horie (Beit)
Minori Watanabe: Tomohito Takatsuka (Beit)
Yūsuke Aoi: Takeru Kikuchi (W)
Kyōsuke Aoi: Yoshitaka Yamaya (W)
Hideo Akuno: Kentaro Kumagai (FRAME)
Ryu Kimura: Kento Hama (FRAME)
Seiji Shingen: Takuya Masumoto (FRAME)
Kirio Nekoyanagi: Daiki Yamashita (Aya)
Shoma Hanamura: Yutaka Balletta (Aya)
Kuro Kiyosumi: Yuya Nakada (Aya)
Natsuki Sakaki: Hiroshi Watanabe (High x Joker)
Shiki Iseya: Sho Nogami (High×Joker)
Hayato Akiyama: Shōya Chiba (High×Joker)
Jun Fuyumi: Takuma Nagatsuka (High×Joker)
Haruna Wakazato: Yusuke Shirai(High×Joker)
Suzaku Akai: Takeaki Masuyama (Shinsoku Ikkon)
Genbu Kurono: Toshinari Fukamachi (Shinsoku Ikkon)
Yukihiro Kamiya: Shou Karino (Cafe Parade)
Soichiro Shinonome: Kouhei Amasaki (Cafe Parade)
Asselin BB II: Makoto Furukawa (Cafe Parade)
Makio Uzuki: Takuya Kodama (Cafe Parade)
Saki Mizushima: Daiki Kobayashi (Cafe Parade)
Nao Okamura: Shougo Yano (Mofumofuen)
Shiro Tachibana: Keisuke Furuhata (Mofumofuen)
Kanon Himeno: Ayumu Murase (Mofumofuen)
Michio Hazama: Kento Itou (S.E.M)
Rui Maita: Junya Enoki (S.E.M)
Jiro Yamashita: Yoshiki Nakajima (S.E.M)
Takeru Taiga: Junta Terashima (THE Kogadou)
Ren Kizaki: Shouhei Komatsu (THE Kogadou)
Michiru Enjoji: Daiki Hamano (THE Kogadou)
Ryo Akizuki: Yuko Sanpei (F-LAGS)
Daigo Kabuto: Takehiro Urao (F-LAGS)
Kazuki Tsukumo: Tatsuya Tokutake (F-LAGS)
Amehiko Kuzunoha: Jun Kasama (Legenders)
Sora Kitamura: Fumiyoshi Shioya (Legenders)
Chris Koron: Wataru Komada (Legenders)
Ken Yamamura: Kengo Kawanishi
Takashi Saito: Fumihiko Tashiki
Theme Songs
Three ending themes will be produced for the show. Each will be performed by one of the major idol types: Intelligent, Mental, and Physical. All three songs will get CD singles, which will hit stores on the following dates:
Physical: 11/14/2018
Mental: 12/5/2018
Intelligent: 12/19/2018
Premiere
The [email protected] SideM Wake Atte Mini! will hit Japanese TV on October 9. BS11 and Tokyo MX will both carry the show.
The [email protected] SideM is based on Bandai Namco's mobile game of the same name. The game, which launched in 2014, has seen more than one million downloads since its release.
Sources: Ota-suke, Comic Natalie