Over the past few years, the subscription box has become a staple of the consumer market. Month after month, millions of customers send organizations ten, twenty, even fifty dollars every month for a selection of mystery goodies. Some, like Blue Apron and Japan Crate, promise a new culinary experience. Others, like Birchbox and Stitch Fix, inspire people to explore their inner fashionistas.
Possibly the best-known of these services, though, is Loot Crate: a subscription service that sends a box full of geeky merch and tat to fans' doors, like a personal Santa Claus who gets the overall subculture. Through its six-year existence, Loot Crate has become nearly synonymous with the concept of the subscription box for many. With more than 200,000 subscribers and a seemingly endless supply of goodwill, the service has become a poster child of the trend.
Over the years, numerous services have popped up in the anime niche, all aiming to become that synonymous brand name. Viewster debuted Omakase in 2015, which lasted all of four months before shutting down in March 2016. Right Stuf briefly dabbled into monthly themed boxes in 2017, before quietly shelving the idea.
Enter Anime Bento. Founded in 2015, the service aims to deliver a box of anime-themed goodies, with prices ranging from $20 – $35 per month, depending on the terms of the subscription.
Over the years, Anime Bento has operated mostly under the radar, regularly sending out the monthly bundles of anime to fans worldwide.
In September 2017, though, the organization's Facebook page began to see floods of complaints from angry subscribers. Every post began to see comments from customers alleging that they never received their boxes, often for months at a time. Several cited repeated attempts to work with customer service, to no avail, and their comments often went unanswered on the Anime Bento Facebook page.
Though Anime Bento has posted public apologies for delays, many angry subscribers scoffed, as they claimed waits for boxes that stretched back for up to a year without resolution.
Some posted order numbers, others shipping IDs as they tried to reach some form of resolution with Anime Bento's social media accounts. The result, though, was a consistent radio silence from the company.
Meanwhile, poor reviews began to pile up on Cratejoy, a service that aggregates various subscription boxes, offering a unified storefront and review platform. Customers chronicled difficulties in receiving refunds, and boxes that never seemed to arrive at their homesteads, imploring Cratejoy to take action.
As of press time, Anime Bento stands at just 2.5 stars on the platform.
"I ordered two things from them September 2017," recounts Lattisha, a first-time customer with Anime Bento, "the normal crate and the special large bento, both magical girl themed and a total of $268.72." She noted that she was wary of spending so much on a purchase with the organization, but felt that she did her due diligence. "I watched unboxing videos, found lots of positive reviews, pictures, they'd been around for a while and seemed perfectly legitimate."
Days passed, before she received an update on her purchase. "At first it just wasn't delivered right away, but on [September 12, 2017], there was an email stating that they had some delays and people would start to receive shipping notices on [September 18, 2017]. Then nothing."
"She explained that "They did send me a shipping notice later. I did get a very underwhelming smaller crate, but nothing about the large one. They even sent me tracking for it that never updated."
Florence, another customer, echoed a similar sentiment, explaining that it "took over a month to even hear anything and even longer to receive my package." Her time as a subscriber was short, she explained, as she "did the one month, due to wanting to try it out as a possible reoccurring thing."
A Breakdown in Communication
A common thread could be seen running through many of complaints: Anime Bento had clearly failed to communicate with those affected, or were slow to respond to urgent issues.
A customer, who goes by Emily, explained that "I couldn't contact them through their site because they don't have a help desk or online support like I think they ought to. I had to go through [Facebook]." She recalls that "it went kind of slowly, but things got settled somehow."
"Customer service is a joke," states Florence, a first-time customer with Anime Bento, "I didn't get any updates on anything." She continued, explaining that "[it] took over a month to even hear anything, and even longer to receive my package." She expressed frustration at attempts to reach out to the organization, noting that "honestly, they've never responded."
Customer service is a joke, didn't get any updates on anything. Took over a month to even hear anything and even longer to receive my package.
Florence also noted that she "started seeing problems very early on. Lack of email/Facebook responses," before adding that she "emailed them at least 5-8 times with no response. I've sent Facebook messages with no response. I even told them I'd like a refund. I haven't heard anything back from them."
Lattisha expressed a similar frustration, as she discussed her experiences in trying to reach the organization. She clarified, adding that "the response during this time was nothing," adding that "outside of those two [confirmation] emails, I never received any reply to my tweets, email through customer support, replying to their emails, though Cratejoy, Facebook messages, posts on Facebook, response to commenting on their posts."
She shared more than a dozen emails between us and Anime Bento, which spanned from September through April. Aside from automated replies from the organization's ZenDesk response system, the responses showed a zero replies from Anime Bento.
She was able to receive a refund by appealing to CrateJoy, who hosts a sales portal for Anime Bento. In a follow-up communication, CrateJoy's response offered little hope: "Since each seller on the Cratejoy platform is their own independent business […], that unfortunately puts us in a bit of a bind in regards to what we can do to help," CrateJoy noted in their response. They suggested that Lattisha "reach out to the seller in question, as they'll be the ones who can best assist in these situations," before noting that "some sellers can be either slow to respond, or unresponsive entirely, which is also unacceptable."
Florence added that "They were going to change monthly for something I hadn't received," before noting that "the items I received were subpar and not worth the money."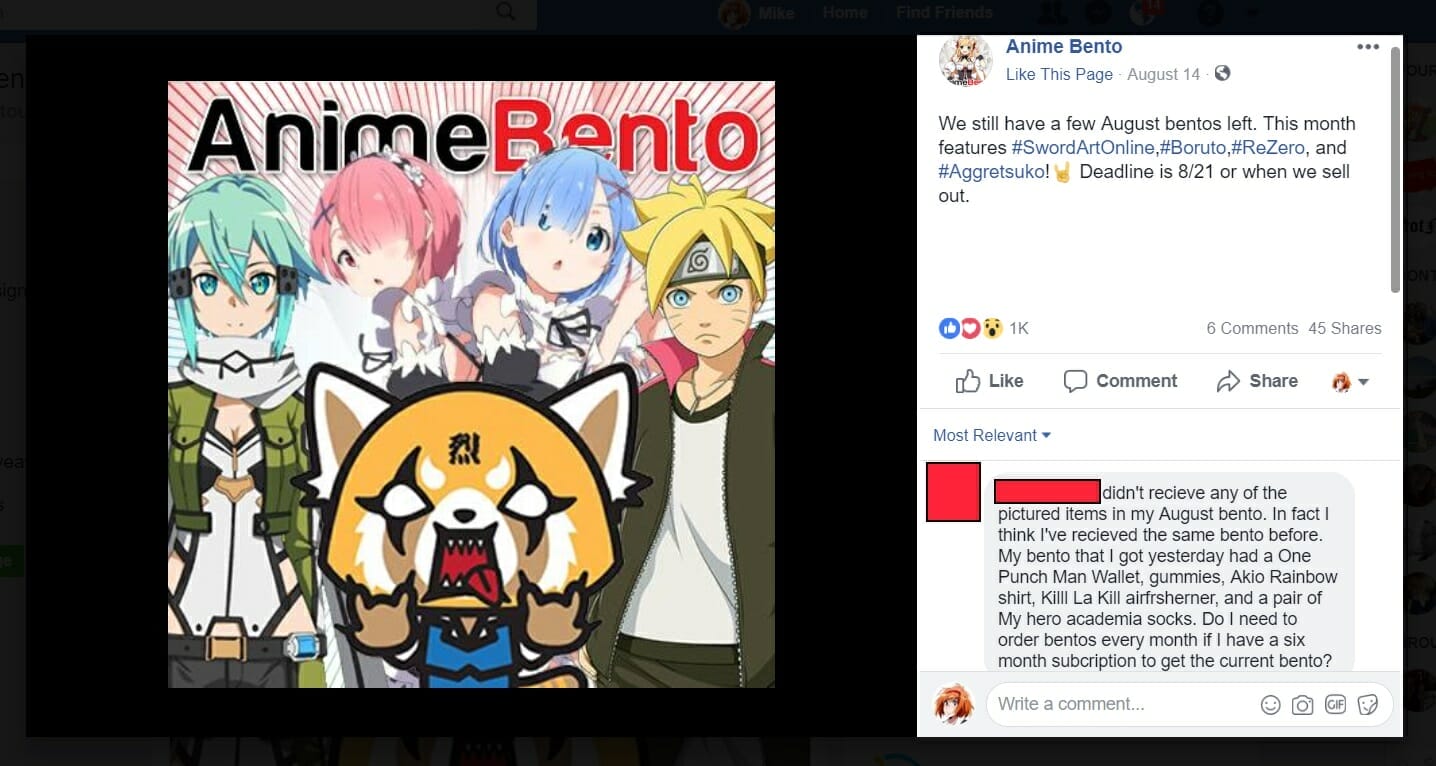 Beyond the Standard Norms
In some cases, meanwhile, customers saw experiences which were beyond the norms of customer service. Katie, a customer from Europe, shared her experience. "I ordered a box to Ireland, and with delivery it came to 60 Euro," she explained, "They never contacted to say it was on the way, so I started emailing them to see, and I wasn't hearing anything from them on Facebook email or Twitter."
Rather than struggle with the usual email and social media channels, Katie explained, "I Googled Anime Bento's number. I got one, [and] I was like 'great i can speak to a real person and see what the story is.'" She explained that she called the number at roughly 1:00PM GMT, or about 7:00AM. "[The call] rang out, and I got this strange answering message. Like a lady talking in a baby voice, like 'hello, not home!'"
She decided to call back an hour later. "This time," Katie explained, "they picked up instantly and [were] screaming 'Hello? Hello? Who is this?" She responded, asking if she had the right number. The voice on the other end, Katie notes, "was screaming 'yes', but you can't call! It's the middle of the night!"
I just asked if it was Anime Bento. She was screaming "yes, but you can't call! It's the middle of the night!"
It was 8:00AM in Texas, where Anime Bento is based.
"I just said, like, 'I'm sorry. I had no idea what time [it was], but can you please respond to my email?' She screamed, and I mean screamed, and I was like 'OK, lady. I'm scared so I'm gonna go."
Katie added "She was like now 'I am late for my son's school.'" Roughly a month later, she added, "some guy called Mark responded to my emails about issuing a refund."
Mea Culpa
Amid the criticism, a current of optimism ran through several customers' commentary. Some saw hopes for Anime Bento to improve. Others relayed tales of redemption from the service, which turned their negatives into positives.
Emily explained that "the site/company isn't bad. It just needs more options," before offering constructive criticism for Anime Bento. In particular, she singled out "better site navigation and a help desk/online chat support system."
Another user, who wished to remain anonymous, shared her own experiences in dealing with the service. "When I first ordered with them," they began, "I was okay-ish with the Black Butler product that was in the bundle. I'm not a real fan of Claude and Alois from Black Butler II." They explained that they unsubscribed for personal reasons, though one particular box caught their eye.
"I get an e-mail stating that the September [2017] batch included Yuri!!! On ICE, and I recently got into Yuri!!! On ICE." They renewed their subscription, and "I also ordered myself a Chibi Bento which was okay," noting that the "Chibi Bento" arrived on-time.
The normal box, though, was pushed back, they explained. "I received an email stating that September's box was delayed […] After quite a bit of time, I emailed them and inquired as to what was going on." They confirmed that they received a response from a customer service representative named Melissa, who confirmed that the order was still on back-order."
During that period, the user renewed their account for October, which they are still waiting on, and explained that their experiences echoed the radio silence that numerous others had experienced. "I unsubbed to them after never hearing word about September's bento. I kept emailing, nothing. I hear there was a phone number and that I honestly never knew."
The user wouldn't hear from Anime Bento for some time, until they "got an e-mail from the founder stating an apology, what they were going to change and assured us that the owed bentos would be shipped out soon." A resolution appeared imminent. "Then in February, I get an email stating that my bento was shipped, but it kept saying that USPS was waiting to receive the package. I messaged them on Facebook and someone gets back to me and states that they'll be putting together another bento with extras."
Anime Bento made good on their words, the customer explained. "A new tracking number was then issued to me. As soon as it said it was delivered, I went down to the place where mail is dropped off and I see a big box labeled, "Anime Bento Plus+ Shonen Box". I took it upstairs, did an unboxing video and was definitely blown away with what I received."
I took it upstairs, did an unboxing video and was definitely blown away with what I received.
We reached out to Anime Bento in May 2018, both via email and social media. On August 15, after more than three months of repeated attempts to receive comment on comments from customers, the organization offered the following response:
Hello Samantha,

This is Michael with Anime Bento and I am the new lead for the Customer Service Department. We apologize for the delay in a response. Sadly there has not been someone handling issues for quite some time, but we are on task now. Thank you for bringing your reader's issues to light and I am here to inform you that we will be taking all concerns seriously. As for a potential interview with our management team, we are still in the process of getting back on our feet after a turbulent time. We will work with our management team in order to discuss a potential interview to field all questions and statements.

Thank you for contacting us and we will be in touch.
We have not received a reply since we sent our response the following morning.

Our Thanks
Since we've learned about this topic, we've begun reaching out to folks who have been discussing the platform on Anime Bento's social media channels, many of whom expressed frustration with the service. We would like to thank all of those who spoke with us and shared their experiences, as well as Florence, Lattisha, Emily, Katie, and the anonymous customer who agreed to go on-record.
I'd also like to extend my thanks to Yatta-tachi editor-in-chief Katy Castillo, who brought the issue to my attention in April.
Support Anime Herald on Patreon
For just $1 a month, you can help Anime Herald grow into the biggest and best destination for all things anime related. Don't think it's just a donation, though! Backers get a number of perks, including behind-the-scenes articles, Director's Cut versions of classic content, early podcast access, and more!