Yes, this is the game from the studio that allegedly pulled an artist's work over Twitter likes.
Earlier today, Azur Lane fans flocked to the "Azur Lane 1st Anniversary Important Announcement Stage" fan event. During the show, news broke that an Azur Lane anime TV series is in the works. The main staff, as well as a trailer were revealed during the show. We break the details down below.
Trailer
The 30-second trailer offers brief snippets of animation, with text overlain. The text confirms the staff and the fact that Bibury is animating the project.
Staff
Tensho (Kinmoza!, The Fruit of Grisaia) will direct the project at Bibury Animation Studio, with Jin Haganeya (Demonbane, Guilty Crown) taking charge of series composition.
Other News
The smartphone game will host a collaboration event with Utawarerumono, which will see Kuon, Nekone, and Rurutie, among others joining the title.
The event also confirmed that a new manga based on the project will launch in Monthly Comic Rex on October 26. The project, titled Azur Lane Queen's Orders, will be a slice-of-life series by Tsuchii.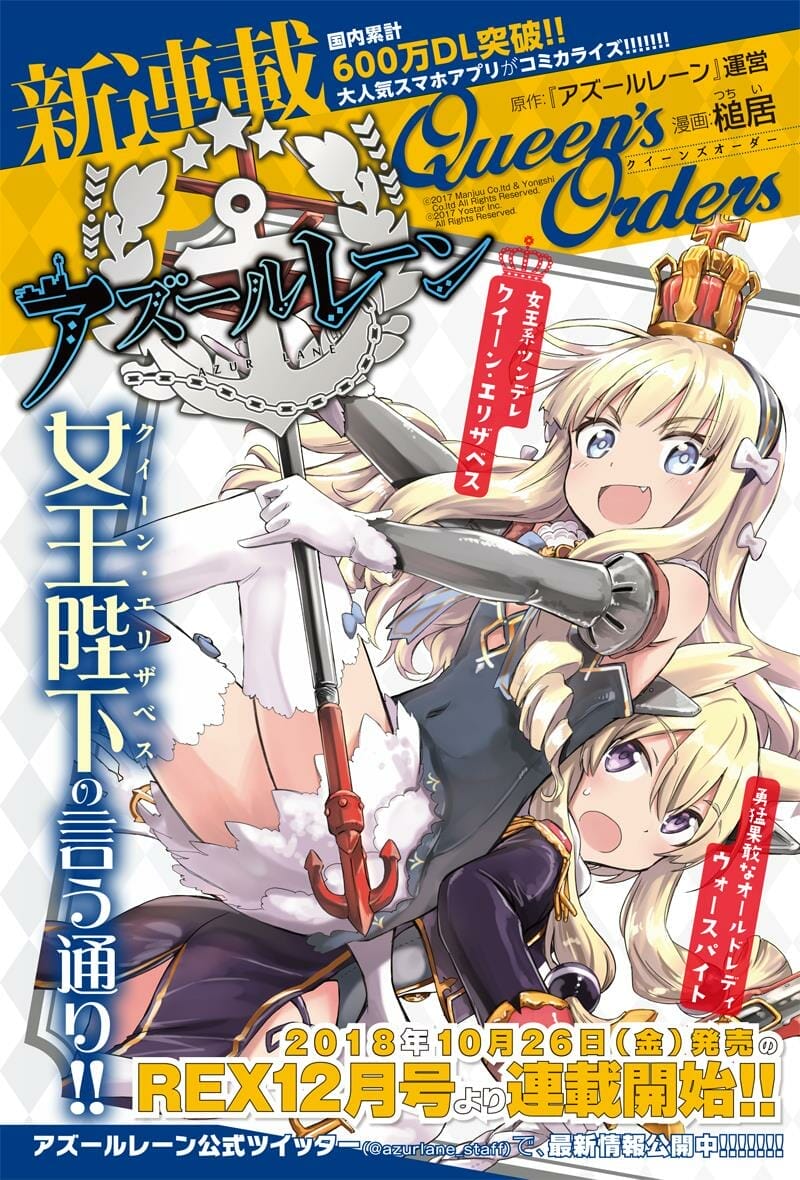 Azur Lane is a Chinese mobile game from publisher Bilibili, and developers Shanghai Manjuu and Xiamen Yongshi. The game launched in China on May 25, 2017. Shanghai Yostar published the title on September 14, 2017 in Japan.
The title currently enjoys more than six million downloads to date, with an English version by Shanghai Yostar currently in open beta in the United States and Canada. Shanghai Yostar describes the title as:
Azur Lane features an interactive combat system that combines the best of strategy and 2D shooter games. Players must command a flotilla, divided into two parts: the Vanguard Fleet and the Main Fleet. While the Vanguard is responsible for striking and clearing operations, the Main Fleet must focus on fire support and dealing damage to enemy ships. Strategy is key, and players must build their fleets carefully to succeed on the high seas. Players can strengthen their fleets from the base via the Academy and Dorms, where they can earn experience points, buy items from the shop, or improve their skills in the Classroom.
Sources: Ota-suke, Otakomu, Yaraon! (Thanks to Brian Auxier for the tip!)