Retail Price: $799.98
Publisher: Sentai Filmworks
Is This a Review Copy?: No
What is it?
Legend of the Galactic Heroes is a cult classic sci-fi series. This long-running OVA, which is based on Yoshiki Tanaka's novels of the same name, was a labor of love from late director Noboru Ishiguro (Space Battleship Yamato, Super Dimension Fortress Macross). 162-episode series was produced by studio Artland, and ran from 1988 through 2001.
Over the years, the title earned high praise from fans across the globe, for its brilliant writing, charming characters, and gorgeous animation. The series is an epic, in the literal sense, tracing the horrors of war, as two empires rise and fall, and the people within both sides of the conflict face the impact of their rulers' decisions head-on. And it's through this lens that the team was able to deliver a series that is both grandiose, yet subtle, able to tackle the great space battles while highlighting experiences that hit remarkably close to home.
Unfortunately, due to licensing issues, the title was doomed to remain a firm part of the fansub circuit. Attempts were made to gauge interest by several entities, including licensor Wright Staff, who famously tested the waters with a possible $2,000 DVD set in 2003. Unfortunately, these were never meant to be.
In 2015, Sentai Filmworks achieved what many thought was impossible. They announced that they picked up the rights to Legend of the Galactic Heroes in its entirety. The series would go on to join HIDIVE's lineup in the months that followed.
At Anime Boston 2018, Sentai announced that they would finally release the series on Blu-Ray in a massive, 26-disc set. The entire OVA, plus the three feature films would be included in a massive, 26-disc collection that would only see 1,000 units produced.
What's in the Box?
Legend of the Galactic Heroes Blu-Ray Sets 1-4
Companion Book (200 Pages)
Art Cards (2)
Coins (2)
Metal Certificate of Authenticity
Extra Features
Package Shot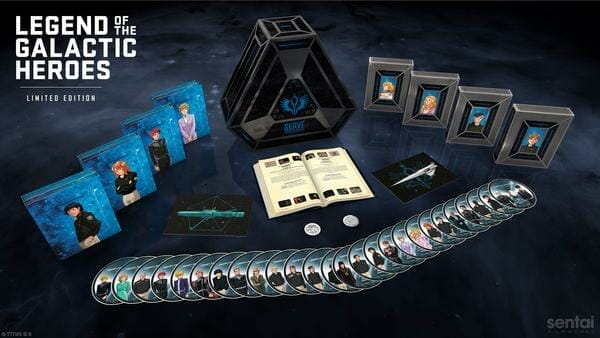 Boxart Blurb
For over one hundred and fifty years, the Galactic Empire and the Free Planets Alliance have been at war. Despite millions of lives expended and planets laid to waste, neither side has scored a final, decisive victory. However, in the vastness of space, the power of a fighting force is only as effective as the mind behind it. In the Empire, that mind belongs to rising star Reinhard von Lohengramm, a young, upstart, strategic genius with his own agenda. Standing against him, is the Alliance's own rising wunderkind, Yang Wen-li, a historian whose tactical brilliance catapults him into the Alliance vanguard. As a game of chess is played across the universe with millions of living pieces, fleets will burn and entire armies will fall in one the most acclaimed masterpieces in the history of anime, LEGEND OF THE GALACTIC HEROES!
Screenshots
Where to Get It: