A new trailer for this series? Unconceivable!
Earlier today, the official Conception: Ore no Kodomo wo Undekure! (Conception: Please Give Birth to My Child!) anime website updated with a new teaser trailer. The 30-second promo cuts between various animation snippets, as theme song Star light, Star bright by Nano plays as a background track.
Conception: Ore no Kodomo wo Undekure! will air on Sun TV, BS 11, Tokyo MX starting October 9. Sun TV and BS11 will air the series at 25:30 (10/10/2018 at 1:30AM), while Tokyo MX's broadcast will start ten minutes later, at 25:40.
Keitaro Motonaga (Digimon Adventure tri., Jormungand) is directing the series at Gonzo, with Yousuke Okuda (Is the order a rabbit?, Blend S) providing character designs. Yuuko Kakihara (Digimon Adventure tri., Persona 4: The Animation) is in charge of series composition for the project.
Nano will perform opening theme song Star light, Star bright, while Manami Numakura handles closing theme Desires.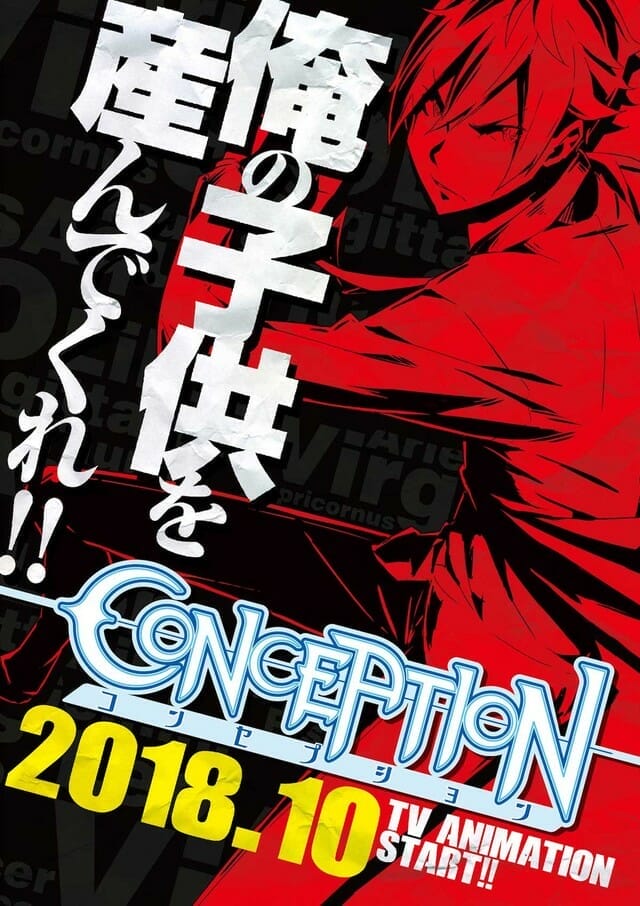 The series will star the following:
Itsuki Yuge: Yuuki Ono
Mahiru Konatsuki: Emiri Katō
Aly: Aya Endo
Femiruna: Saki Fujita
Collette: Asami Shimoda
Yuzuha: Yukiyo Fujii
Ruka: Makiko Ohmoto
Reone: Yuriko Yamaguchi
Falun: Kazusa Aranami
Tarua: Riho Sugiyama
Liris: Kana Asumi
Lirie: Kana Asumi
Mirei: Sanae Kobayashi
Sue: Eri Kitamura
Mana: Yurin
Shangri-la: Kenichirou Matsuda
Narcisstes: Daisuke Hirakawa
The original Conception: Ore no Kodomo o Undekure! video game launched on Sony's PSP handheld on April 26, 2012. In its opening week, the title moved 29,846 units, which was enough to secure fifth place on Media Create's weekly sales charts.
The game received a sequel, titled Conception II: Children of the Seven Stars, on August 22, 2013. The game was sold via the Nintendo 3DS, PlayStation 4, PlayStation Vita, and Steam. Atlus released the title in North America in April 2014.
Source: Animate Times