Get your hype on, folks, because the circus is officially in town!
Earlier today, the official Karakuri Circus anime website updated with a new key visual. The image features the main characters posing before glowing crimson background. The profiles of malevolent forces can be seen looming above them.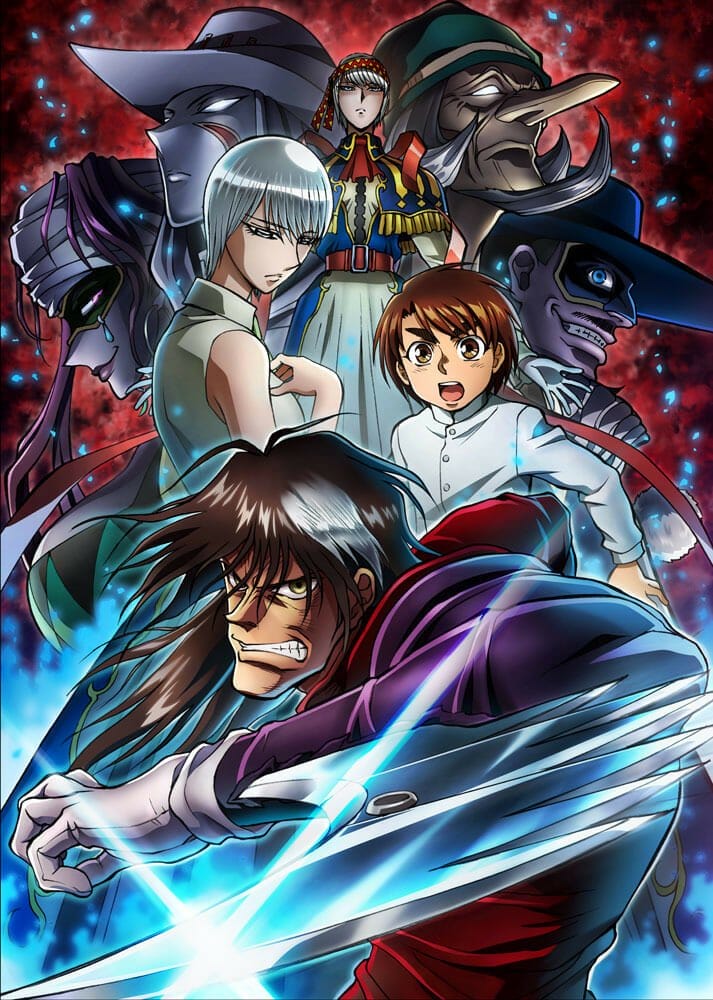 Karakuri Circus will hit Japanese TV on October 11. The full broadcast schedule is as follows (All times JST):
Tokyo MX: 10/11/2018 at 22:30 (10/11/2018 at 10:30PM)
BS11: 10/11/2018 at 24:00 (10/12/2018 at Midnight)
Amazon is listed as the exclusive digital distributor for the series worldwide.
Satoshi Nishimura (Trigun, Hajime no Ippo) will direct the project at VOLN, with Takahiro Yoshimatsu (Future GPX Cyber Formula, Trigun) providing character designs. Original creator Kazuhiro Fujita and Toshiki Inoue (Death Note, Ushio & Tora) will team up to tackle series composition.
Yuuki Hayashi will score the show's soundtrack. Bump of Chicken will perform opening theme song Tsukiniji (Lunar Rainbow).
Twin Engine is listed on general production.
The confirmed voice cast includes:
Masaru Saiga: Chihiro Ueda
Shirogane Saiga: Megumi Hayashibara
Narumi Katō: Rikiya Koyama
Eiryō Ashihana: Takahiro Sakurai
Gii Christoph Resh: Nozomu Sasaki
Taranda Rizerotte Tachibana: Tomoyo Kurosawa
Viruma Thorn: Marina Inoue
Nobuo Nakamachi: Hisao Egawa
Noriyuki Nakamachi: Ryōta Iwasaki
Hirō Nakamachi: Kaito Ishikawa
Shoji Saiga: Masahiko Tanaka
Yoshiharu Saiga: Akio Ohtsuka
Lucille Bernouille: Romi Park
Kazuhiro Fujita's Karakuri Circus manga launched in the pages of Shogakukan's Weekly Shonen Sunday in 1997. The series ran through 2006, spanning 43 compiled volumes.
Anime resource Anime Planet describes the title as:
Masaru Saiga is a fifth-grade boy who aims to become a puppeteer. After Sadayoshi Saiga — the CEO of the giant home telephone maker Saiga and Masaru's father — passes away, Masaru inherits 18 billion yen. Masaru is targeted for his wealth, and is saved by two people. Narumi Katō is a man who has studied Kung-Fu and has a weird illness called "Zonapha Syndrome," and Shirogane is a silver-haired woman who controls the puppet "Arurukan" (Harlequin). Together, Masaru, Narumi, and Shirogane get thrown into various conspiracies by those who would try to steal Masaru's fortune.
Source: Anime! Anime!
Update 10/11/2018: This is embarrassing. We accidentally listed this as a trailer in the headline. This was not intentional, and we have updated our headline to reflect the new value. Apologies for the inconvenience.