Though it may seem that the Yamato's journey is nearing its end, things are just beginning.
Earlier today, the Space Battleship Yamato 2202 anime film franchise's official website updated with a new teaser video for upcoming sixth film Space Battleship 2202: Warriors of Love: Kaisei-hen (Regeneration Chapter). The new promo includes the first eleven minutes of the film in their entirety.
A second promo video was also released, which provides a digest of major events of the first five films.
Space Battleship 2202: Warriors of Love: Kaisei-hen will screen in 35 theaters across Japan on November 2.
The fifth film, Space Battleship Yamato 2202: Warriors of Love: Rengoku-hen opened in Japanese theaters on May 25. Seven films are currently planned in the saga, which tells the tale of the Yamato after its safe arrival at Iscandar.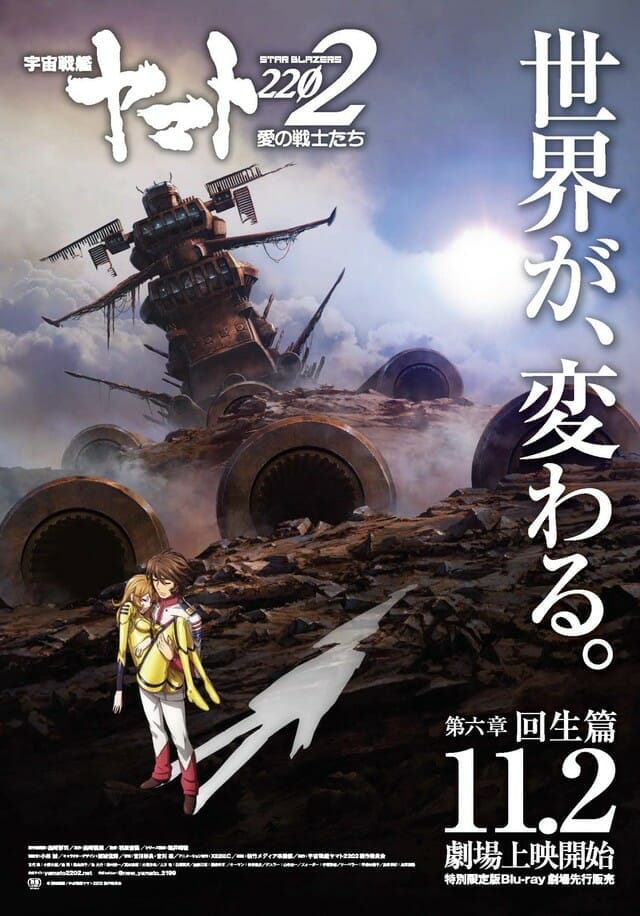 Nobuyoshi Habara (D.N.Angel, Fafner) is directing the project at Xebec, with Nobuteru Yuki (Vision of Escaflowne, Orange) providing character designs. Harutoshi Fukui (Mobile Suit Gundam UC) is in charge of series composition for the movies.
Akira Miyagawa is scoring the soundtracks for the films.
The confirmed voice cast includes:
Susumu Kodai: Daisuke Ono
Yuki Mori: Houko Kuwashima
Daisuke Shima: Kenichi Suzumura
Kaoru Niimi: Aya Hisakawa
Mikage Kiryu: Eriko Nakamura
Zwordar: Hideaki Tezuka
Hajime Saito: Hiroki Touchi
Klaus Keyman: Hiroshi Kamiya
Susumu Yamazaki: Hiroshi Tsuchida
Shirō Sanada: Houchu Ohtsuka
Yasuo Nanbu: Kenji Akabane
Isami Enomoto: Kenjiro Tsuda
Lauren Barel: Masaki Terasoma
Osamu Yamanami: Masashi Ebara
Yoshikazu Aihara: Masato Kokubun
Hikozaemon Tokugawa: Mugihito
Akira Yamamoto: Rie Tanaka
Teresa: Sayaka Kanda
Dr. Sakezō Sado: Shigeru Chiba
Kotetsu Serizawa: Tesshō Genda
Heikuro Todo: Toshihiko Kojima
Ryu Hijikata: Unshō Ishizuka
Sifar Sabera: Yuko Kaida
Kenjiro Ota: Yuuki Chiba
Yuria Misaki: Aya Uchida
Shiori Nagakura: Kazusa Amagai
Jiro Tsurumi: Keisuke Koumoto
Miki Saijo: Satomi Moriya
Juzo Okita: Takayuki Sugo
Earth Federation President: Yuji Mikimoto
Mina Ichinose: Tomoyo Kurosawa
Saki Tōdō: Ayahi Takagaki
Shuntarō Yasuda: Isao Sasaki
Sources: MoCa News