So, will be be calling it the arse dance this time?
On November 2, the official Crayon Shin-chan anime website updated with the first details on 2019 film Eiga Crayon Shin-chan Shinkon Ryokō Harikēn ~ Ushinawareta Hiroshi ~ (Crayon Shin Chan The Movie: Honeymoon Travel Hurricane ~ Lost Hiroshi ~). The first trailer, key visual, and staffers were announced for the project.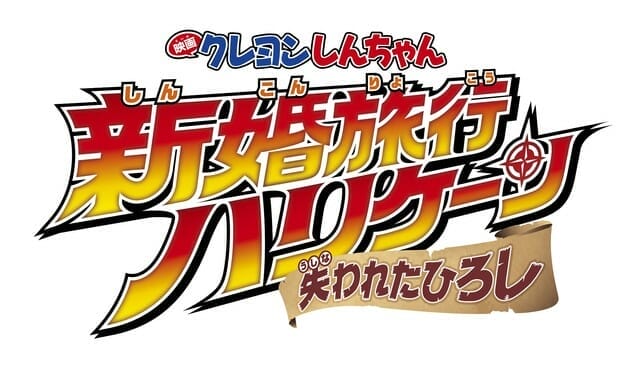 We break the details down below.
Trailer
The 27-second teaser opens with the Nohara family playing in a pool of water, surrounded by koalas and kangaroos. Hiroshi and Misae are wearing a tux and wedding dress, respectively. Suddenly, Hiroshi is shown strapped to a chair on top of a massive wedding cake, which is flying away. The scene cuts to Shin, dressed in outback explorer gear, as he stands on a dimly lit cliff side.
Key Visual
The image features Shin-chan dashing toward the camera, clad in his outback explorer outfit, as he outruns a boulder.
Staff
Masakazu Hashimoto (Professor Layton and the Eternal Diva, Eiga Crayon Shin-chan Shūrai! Uchūjin Shiriri) will direct the film at Shin-Ei Animation, with Kimiko Ueno (Mysterious Joker 2, Eiga Crayon Shin-chan Bakumori! Kung-Fu Boys ~Ramen Tairan~) and Munenori Mizuno (Doraemon, Midnight Crazy Trail) writing the script. Shin-Ei Animation, TV Asahi, ADK, and Futabasha are listed with Production credits.
The film will mainly be set in Australia, with the Nohara getting there because Misae and Hiroshi never went on an actual honeymoon. They end up picking up a discount honeymoon tour, which welcomes families. Though this should be another uneventful trip for the family, Hiroshi is kidnapped shortly after the family's arrival as he's key to the "treasure of treasures." He ends up being kidnapped, which leads Shin to depart on his own adventure to rescue his dad. To do so, he has to brave mysterious masks, as well as a gang of Hiroshi Treasure Hunters from across the globe.
Source: Comic Natalie