Just as a reminder: This is a Kunihiko Ikuhara work.
Earlier today, a live streaming event for Sarazanmai was held at the Animate Girls Festival 2018 event. During the show, the first plot details, plus a key visual and new character designs were revealed for the series.
We break the details down below.
Key Visual
The image features a photo of the Sumida River, taken from an overlook of the Asakusa skyline. The main cast can be seen going about their business across the area.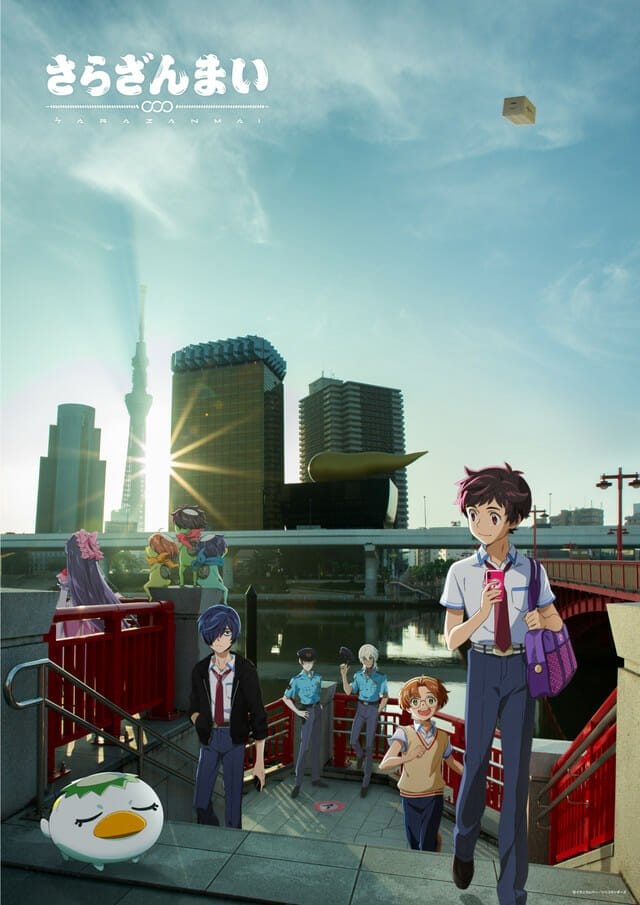 Character Designs
Visuals for the main cast, plus the kappa forms for Kazuki, Yū, and Enta were revealed.
Story
The series is set in Tokyo's Asakusa ward. It's here that a trio of second-year junior high students encounter a strange creature named Keppi, who calls himself the King of the Kappa. The three boys students are transformed into kappa, themselves, after Keppi steals their shirikodama.
With his soul in hand, Keppi proclaims that "If you want to go back to your former selves, you need to come together in 'that way.' Together you must obtain and bring back the shirikodama of zombies." Will the boys be able to conquer this challenge?
Meanwhile, something was going down at the police box for officers Reo Shinsei and Mabu Akutsu…
Editor's Note: A shirikodama is a mythical organ said to contain a person's soul. Kappa remove this organ by extracting it from the victim's anus.
Sarazanmai will air on Fuji TV's NoitaminA Block in April 2019. As a reminder, Amazon currently holds the exclusive digital rights to all NoitaminA titles for the foreseeable future.
Kunihiko Ikuhara (Revolutionary Girl Utena, Yurikuma Arashi) will direct the project at studios Mappa an Lapin Track, with Kayoko Ishikawa providing of character designs. The team of Teruko Utsumi and Kunihiko Ikuhara will take charge of series composition.
Other confirmed crew members include:
Original Concept: Ikunirappa
Chief Director: Nobuyuki Takeuchi
Original Character Design: Miggy
Chief Animation Director: Kayoko Ishikawa
Conceptual Designs: Katsunori Shibata
Conceptual Designs: Maimu Matsushima
Art Director: Ayaka Fuji (Studio Pablo)
Background: Ayaka Fuji (Studio Pablo)
Music: Yukari Hashimoto
The confirmed voice cast includes:
Kazuki Yasaka: Ayumu Murase
Yū Kuji: Kouki Uchiyama
Enta Jinnouchi: Shun Horie
Keppi: Junichi Suwabe
Reo Shinsei: Mamoru Miyano
Mabu Akutsu: Yoshimasa Hosoya
This is the first original project from Kunihiko Ikuhara since his 2015's Yurikuma Arashi.
Ikuhara, himself, has been active in the anime industry since 1986. He started his career at Toei Animation, where he cut his teeth as assistant director on shows like Maple Town Monogatari and Akuma-kun.
Ikuhara received his big break in 1993, when he took the director's chair for Sailor Moon R and Sailor Moon S.
In 1996, Ikuhara left Toei to form the Be-PaPas creative group with manga artist Chiho Saito, animator Hasegawa Shinya, producer Okuro Yuuichiro, and writer writer Yōji Enokido. The collective crafted Revolutionary Girl Utena, which consisted of a manga by Saito and an anime that Ikuhara directed at J.C. Staff.
Following the Utena franchise, Ikuhara collaborated on manga title The World Exists for Me and novel Schell Bullet. He also served as supervisor for the English dub for Revolutionary Girl Utena: The Movie – Adolescence of Utena.
In 2011, Ikuhara returned to the director's chair with Mawaru Penguindrum. In 2015, he directed and took charge of series composition for Yurikuma Arashi.
Source: Comic Natalie