His work moved us, and his writings inspired us… you will certainly be missed.
Earlier today, Roz Gibson announced that anime industry pioneer Fred Patten passed away. He was 77. According to Gibson, he was found unresponsive on November 1, and did not regain consciousness. He was pronounced dead on November 12.
Patten is survived by his sisters, Loel Anne and Sherrill Clare.
Patten was a pioneer in anime and manga fandom. He discovered the medium in 1970, at Westercon. Through his Graphic Story Bookshop, which Patten co-founded in 1972 with Richard Kyle, he began importing manga for sale from various publishers, and ultimatley went on to co-found the Cartoon/Fantasy Organization, which is recognized as the first American anime fan club, in 1977.
In 1991, Patten joined Jerry Beck and Carl Macek's Streamline Pictures as the organization's first employee. He stayed with the organization until 2002, and worked as a story editor on the English dubs for numerous prominent titles. His credits include Lupin the III: The Mystery of Mamo, Lupin III: The Castle of Cagliostro, Dirty Pair: Flight 005 Conspiracy, Barefoot Gen, and Casshan: Robot Hunter Casshern.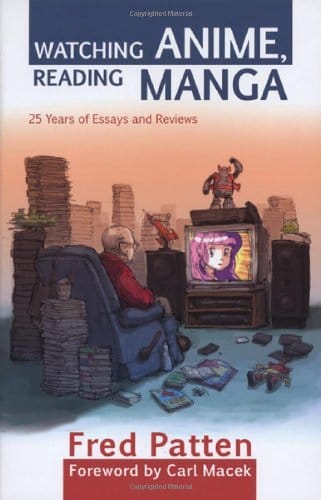 In addition, Patten was a prolific writer and essayist, who contributed columns across the anime, manga, science-fiction, fantasy, and furry fandoms. In the anime world, he wrote monthly columns and regular articles for publications such as Newtype USA, Animation World Magazine, and the Comics Buyer's Guide.
In 2004, Patten partnered with Stone Bridge Press to publish Watching Anime, Reading Manga: 25 Years of Essays and Reviews: a collection of his essays from across his quarter-century career. He suffered a stroke a year later, in 2005, but would go on to contribute to the anime and manga subcultures until this year.
Patten presented at conventions, as well as universities across the United States and Australia, and would go on to win the Inkpot Award in 1980.
We offer our deepest condolences to Mr. Patten's family and friends.
Sources: Twitter (griffinranger), Twitter (Otaku_USA)
Editor's Note: It's rare for me to get emotional in a news report, but this one hits incredibly hard. Fred Patten was a driving force for so many of us older fans… he was an inspiration for many of us. His sharp wit and brilliant writings drew us in, and his years of experience gave a weight to his words that none of us could dream of mustering.
Without Fred Patten, we wouldn't be here today… our culture, our fanbase… it'd be so different, and so worse off. Yesterday, the world lost a visionary, and a mentor… but most of all, we lost a true elder within our midst. Farewell, Mr. Patten… thank you, for everything.