Earlier today, Crunchyroll announced that they are co-publishing mobile game Bungo Stray Dogs: Tales of the Lost with publisher Ambition. The title is available for iOS and Android on Apple's App Store and Google's Play Store, respectively in North America, Europe, Oceania, and Asia.
For the launch, Crunchyroll added content from the game's second season, as well as other new content updates. The company revealed a new teaser trailer, as well as several promotional visuals and a gameplay screenshot. We break the details down below.
Trailer
The 30-second teaser flies through several gameplay clips, as a hard rock piece plays in the background.
Visuals
Screenshot
The new still features a shot of the game's battle system.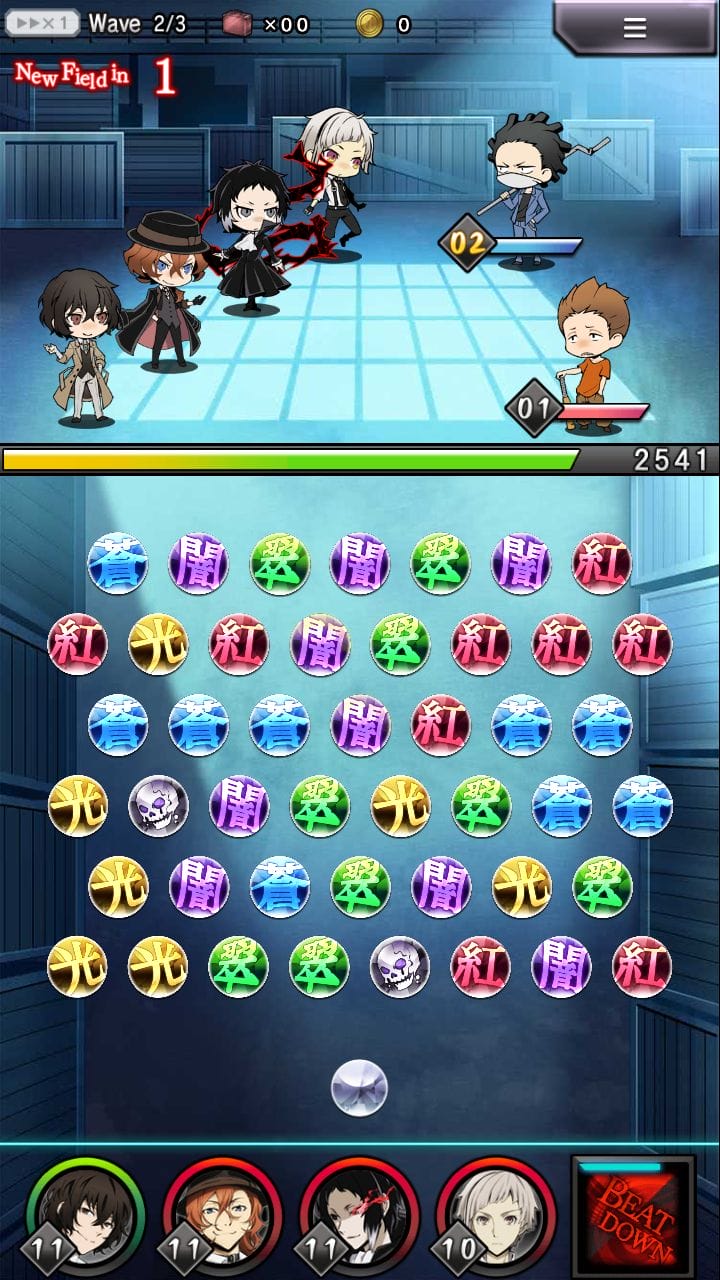 The project is Crunchyroll Games's second release, after Is It Wrong to Try to Pick Up Girls in a Dungeon? — MEMORIA FREESE —, which launched in March.
Bungo Stray Dogs: Tales of the Lost originally debuted on English app stores on July 4 via publisher Ambition. The title, which is billed as a "free-to-play mobile bubble shooter RPG", features the original voice cast from the Bungo Stray Dogs anime, as well as game-exclusive plotlines and new characters.
The title is based on Kafka Asagiri (writer) and Sango Harukawa's (artist) Bungo Stray Dogs manga.
The Bungo Stray Dogs manga received an anime adaptation, which hit Japanese TV in the Spring 2016 broadcast season. Takuya Igarashi (Captain Earth, Ouran High School Host Club) helmed the project at Bones, while Nobuhiro Arai (Chaika – The Coffin Princess) provides character designs. Yoji Enokido (Melody of Oblivion, Ouran High School Host Club) was in charge of the show's scripts.
Crunchyroll describes the show as:
Kicked out of his orphanage and on the verge of starving to death, Nakajima Atsushi meets some strange men. One of them, Dazai Osamu, is a suicidal man attempting to drown himself in broad daylight. The other, bespectacled Kunikida Doppo, nervously stands by flipping through a notepad. Both are members of the "Armed Detective Agency" said to solve incidents that even the military and police won't touch. Atsushi ends up accompanying them on a mission to eliminate a man-eating tiger that's been terrorizing the population…
The series received a feature film, Bungo Stray Dogs: Dead Apple, which hit Japanese theaters on March 3.
Takuya Igarashi returned to the director's chair at Bones for the project, with Nobuhiro Arai reprising their roles of character designer and chief animation director. Yoji Enokido, who handled series composition for the original TV series, co-wrote the feature with original creator Kafka Asagiri.
Source: Crunchyroll (Email Communication)