Just to be clear, this is not related to Saint Seiya Saintia Sho.
Earlier today, Netflix hosted their "Netflix Anime Lineup Presentation" at Tokyo's Akiba Theater. During the event, the publisher showed off a new detail for upcoming anime Saint Seiya: Knights of the Zodiac.
The image features Pegasus Seiya, posing with his fist extended toward the camera.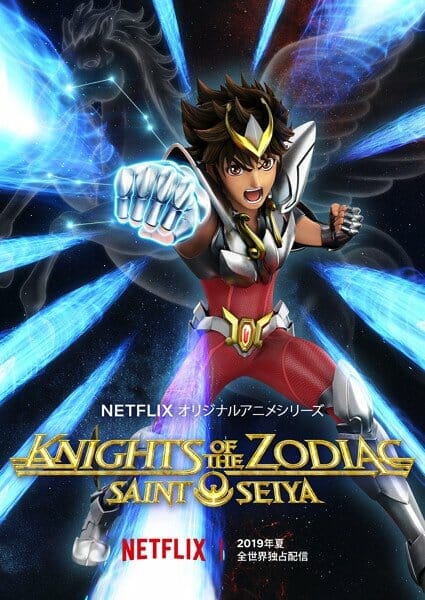 Saint Seiya: Knights of the Zodiac will hit Netflix in Summer 2019.
Yoshiharu Ashino (D.Gray-man Hallow, Tweeny Witches) is directing the project at Toei Animation, with Terumi Nishii (JoJo's Bizarre Adventure: Diamond Is Unbreakable, Penguindrum) providing character designs. Eugene Son (B-Legend! Battle Bedaman, Duel Masters) is working as Story Editor and Head writer on the title, while Takashi Okazaki provides armor designs ("Saint Cloth Design").
Netflix describes the series as:
SAINT SEIYA: Knights of the Zodiac follows modern-day adventures of young warriors called "Knights", who are sworn protectors of the reincarnated Greek goddess Athena. Each Knight wears a powerful armor based on their chosen zodiac constellation, and are called Knights of the Zodiac. They aid Athena in her battle against powerful Olympian gods who are bent on destroying the humankind.
Masami Kurumada's Saint Seiya manga kicked off in the pages of Shueisha's Weekly Shōnen Jump in January 1986. The series ran through 1990, and spans 28 collected volumes.
The series spawned a 114-episode anime series from Toei, which ran from 1986 through 1989, as well as 2002 light novel series Saint Seiya – Gigantomachia and 36-episode OVA Saint Seiya: Hades.
Sources: Netflix (Email Communication)