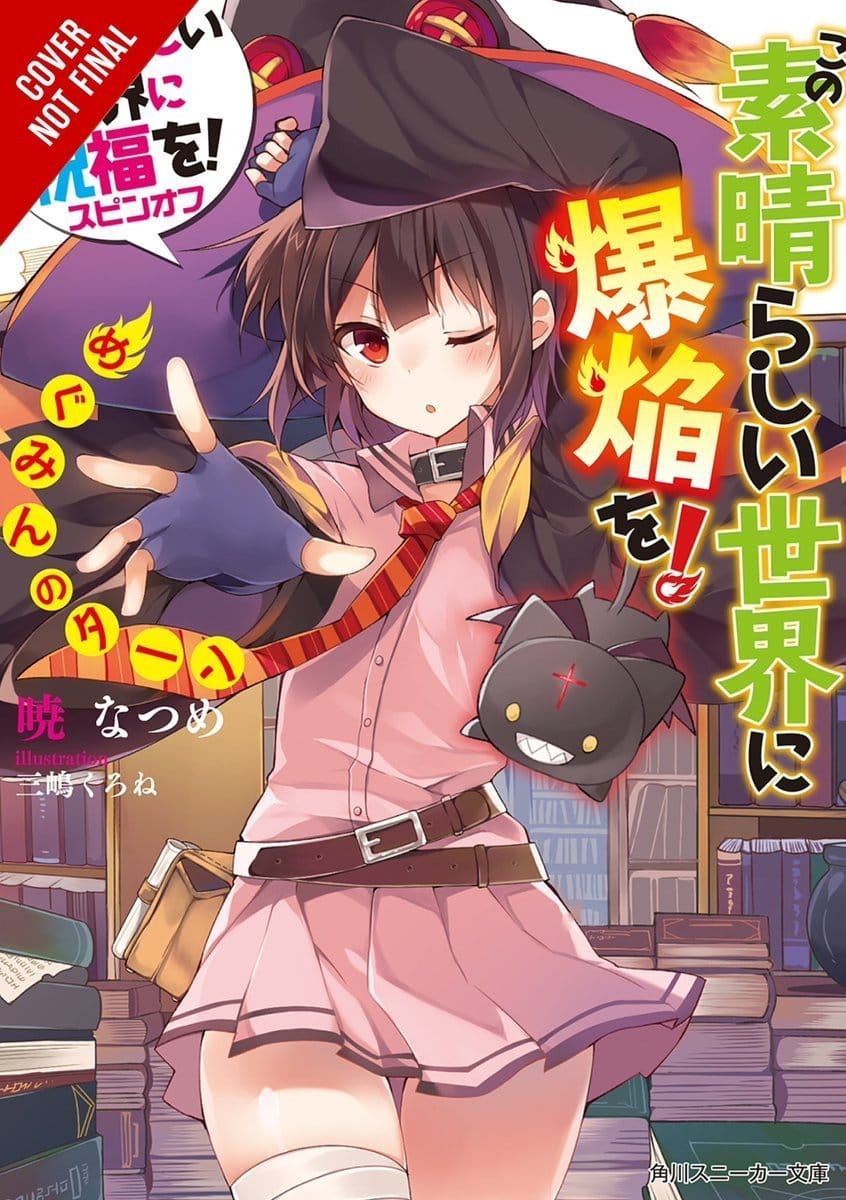 Yen Press is bringing some explosive news this weekend. No, it's not Joker in Smash Bros.
Earlier today, Yen Press announced that they acquired the rights to Natsume Akatsuki and illustrator Kurone Mishima's KonoSuba: An Explosion on This Wonderful World! (Kono Subarashii Sekai ni Bakuen wo!) light novels. The first book is slated to hit stores on June 18, 2019.
KonoSuba: An Explosion on This Wonderful World! launched in July 2014, under Kadokawa's Sneaker Bunko imprint. The series spans three volumes, with the final book hitting stores on June 1, 2015. A manga adaptation by Akatsuki and illustrator Kasumi Morino launched in Media Factory's Monthly Comic Alive magazine in May 2016.
The KonoSuba: God's Blessing on This Wonderful World! light novels began publication under Kadokawa's "Kadokawa Sneaker Bunko" imprint in October 2013. The title currently spans 15 collected volumes, with the most recent hitting retailers on November 1.
The KonoSuba manga began publication in Monthly Dragon Age in September 2014. The ongoing title currently spans 7 collected volumes, with the most recent hitting stores on March 9.
The series spawned an anime adaptation, which aired in the Winter 2016 broadcast season. The second season aired a year later, in Winter 2017. Crunchyroll streamed both seasons of the show on their digital platform as they aired in Japan.
Takaomi Kanasaki (Is This a Zombie?, Tokyo Ravens) directed both seasons at Studio DEEN, with Koichi Kikuta providing character designs. Makoto Uezu (Yuki Yuna Is a Hero, Akame ga KILL!) was in charge of series composition.
Crunchyroll describes Konosuba as:
After a traffic accident, Kazuma Sato's disappointingly brief life was supposed to be over, but he wakes up to see a beautiful girl before him. She claims to be a goddess, Aqua, and asks if he would like to go to another world and bring only one thing with him. Kazuma decides to bring the goddess herself, and they are transported to a fantasy world filled with adventure, ruled by a demon king. Now Kazuma only wants to live in peace, but Aqua wants to solve many of this world's problems, and the demon king will only turn a blind eye for so long…
The KonoSuba anime will receive a feature film in 2019.
Source: Twitter (yenpress)