It's time to take a magical journey to an inn like no other.
Earlier today, GKIDS took to Twitter to announce that they acquired the rights to the Okko's Inn (Waka Okami wa Shōgakusei!) anime film. GKIDS plans to give the feature a theatrical run, though specific dates or locations have yet to be announced.
GKIDS describes the film as:
After losing her parents in a car accident, Okko goes to live in the countryside with her grandmother, who runs a traditional Japanese inn built on top of an ancient spring said to have healing waters. While she goes about her chores and prepares to become the inn's next caretaker, Okko discovers there are spirits who live there that only she can see – not scary ones, but welcoming ghosts who keep her company, play games and help her navigate her new environment. The inn's motto is that it welcomes all and will reject none, and this is soon put to the test as a string of new guests challenge Okko's ability to be a gracious host. But ultimately Okko discovers that dedicating herself to others becomes the key to taking care of herself. The latest feature from famed anime studio Madhouse and director Kitaro Kosaka, who was a key animator on numerous classic films at the venerable Studio Ghibli, seamlessly blends immersive, idyllic landscapes with the storybook charm of Okko's beloved ghosts. Okko's Inn delivers a rare ghost story that – despite several floating characters – is firmly grounded in the trials and joys of humanity.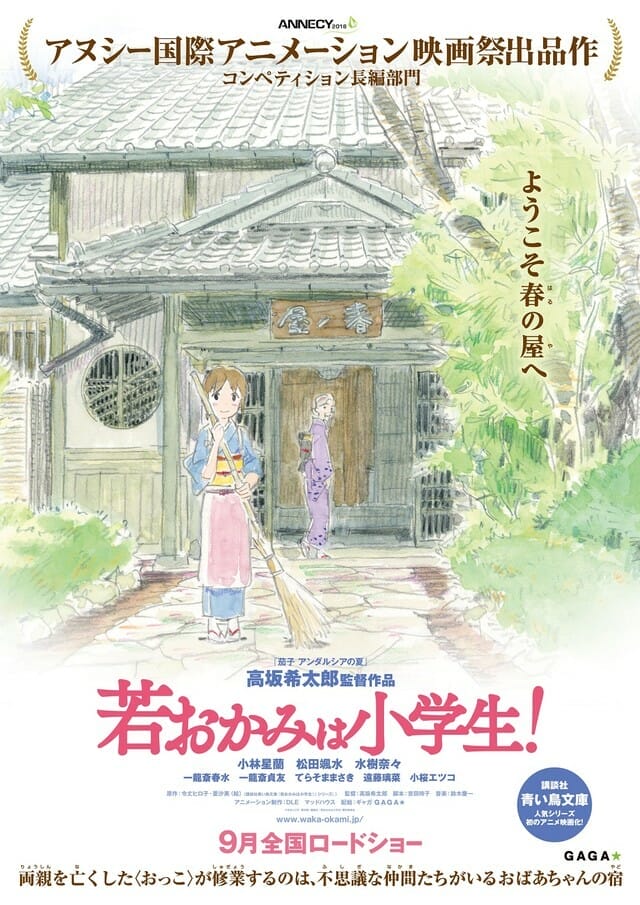 Okko's Inn made its world début at the Annecy Film Festival, which runs from June 11 – 16 in Annecy, France. The feature was voted as an Official Selection in Competition for the Feature Films category.
The feature hit Japanese theaters on September 21.
Kitaro Kousaka (Nasu: Summer in Andalusia, Clover) was tapped to direct the film and provide character designs at Madhouse and DLE, with Reiko Yoshida (Aria the Animation, Violet Evergarden) writing the script.
Hiroko Reijō and illustrator Asami's Waka Okami wa Shōgakusei! books first hit retailers in 2003, under Kodansha's "Aoi Tori Bunko" imprint. The series ran through 2013, spanning twenty volumes, plus seven spinoff books and a short story collection.
Reijō launched a manga adaptation, which features illustrations by Eiko Ōuchi, in Nakayoshi magazine in 2006. To date, seven compiled volumes have been published, with the most recent hitting stores on February 2012.
According to news outlets, the film will feature an original story, not found in the manga or books.
Source: Twitter (GKIDSFilms)