So, it seems that this one is heading straight to the grand stage.
Earlier today, the official Grisaia: Phantom Trigger anime website updated with a new teaser trailer and key visual for the project. In addition, director Tensho took to Twitter to reveal updated details on production.
We break the details down below.
Trailer
The three-minute trailer introduces the main plot for the title, with character dialogue providing the major story beats. Endiing theme song Sayonara no Wakusei (Farewell Planet) kicks in as a background track at the two-minute mark.
Key Visual
The new visual features Rena and Maki, both seated on different types of chairs – Rena a standard desk chair, and Maki a towering throne.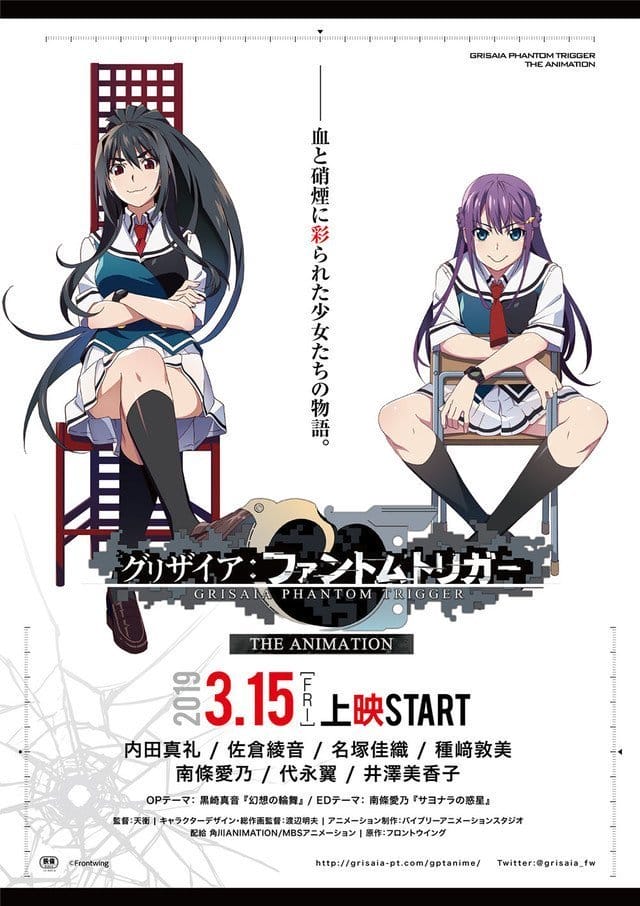 Premiere
Grisaia: Phantom Trigger will open on March 15, at Tokyo's EJ Anime Theater Shinjuku and at least three other theaters. The screenings are slated to run for 90 minutes.
An early screening event, which will show the first two episodes, will be held on January 26, at Tokyo's United Cinema Aqua City Odaiba theater. Actors Maaya Uchida, Kaori Nazuka, and Mikako Izawa will attend the showing.
Grisaia: Phantom Trigger is based on Frontwing's visual novel of the same name. Tensho (The Fruit of Grisaia, Rewrite) is directing the project at Bibury Animation Studio, with original character designer Akio Watanabe (Bakemonogatari, Blame!) returning to provide the anime's character designs.
The confirmed voice cast includes:
Tohka: Ayane Sakura
Rena: Maaya Uchida
Murasaki: Atsumi Tanezaki
Chris: Kaori Nazuka
Shiori Arisaka: Mikako Izawa
Maki: Yoshino Nanjō
Grisaia: Phantom Trigger is set in the same universe as The Eden of Grisaia. The first two volumes were released on Steam (with English versions) on April 25. The publisher plans to release the title in English on July 28, the same day as its Japanese release.
Front Wing describes Grisaia: Phantom Trigger as:
This new incarnation of Mihama Academy is home to a diverse group of students, who every day work to polish their unusual skills – sometimes on the job. There's a gunslinger called Rena (nickname: "The Rabid Dog"), a sniper named Tohka, a demolitions expert called Chris, a spy named Murasaki, and finally, Haruto, their handler. Together they make up an agency called SORD (Social Ops, Research & Development). The specialist training school now entrusts the misfit girls who attend it with guns and live ammunition in the name of national defense.

Paying their own safety no heed, these students are again and again plunged into dangerous extrajudicial missions – all for the good of the realm.

"We've been granted a place in the world.

That alone isn't enough – there wouldn't be any meaning in living, if that was all we had…

It's not enough just to get by on the backs of others. I live by my own strength, and I fight to survive.

Because only the survivors among us belong with the living…"

No matter how much life grinds them down, what future awaits these girls, who've themselves chosen the path of the gun?
Source: Comic Natalie, Ota-suke