Love is war, and the heart is a battlefield.
Earlier today, the official Kaguya-sama: Love Is War (Kaguya-sama wa Kokurasetai: Tensai-tachi no Renai Zunousen) anime website updated with a new teaser trailer and our cast members.
We break the details down below.
Trailer
The 90-second promo introduces the show's basic premise, with an overeager narrator and character dialogue delivering the major story beats.
Cast
The series will add the following:
Nagisa Kashiwagi: Momo Asakura
Shirogane's Father: Takehito Koyasu
Kei Shirogane: Sayumi Suzushiro
Male Student: Taku Yashiro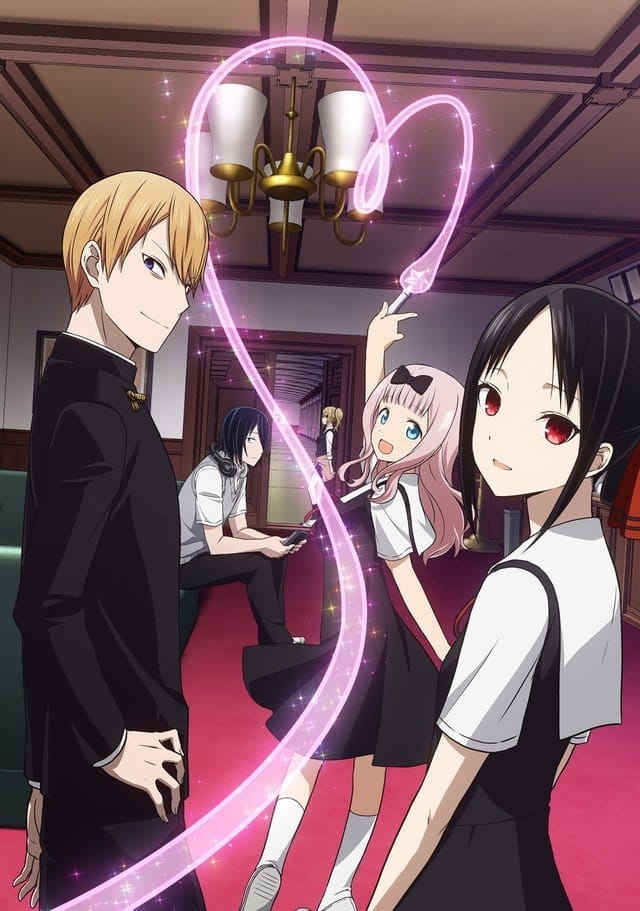 Kaguya-sama: Love Is War will air on January 12. The full broadcast schedule is as follows:
MBS: 1/12/2019 at 26:08 (1/13/2019 at 2:08AM)
Tokyo MX: 1/12/2019 at 23:30 (1/12/2019 at 11:30PM)
BS11: 1/12/2019 at 23:30 (1/12/2019 at 11:30PM)
Gunma TV: 1/12/2019 at 23:30 (1/12/2019 at 11:30PM)
Tochigi TV: 1/12/2019 at 23:30 (1/12/2019 at 11:30PM)
Chukyo TV: 1/12/2019 at 26:29 (1/13/2019 at 2:29AM)
TV Niigata: 1/12/2019 at 26:05 (1/13/2019 at 2:05AM)
Mamoru Hatakeyama (Record of Grancrest War, Shōwa Genroku Rakugo Shinjū) was tapped to direct the project at A-1 Pictures, with Yuuko Yahiro (Diabolik Lovers, Attack on Titan: Junior High) providing character designs. Yasuhiro Nakanishi is in charge of series composition for the title.
Other confirmed crew members include:
Music: Kei Haneoka
Prop Design: Takayuki Kidou
Art Director: Risa Wakabayashi
Color Design: Kanako Hokari
Director of Photography: Masaharu Okazaki
Editing: Rie Matsubara
Chief Animation Director: Yuuko Yahiro
Chief Animation Director: Hiroshi Yakou
Chief Animation Director: Yūko Hariba
Sound Director: Jin Aketagawa
Sound Production: Magic Capsule
The main voice cast includes:
Kaguya Shinomiya: Aoi Koga
Miyuki Shirogane: Makoto Furukawa
Ai Hayasaka: Yumiri Hanamori
Chika Fujiwara: Konomi Kohara
Narrator: Yutaka Aoyama
Yū Ishigami: Ryōta Suzuki
Aka Akasaka's Kaguya-sama: Love Is War launched in the pages of Shueisha's Miracle Jump in 2015. The series ran in the publication for a year before being moved over to Weekly Young Jump . Nine compiled volumes have been produced to date, with the latest hitting stores on April 19.
Viz Media currently holds the rights to the Kaguya-sama: Love Is War manga in North America. They describe the title as:
Two geniuses. Two brains. Two hearts. One battle. Who will confess their love first…?!

Kaguya Shinomiya and Miyuki Shirogane are two geniuses who stand atop their prestigious academy's student council, making them the elite among elite. But it's lonely at the top and each has fallen for the other. There's just one huge problem standing in the way of lovey-dovey bliss—they're both too prideful to be the first to confess their romantic feelings and thus become the "loser" in the competition of love! And so begins their daily schemes to force the other to confess first!
Source: Comic Natalie