Earlier today, the official Strike Witches anime website updated with a teaser visual for upcoming anime Strike Witches 501 Butai Hasshinshimasu! (Strike Witches 501st Unit, Taking Off!). The image features Yoshika Miyafuji posing in her flight gear, wielding a knife.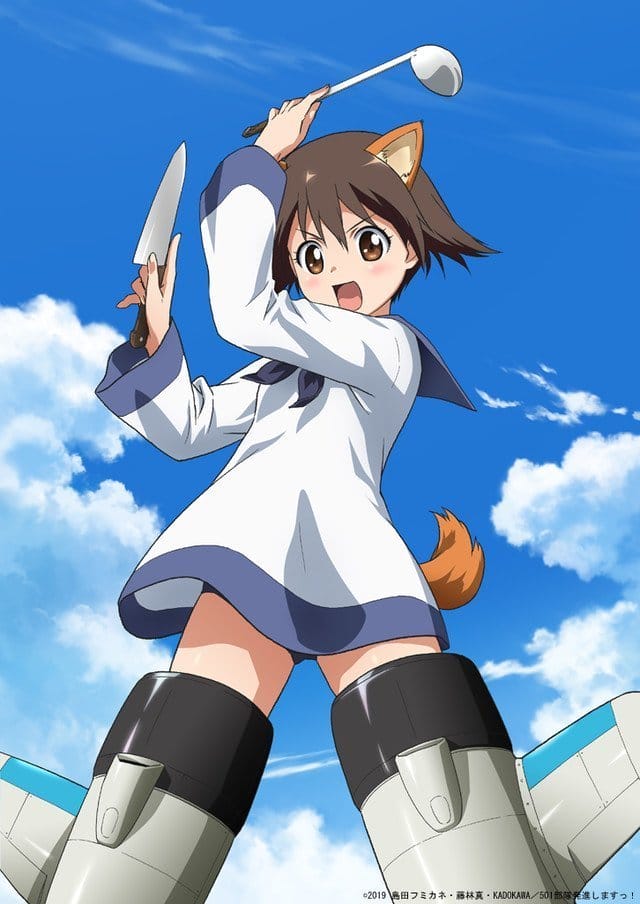 The series will hit Japanese TV in Spring 2019.
Fumio Ito will direct the project at studios Giga Production and acca effe, with Kei Anjiki (Yotsuiro Biyori) providing character designs. Shinya Murakami (Strike Witches 2, High School Fleet) will take charge of literature production.
Other confirmed staffers include:
Sound Director: Tomohiro Yoshida
Sound Production: Glovision
Music: Seikou Nagaoka
Music Production: Nippon Columbia
Animation Production Cooperation: Anime Beans
Animation Production Cooperation: Production I.G.
Production: Takashi Tachizaki
Original Concept: Humikane Shimada
Projekt Kagonish:
Strike Witches Gekijouban – 501 Butai Hasshinshimasu! is a lighthearted spinoff from Strike Witches, which follows the daily lives of the 501st Unit.
Sources: Animate Times, Comic Natalie