Earlier today, the official Namu Amida Butsu!: Rendai Utena anime website updated with a new key visual and trailer, as well as several cast and crew members attached to the project. We break the details down below.
Trailer
The 99-second promo confirms the show's major cast members, as theme song Amauta (Heavenly Song) by Masaaki Mizunaka plays as a background track.
Key Visual
The image features Taishakuten and Bontan standing back to back, their weapons drawn and crackling with energy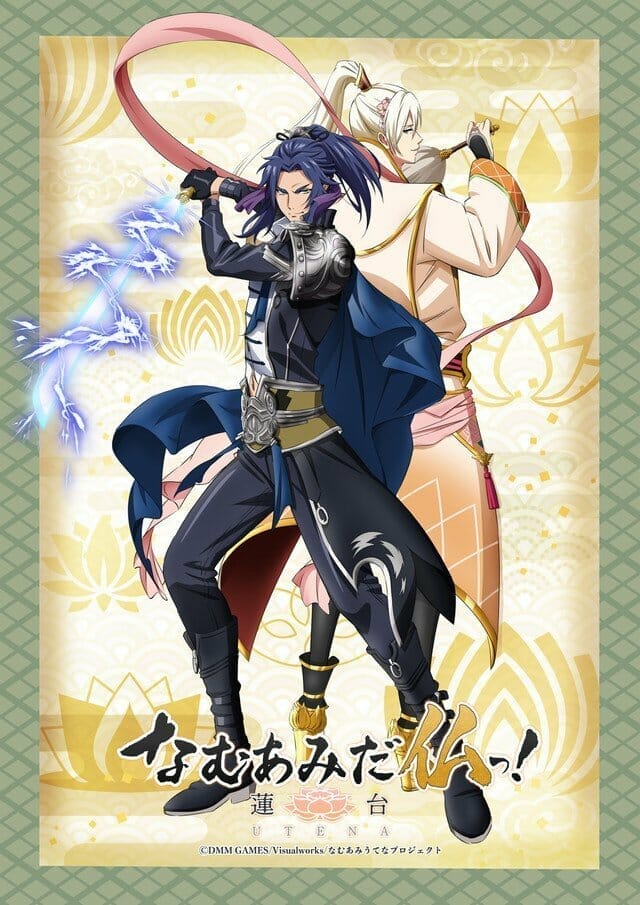 Staff
Masato Katou is providing character designs, while Yoshiaki Fujisawa scores the show's soundtrack.
Cast
The series will add thirteen cast members:
Ashuku Nyorai (Akṣobhya): Yūsuke Kobayashi
Amida Nyorai (Amitābha): Daisuke Hirakawa
Yakushi Nyorai (Bhaiṣajyaguru): Yoshitsugu Matsuoka
Monju Bosatsu (Manjusri): Ryūichi Kijima
Fugen Bosatsu (Samantabhadra): Shun Horie
Jizō Bosatsu (Kṣitigarbha): Taku Yashiro
Miroku Bosatsu (Maitreya): Ayumu Murase
Kannō Bosatsu (Avalokiteśvara): Yūma Uchida
Seishi Bosatsu (Mahāsthāmaprāpta): Kōhei Amasaki
Kokūzō Bosatsu (Ākāśagarbha): Kishō Taniyama
Fudōmyō Ō (Acalanātha): Kengo Kawanishi
Karuraten: Daiki Yamashita
Māra: Takeo Ōtsuka
Namu Amida Butsu!: Rendai Utena will hit Japanese TV in April.
Masaaki Mizunaka will perform opening theme song Amauta, while Chippoke Ōhashi performs closing theme song Ruby.
Akira Oguro will direct the project at Asahi Production, with Erika Yoshida (Trickster) taking charge of series composition.
The confirmed voice cast includes:
Taishakuten (Śakra): Masaaki Mizunaka
Shaka Nyorai (Gautama Buddha): Showtaro Morikubo
Ashura Ō (Asura): Tatsuhisa Suzuki
Dainichi Nyorai (Vairocana): Tetsuya Kakihara
Bonten (Brahmā): Tomoaki Maeno
Source: Comic Natalie