Earlier today, Pony Canyon started streaming a new trailer for the Frame Arms Girl: Kyakkyau Fufu na Wonderland compilation movie. The 86-second promo introduces the main cast and concepts, as lead character Ao Gennai narrates.
Frame Arms Girl: Kyakkyau Fufu na Wonderland will hit Japanese theaters in June. The film will be a compilation film that adds new scenes.
In July, it was announced that Frame Arms Girl would get a sequel film project. In October, it was revealed the film would hit in "Early Summer."
The Frame Arms Girl anime originally aired in the Spring 2017 broadcast season. Keiichiro Kawaguchi (Hayate the Combat Butler, Hunter × Hunter -The Last Mission-) directed the project at Studio A-Cat and ZEXCS, with Kōsuke Kawamura (OniAi, Island) providing character designs. Deko Akao (Arakawa Under the Bridge, Flying Witch) was in charge of series composition.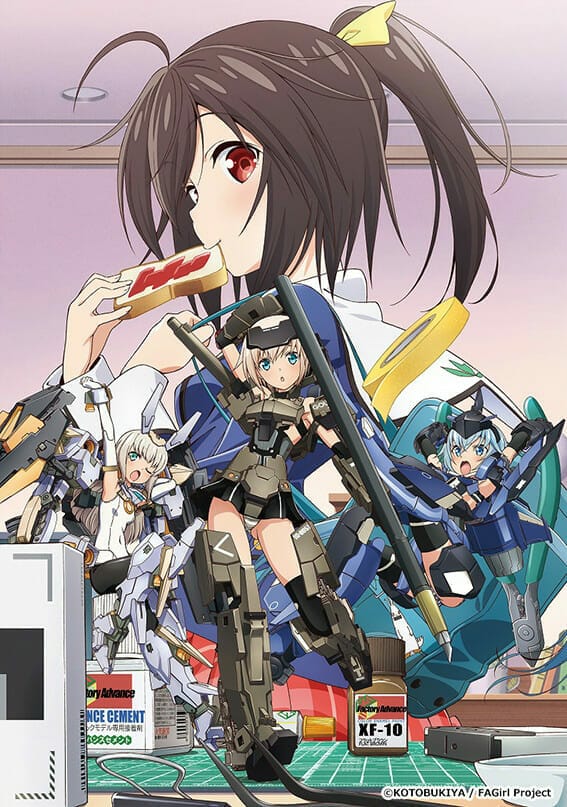 Sentai Filmworks holds the rights to Frame Arms Girl, and describe the show as:
When Ao found the package on her doorstep, she thought it was a present from her father, but inside the box was something truly unexpected: Gourai! A Frame Arms Girl, Gourai is a walking, talking, miniature artificial person with the intelligence of a ten-year-old human and a selection of snap-on weapons and armor. And the reason Gourai needs armor quickly becomes clear as two more Frame Arms Girls, Stylet and Baselard, arrive intent on testing Gourai's combat capabilities! It seems that Ao has been chosen to help test a new toy line and the good news is that she'll get paid for hosting her diminutive charges' battles! Of course, since they're mainly interested in fighting and gathering information, things are going to get awkward when they follow her to school in FRAME ARMS GIRL!