Hi there, readers, and welcome to the new week.
As many of you know, yesterday was my night off for the month. Usually, these evenings are marked by a little celebration of a month well-worked: a nice dinner, a good movie, or just a chance to catch up on my gaming and anime backlogs. This time around, though, wasn't a night to kick back or veg out on anime. Instead, it was a night to spend time with my dear friends.
It was a night for BAN.
I've mentioned Bad Anime Night, or "BAN" a few times in a previous life, often discussing the "hows" and the "whys" of things. What I've never really had a chance to discuss, though, was just what made these nights so, well… special.
In this day and age, in this year… I'm 34, going on 35. I, and my circle of friends have been out of university for years at this point, and carved out our niches in life. Some are software engineers. Others, meanwhile, are nurses, or retail workers, or craftsmen. We've all found our places in this world, both in the game of life, and the game of love. And, well… we don't always get that opportunity to come together like we did in years past.
It's nothing to be sad about; it's just how life works. We grow up; we chase our passions, and find our directions in life. Sometimes it leads us together, and sometimes it leads us to drift apart. Time grows shorter, and those days of youth when you could just goof off for two or three hours just vanish, as the signs of adulthood take hold.
Bad Anime Night is, well… it's that rare night, where we can all come together and just be those dorky kids again for a few hours. With the help of a good meal, some tasty treats, and some truly awful anime, we can talk and unwind, and just forget that the mortgage is due in a few weeks, or that the toilet is leaking, or that a big meeting with human resources awaits tomorrow.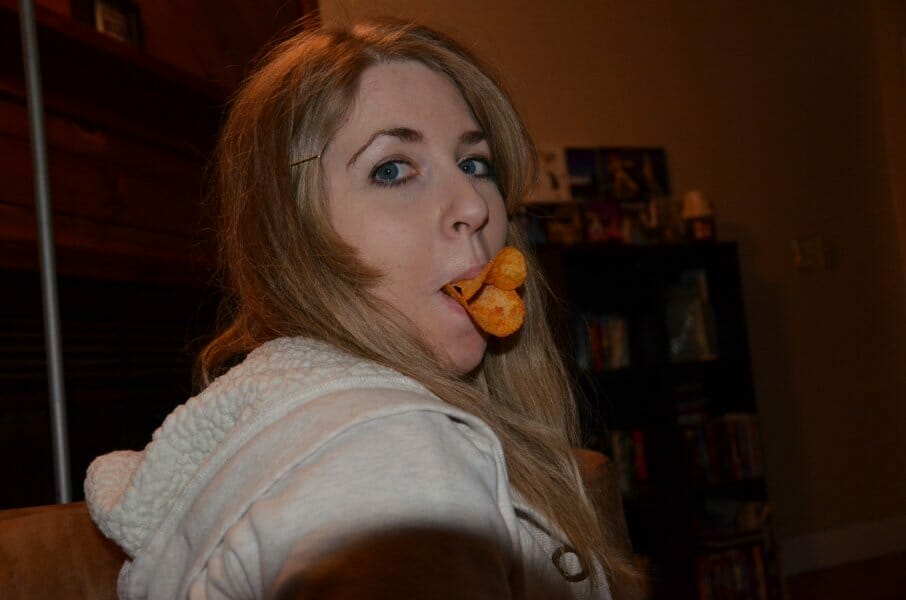 Instead, we can just banter and joke, and relax. We can cringe and laugh at the spectacles on-screen, or just ignore its existence entirely, as we goof off and chatter amongst ourselves. It's silly, often chaotic, but it's a precious opportunity to just let those fond memories come back, as new ones are formed.
Why not try making your own Bad Anime Night? You might be surprised at how it goes!
Take care,
Samantha
The Latest From the AniBlogging Community
A history of an artform. Erica Friedman wrote a fantastic chronology of the yuri subgenre, tracing its rich 100-year history from its origins, through today.
Delightfully Dystopian? Atelier Emily takes a deep dive into The Promised Neverland, taking a look at the show's setting, and casting a light on the hints at a greater dystopian world that awaits, and the symbolism that resides beneath the surface.
This Week's Fun Stuff
Midnight Pulp started streaming a twenty-minute documentary on classic anime film Robot Carnival. It's a truly fascinating watch that sheds light on one of anime's true buried treasures.
Our Supporting Patrons
The following Patrons help to keep us talking nerdy to you every day of the week:
Hera's Helpers


Ashley Hakker

David Majors

Eric

Eric Lewis

Jennifer Freeman

Nick Penrhyn

Quentin Xavier Ruch

Reinesis

Samantha Ferreira

Warren Seibel

ZicklePop

Nerdy Talkers


Brian Auxier

Cave

Karel P Kerezman

Lauren Orsini

Lydia Rivers

Martin Butler

Renfamous

Silver Huskey

Vadim Chirchakov

Support Anime Herald on Patreon
This article is only possible thanks to our amazing Patrons. It's through their help that we're able to offer a high-quality publication that's ad-free and free to access.
Consider backing us on Patreon for as little as $1 a month, to support new content from our amazing team, and ensure that we can keep talking nerdy to you for some time to come.