Earlier today, the Grand Summoners smartphone game launched a crossover event with the That Time I Got Reincarnated as a Slime anime series. The event, which runs through March 31, will include an original storyline that revolves around the characters from the anime. Players will be able to summon four exclusive characters from the That Time I Got Reincarnated as a Slime anime, including:
Rimuru Tempest (Human)
Rimuru Tempest (Slime)
Milim Nava
Benimaru
Players will be guaranteed one unit (Slime-Form Rimuru) if they complete the main story missions for the event.
A trailer for the crossover, plus several visuals were revealed. We break the details down below.
Trailer
The 40-second promo highlights the event's playable characters, showing off their key art, as well as in-battle samples.
Visuals
Visuals for Rimuru and Milim were both revealed, which you can check out below.
Grand Summoners is a mobile RPG from Good Smile Company and developer NextNinja, which is available on iOS and Android. The title, which debuted in North America on February 8, 2018, currently has an install-base of more than 100,000 players on Android.
Good Smile describes the game as:
This is a story of memories and bonds.

Raktehelm, a land where Gods and Demons once fought for supremacy.

Hundreds of years have passed since the end of the Great War and humans lived in peace.

However, these days of peace will come to an abrupt end when the once sealed Demons return…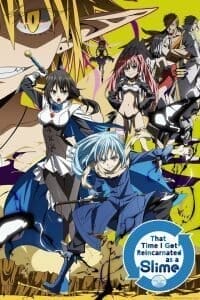 The That Time I Got Reincarnated as a Slime anime launched on on October 1, 2018. Yasuhito Kikuchi (Infinite Stratos, Macross Frontier) was tapped to direct the series at studio 8-Bit, with Atsushi Nakayama (Absolute Duo, Magical Girl Lyrical Nanoha The MOVIE 1st) serving as Series Director. Ryouma Ebata (Busou Shinki, Magical Warfare) is providing character designs for the title, while Kazuyuki Fudeyasu (Black Clover, Girls' Last Tour) takes charge of series composition.
Crunchyroll is currently streaming the title as part of their simulcast lineup. The describe it as:
Corporate worker Mikami Satoru is stabbed by a random killer, and is reborn to an alternate world. But he turns out to be reborn a slime! Thrown into this new world with the name Rimuru, he begins his quest to create a world that's welcoming to all races.
Source: Crunchyroll (Email Communication)