Earlier today, the official Carole & Tuesday anime website updated with a new trailer and visual, as well as the main voice cast for the show. We break the details down below.
Trailer
The 103-second promo focuses on the titular Carole and Tuesday, which are shown in cutaways from a jam session between that the two girls are hosting. At the one-minute mark, a vocal theme kicks in as the animation shifts to other members of the cast.
Key Visual
The image features the main characters, posing with their instruments against a white background.
Cast
The confirmed voice cast includes:
Carole: Miyuri Shimabukuro
Carole (Singing): Nai Br.XX
Tuesday: Kana Ichinose
Tuesday (Singing): Celeina Ann
Angela: Sumire Uesaka
Gus: Akio Ohtsuka
Tao: Hiroshi Kamiya
Roddy: Miyu Irino
Ertegun: Mamoru Miyano
Visuals for the characters were also revealed, which you can check out below.
Carole & Tuesday will hit Japanese TV on April 10. The show will air on Fuji TV's Plus Ultra block.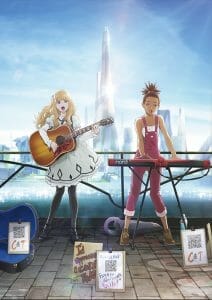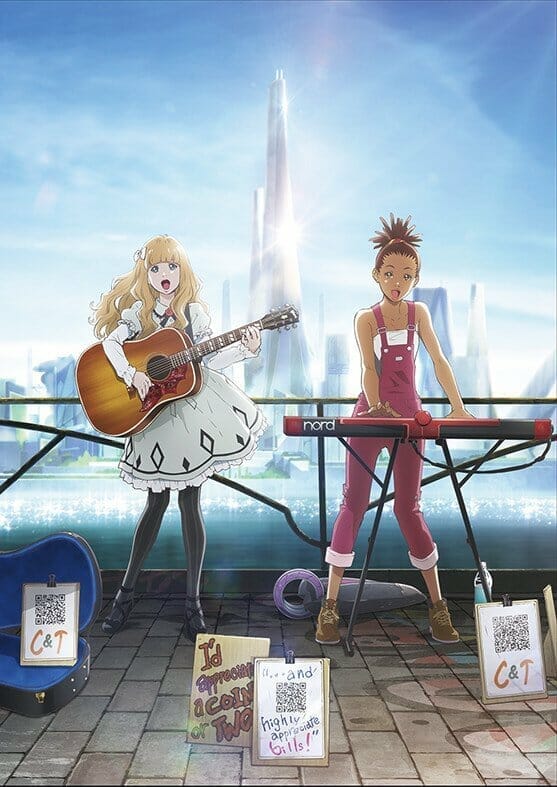 Shinichiro Watanabe (Cowboy Bebop, Space Dandy) will direct the series at Bones, with Eisaku Kubonouchi (Cherry, Chocolat) providing character designs. Aya Watanabe will take charge of series composition.
Studio Flying Dog will tackle music production for the project.
The show's official website describes Carole & Tuesday as:
Fifty years have passed since mankind began migrating to the new frontier: Mars. It's an age where most culture is produced by AI, and people are content to be passive consumers. There's a girl. Scrapping a living in the metropolis of Alba City, she's working part time while trying to become a musician. She's always felt like something is missing. Her name is Carole.

There's a girl. Born to a wealthy family in the provincial town of Herschel City, she dreams of becoming a musician, but nobody around her understands. She feels like the loneliest person in the world. Her name is Tuesday.

A chance meeting brings them together. They want to sing. They want to make music. Together, they feel like they just might have a chance. The two of them may only create a tiny wave. But that wave will eventually grow into something larger…
Source: Comic Natalie