Earlier today, the official Strike Witches anime website updated with a teaser visual for upcoming anime Strike Witches 501 Butai Hasshinshimasu! (Strike Witches 501st Unit, Taking Off!), as well as detail son the show's theme songs.
We break the details down below.
Key Visual
The image features the main cast in a huddle, looking down toward the camera.
Theme Songs
Yoko Ishida will perform opening theme song Sora ga yobu hōe (In the direction of the calling sky). The 501 Tōgō sentō kōkū-dan (501st Unified Combat Battallion) will perform ending theme song Treasure of Life.
Strike Witches 501 Butai Hasshinshimasu! will hit Japanese TV on April 9. The full broadcast schedule is as follows (All times JST):
Tokyo MX: 4/9/2019 at 24:45 (4/10/2019 at 12:45AM)
TV Aichi: 4/11/2019 at 26:20 (4/12/2019 at 2:20AM)
MBS: 4/9/2019 at 27:15 (4/10/2019 at 3:15AM)
BS11: 4/10/2019 at 24:15 (4/11/2019 at 12:15AM)
Episodes will have a fifteen-minute run time.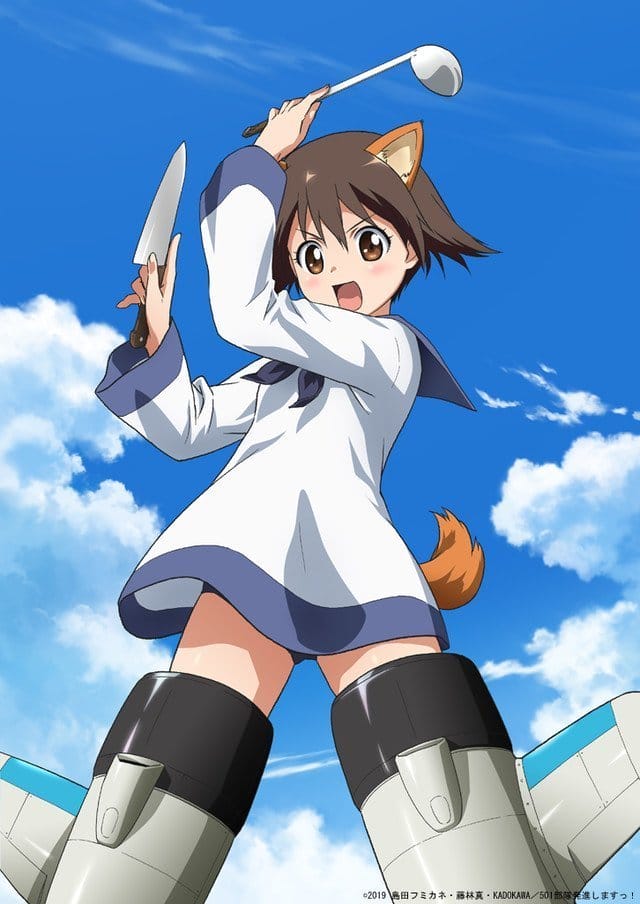 Fumio Ito will direct the project at studios Giga Production and acca effe, with Kei Anjiki (Yotsuiro Biyori) providing character designs. Shinya Murakami (Strike Witches 2, High School Fleet) will take charge of literature production.
Other confirmed staffers include:
Sound Director: Tomohiro Yoshida
Sound Production: Glovision
Music: Seikou Nagaoka
Music Production: Nippon Columbia
Animation Production Cooperation: Anime Beans
Animation Production Cooperation: Production I.G.
Production: Takashi Tachizaki
Original Concept: Humikane Shimada
Projekt Kagonish:
The confirmed voice cast includes:
Yoshika Miyafuji: Misato Fukuen
Mio Sakamoto: Saori Seto
Lynette Bishop: Kaori Nazuka
Perrine-H. Clostermann: Miyuki Sawashiro
Minna-Dietlinde Wilcke: Rie Tanaka
Gertrud Barkhorn: Mie Sonozaki
Erica Hartmann: Sakura Nogawa
Francesca Lucchini: Chiwa Saito
Charlotte E Yeager: Ami Koshimizu
Sanya V. Litvyak: Mai Kadowaki
Eila Ilmatar Juutilainen: Ayuru Ōhashi
Strike Witches Gekijouban – 501 Butai Hasshinshimasu! is a lighthearted spinoff from Strike Witches, which follows the daily lives of the 501st Unit.
Source: Comic Natalie