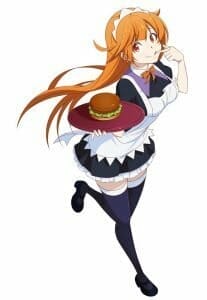 Earlier today, the Kickstarter to produce an animated series based on the Okamoto Kitchen food truck completed its run. The campaign closed with $65,614 from 725 backers, with an average contribution of $90.50 per backer.
With the funds raised, the crew will produce a 10-episode web series. They managed to reach the following stretch goals:
$57,000: Produce a Japanese dub with English subtitles
Takuya Saito (Outlaw Star, Macross Zero) will provide character designs for Haru and Honey, while Azusa Saitou PN 'ASA' handles designs for Chizuru, Mickey, and the various Food Truck Teams. Cristina Vee will work as voice director for the project.
Gerald Abraham wrote the original story, and will serve as creative director on the project.
Producer: Rumiko Kinoshita
Voice Director: Cristina Vee
Flashback Sequence Illustrator: Miho Abe
Present Day Food Truck Sequence: Studio Engi
Matte Painter: Toshiharu Yuda
Original Character Design: PN 'Kotobukisuzu'
Story: Mykal Williams, Rafael Hernán Gamboa
Theme song & Music: Layla Lane (Hidehito Ikumo & Valerie Stern)
Assistant Producer: Marcus Chavez
Editing: Industry Visual Effects
Cristina Vee will play Haru Umesaki.
Okamoto Kitchen describes the series as:
The webtoon series tells the story of Haru Umesaki, an optimistic girl hailing from Japan who immediately finds herself embroiled in an odd world of competing food truck teams and their eccentric band of owners in Los Angeles. Joined by Chizuru, the cooking mastermind behind Okamoto Kitchen, the hopelessly un-suave Mickey, and an unusually meditative canine companion named Honey, each episode follows Haru as she navigates a madcap menagerie of hopelessly out of fashion Japanese gangsters, preening idol girls, and provocative old ladies, all seeking their next favorite meal on wheels.
Okamoto Kitchen is a food truck that specializes in Japanese comfort foods. The Los Angeles based outfit was founded by Gerald and Chizuru Abraham in 2015.
Source: Kickstarter