Earlier today, the official Kabaneri of the Iron Fortress anime website updated with a new key visual for upcoming sequel film Kabaneri of the Iron Fortress: Unato Decisive Battle (Kōtetsujō no Kabaneri: Unato Kessen), as well as details on the film's theme song.
The image features the main cast, posing in the howling snow as Mumei takes point with her weapon. The visage of the film's antagonist looms in the background.
EGOIST will return to perform the film's theme song, Sakase ya Sakase (Bloom and Bloom).
Kabaneri of the Iron Fortress: Unato Decisive Battle hits theaters later this year.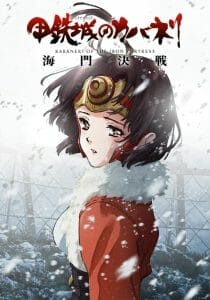 Tetsuro Araki (Attack on Titan, Death Note) will direct the film and write the screenplay at Wit Studio, with Yasuyuki Ebara providing character designs.
Other confirmed crew members include:
Chief Animation Director: Yasuyuki Ebara
Original Character Design: Haruhiko Mikimoto
Series Composition: Ichiro Okouchi
Sub-Character Design: Tomomi Ozaki
Sub-Character Design: Ryō Yamauchi
Concept Art: Yo Shimizu
Concept Art: You Moriyama
Design Works: Ippei Gyobu
Design Works: Takuma Ebisu
Design Works: Gorou Murata
Prop Design: Shinobu Tsuneki
Prop Design: Shinichi Yoshikawa
Prop Design: Erika Nishihara
Art Design: Akihiro Hirasawa
Art Design: Yuuho Taniuchi
Art Design: Tomomi Sugimoto
Make-Up Animator: Chu Aika
Make-Up Animator: Ryoko Mita
Art Director: Shunichiro Yoshihara
Color Design: Ken Hashimoto
3D Director: Shigenori Hoshizumi
3D Director: Kana Imagaki
Director of Photography: Kazuhiro Yamada
Editor: Fumi Hida
Sound Director: Masafumi Mima
Sound Effects: Shizuo Kurahashi
Sound Effects: Naoto Yamatani
Music: Hiroyuki Sawano
Production: Kabaneri Production Committee
Distribution: Shochiku Media Division
The confirmed voice cast includes:
Ikoma: Tasuku Hatanaka
Mumei: Sayaka Senbongi
Ayame: Maaya Uchida
Kurusu: Toshiki Masuda
Kajika: Kanae Oki
Yukina: Mariya Ise
Sukari: Ryota Ohsaka
Kibito: Kensuke Satou
Kabaneri of the Iron Fortress is an original series from Wit Studio. Tetsuro Araki (Attack on Titan, Death Note) directed the show, while Yasuyuki Ebara provided character designs. Ichiro Okouchi (Code Geass: Lelouch of the Rebellion, Planetes) was in charge of series composition, while Hiroshi Seko (Attack on Titan, Kill la Kill) wrote the scripts. Hiroyuki Sawano (Attack on Titan, Kill la Kill) scored the show's soundtrack.
The series, which aired in the Spring 2016 season, streamed exclusively on Amazon Prime's digital platform (pre-Anime Strike). Funimation released the title on home video on January 16. they describe the show as:
The world is overrun with Kabane, zombie-like creatures with an appetite for human flesh. While the last of humanity has retreated into fortress-like stations connected by armored trains, there are a few that remain as hopeful as Ikoma. Although he services the trains for a living, Ikoma has created a new weapon that he believes could defeat the Kabane.
Sources: Comic Natalie