Earlier today, the official Fairy Gone anime website updated with a new trailer, a key visual, and twenty-one cast members.
We break the details down below.
Trailer
The 108-second promo sets the stage, with character dialogue delivering main story beats. Theme song KNOCK on the CORE by (K)NoW_NAME plays as a background track.
Key Visual
The image features Maria, Freee, Veronica, and Ulfran standing in the smoldering ruins of a town. Two fairies loom behind them.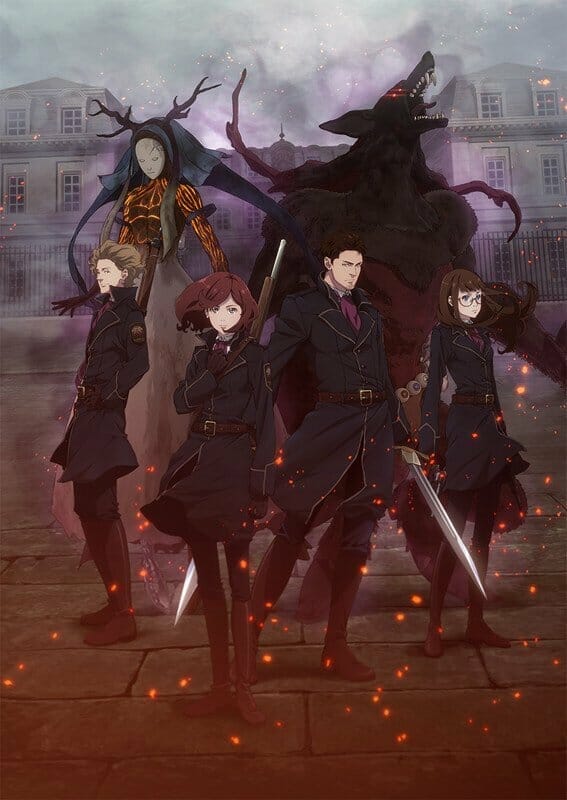 Cast
The series will add the following:
Clara Kisenaria: Ayaka Suwa
Serge Tovah: Yoshiki Nakajima
Nein Auraa: Mie Sonozaki
Damian Carme: Takehito Koyasu
Ray Dawn: Eizou Tsuda
Oz Maher: Yasuhiro Mamiya
Jet Glaive: Hiroki Touchi
Marco Bellwood: Houchu Ohtsuka
Lily Heineman: Atsumi Tanezaki
Robert Chase: Kōji Okino
Eleanor Need: Mikako Komatsu
Griff Mercer: Kenjiro Tsuda
Cain Distaroru: Mugihito
Axel Rabū: Shinji Kawada
"Sweety" Bitter Sweet: Minako Kotobuki
Patricia Pearl: Yuka Iguchi
Jonathan Passepierre: Kazuyuki Okitsu
Biivii Risukaa: Hisao Egawa
Sophie: Shizuka Itou
Schwartz Diese: Takaya Hashi
Ewan Breeze: Kenji Nomura
Visuals for several characters were also revealed, which you can check out below.
Fairy Gone will hit Japanese TV on April 7. The full broadcast schedule is as follows (All times JST):
Tokyo MX: 4/7/2019 at 24:00 (4/8/2019 at Midnight)
MBS: 4/9/2019 at 26:30 (4/10/2019 at 2:30AM)
BS11: 4/7/2019 at 24:00 (4/8/2019 at Midnight)
AT-X: 4/7/2019 at 24:00 (4/8/2019 at Midnight)
Kenichi Suzuki (Drifters, Cells At Work!) was tapped to direct the project at P.A. Works, with Takako Shimizu (JoJo's Bizarre Adventure) providing character designs. Ao Jūmonji (Grimgar of Fantasy and Ash light novels) is in charge of series composition.
(K)NoW_NAME will perform opening theme song KNOCK on the CORE.
Other confirmed crew members include:
Original Concept: Five Fairy Scholars
Original Character Design: Haruhisa Nakata
Music: (K)NoW_NAME
The confirmed voice cast includes:
Maria Noel: Kana Ichinose
Free Underbar: Tomoaki Maeno
Veronica Thorn: Ayaka Fukuhara
Ulfran Low: Yoshimasa Hosoya
The show will take place in a world where fairies reside within animals, which they grant magnificent abilities. Humans learned that they can harnass the fairies, abilities by surgically implanting the organs of fairy hosts into their own bodies. By doing this, they gain the ability to summon fairies to a limited degree, which they can use as weapons.
Over time, these gifted individuals began to be raised to wage war, and earned the name "Fairy Soldiers." A great war erupted, which saw the Fairy Soldiers take the front lines. In the aftermath, though, they were left without purpose, and sought to rejoin society. Some sided with the government. Others, the mafia, or even became terrorists. Whatever the case, though, every Fairy Soldier found their own path to tread upon.
Nine years after the war, Maria is brought on as the newest recruit of "Dorothea," an organization devoted to investigating and suppressing fairy-related incidents. The government remains unstable even today, and great criminals nurse old wounds from the war. No matter the case, though, Maria follows the stories of the Fairy Soldiers, who seek to carve their own sense of justice into this tumultuous world.
Source: Ota-suke