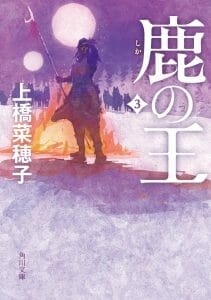 Earlier today, Kadokawa announced that the upcoming Shika no Ou anime project will be a feature film. Production I.G. is producing the work.
The Shika no Ou anime was first announced on June 20, 2018.
Shika no Ou began publication in 2015 under Kadokawa's main imprint. The series spans four volumes, with the latest hitting stores on July 25, 2017.
A new entry into the franchise, Shika no Ou Minasoko no Hashi (The King of Deer: Bridge of the Bottom of the Water) ships to stores on March 27.
Kadokawa describes the title as:
A father and daughter's epic adventure starts now! A group of warriors undertake the role of fallen soldiers, as they step up to protect their homeland from the mighty empire, Toule ("Tsuru") Doku. Van, who lost his wife and child to illness, was at rock bottom, as he battled against the depths of despair. He was captured, enslaved, and forced to work in the salt mines. One night, a group of mysterious dogs attacked the mines, causing a mysterious disease to break out. Van survives, and discovers a child named Yuna who also escaped infection. Together, the two survivors must confront a crisis that had never been seen before.
Nahoko Uehashi has been active in the industry since 1989. She's written numerous iconic novel series, including Moribito: Guardian of the Spirit and The Beast Player. Uehashi is also Professor of Ethnology at Kawamura Gakuen Women's University.
Source: Ota-suke