Earlier today, Visual Arts took to Twitter to announce that the upcoming Kud Wafter anime film was delayed until September 2020. The film was originally slated to debut this September.
In an expanded announcement, the studio attributed the delay to the rise in the number of anime projects being produced. "We've had a hard time maintaining the schedule with our staff," the notice reads, "making it hard to produce content that is of a satisfying quality in such little time." As a result, Visual Arts cooperated with J.C. Staff to determine a new premiere date that would preserve the project's overall quality.
In addition, Kentarō Suzuki (Angels of Death, MARGINAL #4 the Animation) will take over as director for the project, replacing Yoshiki Yamakawa.
Kud Wafter completed a crowdfunding campaign on Japanese site Campfire in September, 2017. The drive raised ¥78,047,044 ($706,348.04 USD) across 3,934 backers, with an average contribution of ¥19,839 per backer. This was enough to ensure that a 40-50 minute theatrical feature would be produced.
A follow-up campaign for a western release was held via Tokyo Otaku Mode. The campaign raised ¥3,039,320 ($27,503.59 USD) across 90 backers, with an average contribution of ¥33,770.22 per backer.
The Kud Wafter film will be directed by Kentarō Suzuki at J.C. Staff, with Haruko Iizuka (Little Busters!, School-Live!) providing character designs. Sakigake from Key will write the feature's script.
Other confirmed crew members include:
Original work: Key
Screenwriter: Sakigake (VisualArts/Key)
Producer: Yoshiyuki Nogami
Assistant Producer: Youhei Suzuki
Storyboard: Yoshiki Yamakawa
Chief Animation Director: Masayuki Onji
Cinematography Director: Masayuki Onji/Takamitsu Satou/Miki Matsumoto
Key Animators: Chikara Sakurai/Hitoshi Miyajima/Hiroyasu Oda/Tatsunori Ozawa/Shiori Tanaka/Nobuyuki Mitani/Masahiro Sekino/Takamitsu Satou
Second Key Animators: Tsutomu Hashizume/Yurika Sako/TripleA/China Annick
Animation Inspectors: Ryo Naitou/Sayako Matsuzaki/Haruka Tsubata/Sayoko Shinohara
In-Betweeners: Yoshimasa Shinkai/Kanae Fukumoto/Mone Yokoyama/Natsumi Ōmae/Fumenjiri Ozawa/Sayaka Kashiwagi/Yuki Goto/Hikaru Saiki/Yuki Jinbo/ Nana Nakayama/Manaka Hatakeyama/Rina Miura/Mako Yamashita/Ryota Yamane/Mayu Yamamoto
TripleA/A-Real/Shinryū/Jumondo/reboot
Digital Animation Inspectors: Kouji Ukawa/Souki Okada
Digital Animators: Hiroki Okamoto/Sugita Yuka
Color Designer: Kyousuke Ishikawa
Color Coordinator/Inspector: Kyousuke Ishikawa
Digital Painters: Mayumi Tanahashi/Miyuki Ishida/Miho Kimura/Mai Nakamura/Ayaka Ichihara/Keishi Okada/Tomomi Shishido/Yuu Kubota/Yuka Tanimoto/Masaki Tagawa/Chiori Ikushima/Sato Mirai
TripleA/A-Real/Shinryū/Jumondo/reboot
3DCGI: Yuki Murakami/Yamada Kenya
Art Director: Yasuhiro Okumura
Backgrounds: Moon Flower/Eri Yamanashi/Chika Ishida/Ken Okada/Kin Teiren (金廷連)/Yuriko Satou
Cinematography: Hidenori Manaka/Yuki Hirose/Yoshihiro Togo
Special Effects/2D Design: Yoshihide Mukai
Editor: Shigeru Nishiyama
Assistant Editor: Michi Takigawa
Sound Director: Satoshi Motoyama
Sound Effects: Tsutomu Ueno
Audio Recording: Shuuji Imai
Sound Production: Magic Capsule
Sound Producer: Rie Tanaka
Animation Producer: Yuji Matsukura
Project Producer: Takaya Hinano (VisualArts/Key)
Executive Producer: Takahiro Baba (VisualArts/Key)
Animation Production Supervisor: Hikaru Matsuo
Animation Production Manager: Yui Sato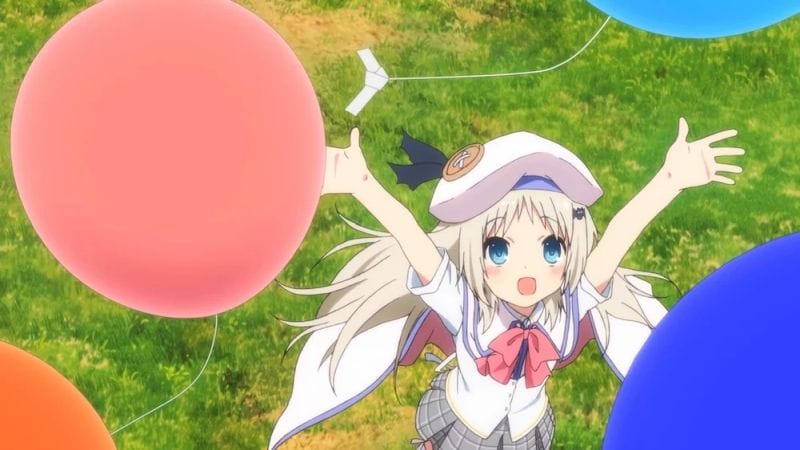 The confirmed voice cast for the project includes:
Kudryavka Noumi: Naomi Wakabayashi
Riki Naoe: Yui Horie
Rin Natsume: Tomoe Tamiyasu
Kyosuke Natsume: Hikaru Midorikawa
Masato Inohara: Nobutoshi Canna
Komari Kamikita: Natsumi Yanase
A-chan Senpai: Riko Hirai
Theme song Light a Way will be performed by Suzuyu.
Kud Wafter is developer Key's eighth adults-only visual novel. The title hit Japanese PCs on June 25, 2010. Developer Prototype ported the title to Sony's PSP and Vita handhelds, with both versions hitting stores in 2013.
Key also produced a manga adaptation with illustrator Bakutendō, which ran in ASCII Media Works' Dengeki G's Magazine, The series ran from May 2010 through February 2014, and spanned six collected volumes.
Kud Wafter is a spinoff of 2007 visual novel Little Busters!, which revolves around character Kudryavka "Kud" Noumi. The title is set shortly after the original Little Busters!, and focuses on the budding romantic relationship between Kudryavka "Kud" Noumi and Little Busters! protagonist Riki Naoe.
Sources: Tokyo Otaku Mode, Twitter (VisualArtsUSA)