On April 1, Sega of France uploaded their teaser trailer for Project Sakura Wars. The teaser they uploaded was an early version, though, which includes scenes not found in the final version.
In addition to a general lack of final lighting and effects (as well as actual timecodes on some segments), the teaser includes several scenes that weren't included in the final version. These segments include dialogue and button prompts, as well as new locations and details that weren't initially visible in the final teaser.
With gumption, a Japanese dictionary, and a heck of a lot of patience at my command, I went to work tearing this trailer down, to see what could be hiding beneath the surface. I set forth transcribing and cataloguing all the dialogue, and making comparisons to the final version of the promo where needed.
There's a lot to take in, so I went in establishing a few ground rules:


References covered in the original trailer will not be listed

I don't care about lighting/texturing as this is just the sausage being made. Time of Day, backdrop, etc. will be noted.

So, basically, I looked for the following criteria:


Was it new content?

Were there new references?

What do the subtitles say?

What do the button prompts say?

Are there any major character design changes?

Are there clearer versions of objects or characters renders that were obscured or hard to read before?

With this in mind, I set off to work. Through the trailer, I was able to uncover more than thirty new items, which I've broken down below.
0:32: Clarity. The text on the "modern" sign is now readable. It reads "堂門押", which translates to "Domonosae."
0:43: Dialogue: "That's after I told you that you should become the captain and protect me. What about the other promise after that…?"
0:43: Time of Day change. The scene takes place in the daylight hours in this teaser, rather than at night as we saw in the previous.
0:43: Clarity. The doorplate is readable now, and reads "Night Room." This is the top of the stairwell on the first floor, near the top-left corner of the theater. See Figure-1 below.
0:44: Dialogue: "Now… let me show you my Demonic Power!"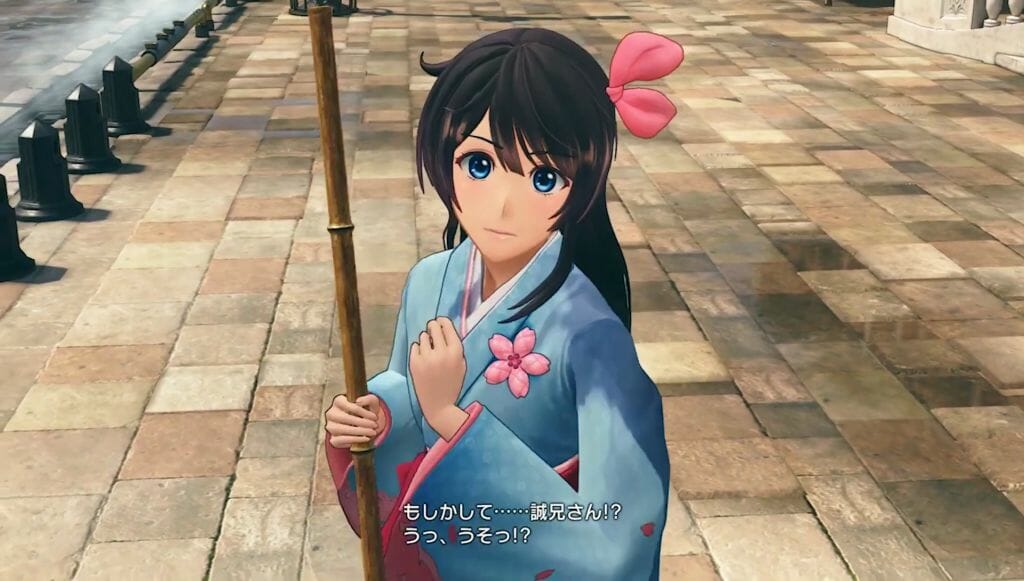 0:46: Dialogue: "Maybe… Sei-niisan?! I-It can't be?!", or "Maybe… wait, now way! Sei-niisan?!"
0:49: Clarity. This shot offers a better look at the kouma (untextured)
0:49: Dialogue: "What's that?!" (Literally "Nanda?!")
0:49 Reference: Sign in French, reads "Gilles du Lait", or "Gilles' Milk" – This appears to be a café.
0:50: Clarity. A better look at the Shogei Maru aircraft.
0:51: Dialogue: "C… Captain!!"
0:55: Dialogue: Sei…. niisan…
1:01: Dialogue: Sakura: "And because it's an opera company, the first thing I should do is show you the stage!"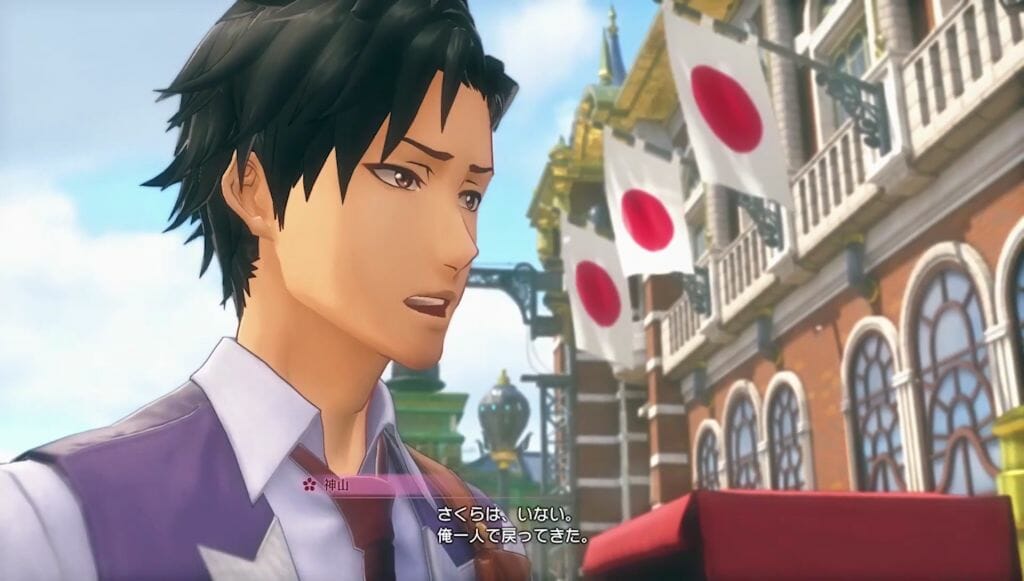 1:03: Dialogue: Seijūrō: "Translation: Sakura's not here. I came back alone."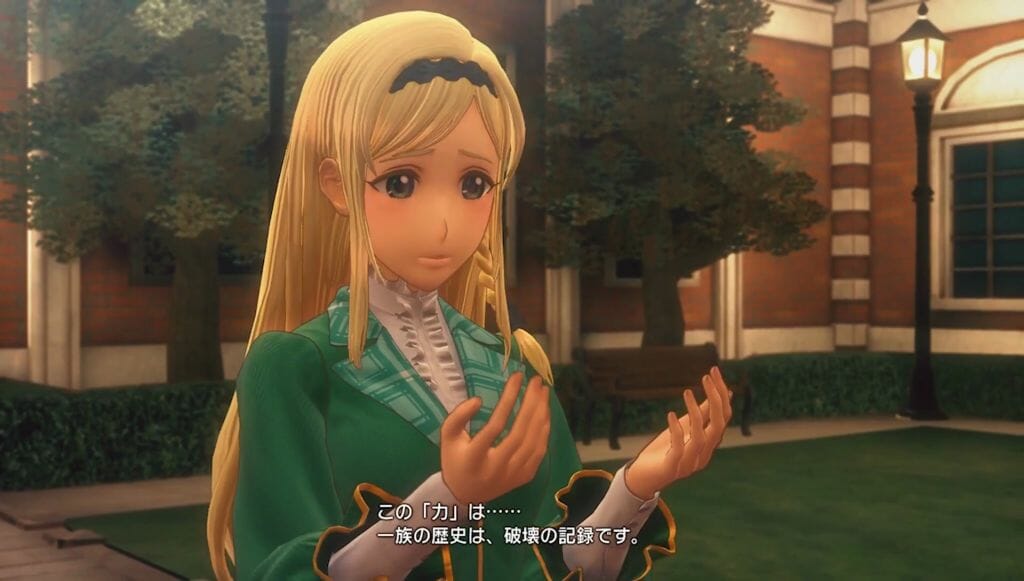 1:06: Dialogue: Clarice: "This 'power' is… Well, the family's history is more a record of destruction."
1:07: Dialogue: Hatsuho: "Ah? What's wrong?"
1:12: Dialogue: Anastasia: "Fu…. Honestly, I wonder what it is" or "Fu… Honestly, I wonder what it means."1:12: Dialogue: Anastasia: "Fu…. Honestly, I wonder what it is" or "Fu… Honestly, I wonder what it means."
1:14: Dialogue: Azami: "No way… I'd never protect something like that"
1:18: New scene. The members of the new TeiGeki stand in a stairwell of the theater and put their hands together in a "come together" huddle. The stairwell has not been shown rendered previously, and is blocked off by debris. Presumably, this is the stairway to Floor 2, given that the stairs down are not blocked off.
Assuming this is the case, corridor behind Azami and Clarice would lead to the backstage area.The corridor behind Seijūrō would lead to the Manager's office and the Secretarial office before ending in the kitchen. See Figure 2 for a map of the Imperial Theater.
1:21: Dialogue: "OHHHHHH!"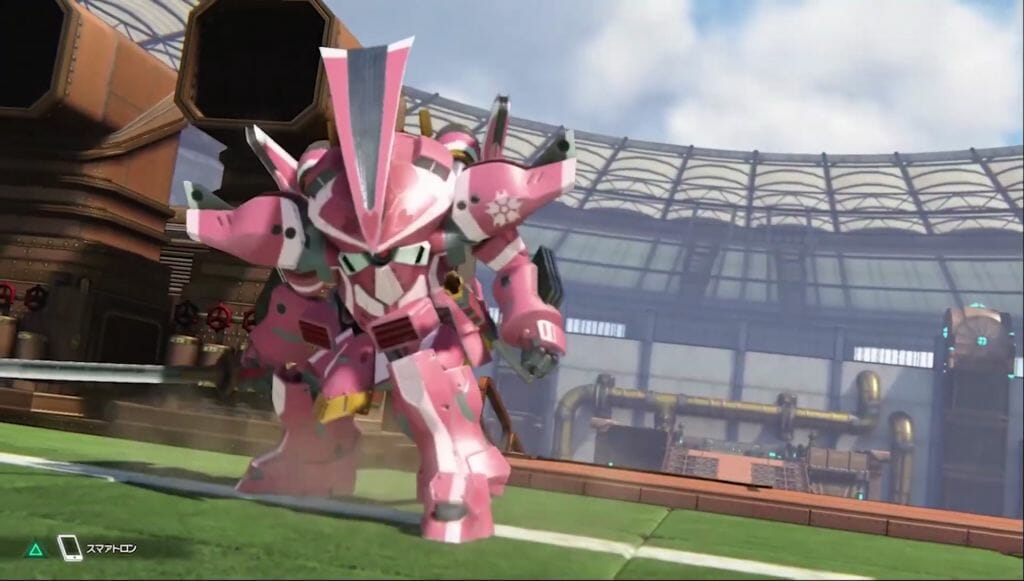 1:22:
Button Prompt: Sumafutoron – basically "Smartphonetron" so… "Smartron?" This appears to be a continuation of the "Kinematron" line of portable devices, and is now bringing smartphones to the Taisho era.
1:22: New setting, which appears to be outdoors. Possibly related to the "Combat Revue World War" competition that was hinted at previously.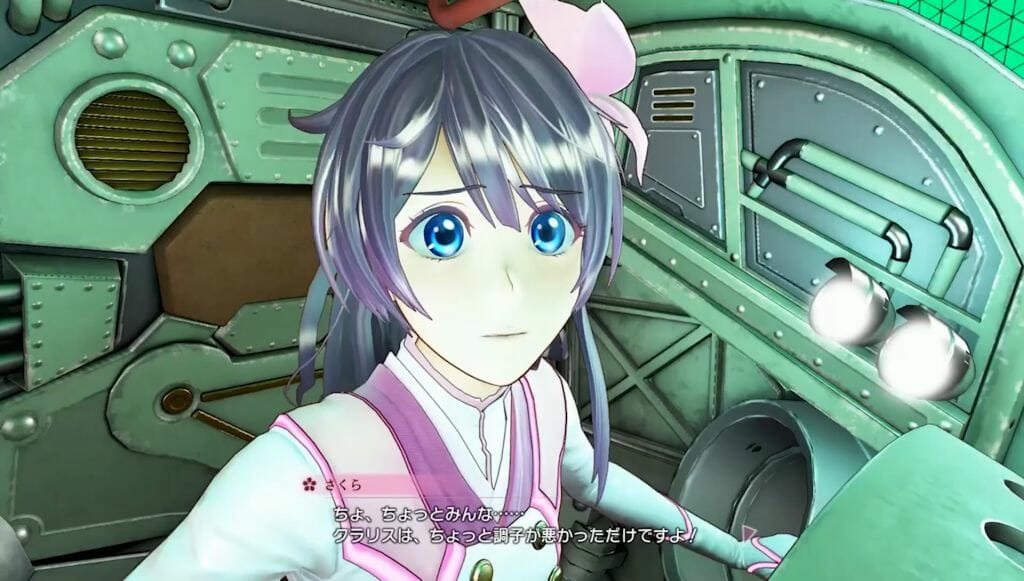 1:23: Dialogue: Sakura: "Wait… wait everyone. Clarise… just made a little mistake."
1:24: Dialogue: Clarise: "Yes, let's go…"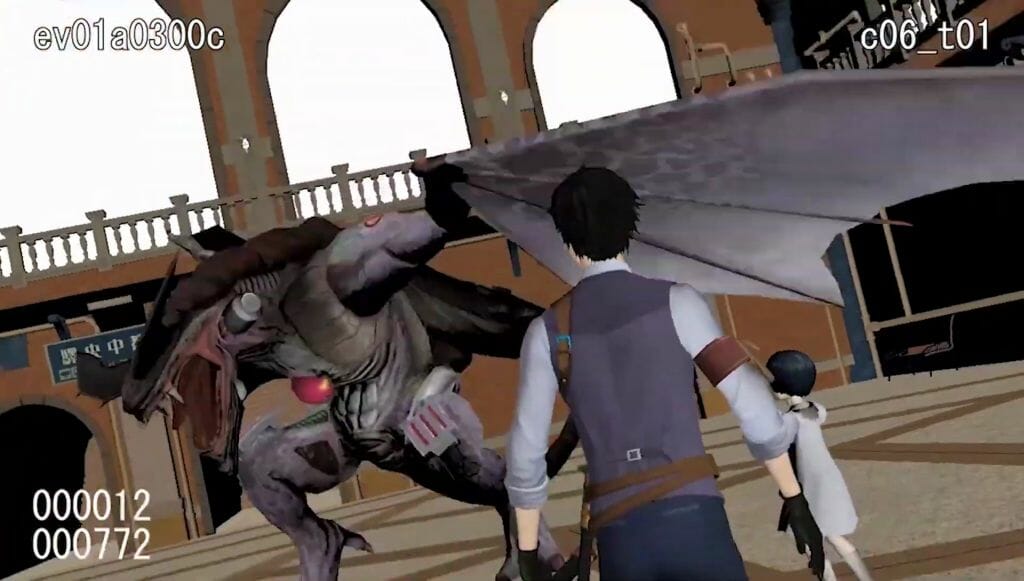 1:29: Better look at Kouma (Textured)
1:31: A better look at Seijūrō's dual-wielded sword style.
1:33:
Dialogue: "Don't feel bad!"
I'm thinking this should be something like "NO REGRETS!" or some other line in that tone.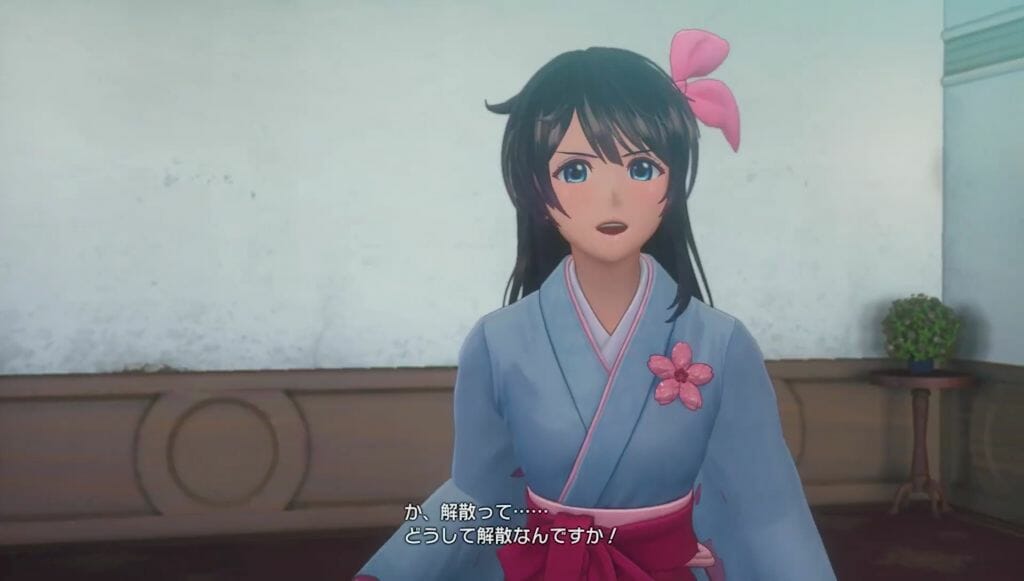 1:36: Sakura: "Or, disbanded… … … Why did you break up?!"
1:38:
Dialogue: Seijūrō: "It can't be helped. What more can I really say?"
1:38: New Scene. This appears to be set in the Salon, given the placement of the furniture and the window shape.
1:44: Dialogue: Seijūrō: "I know… wait, what?"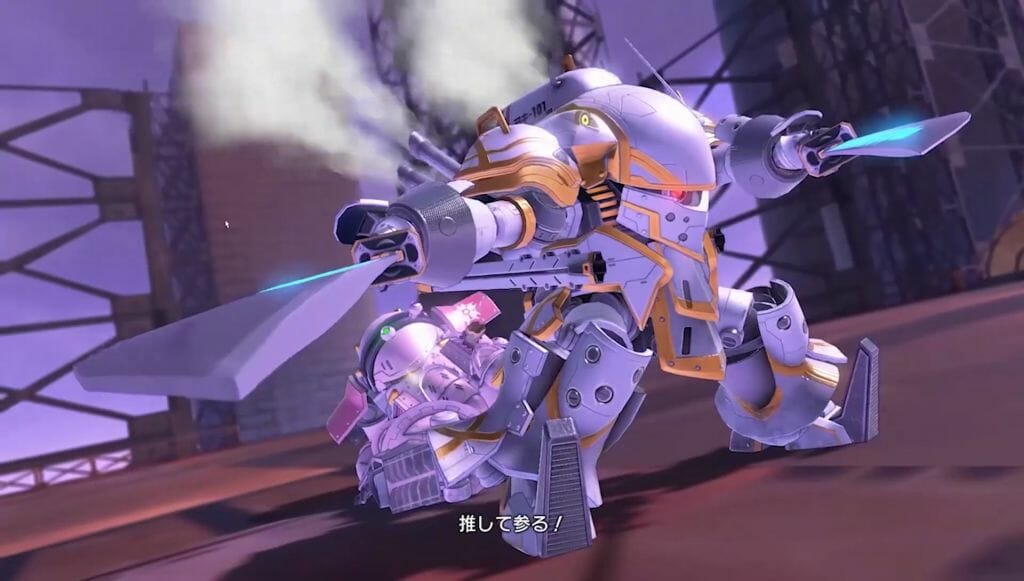 1:46:
Clarity. The still offers a better look at Sakura's koubu, which is indeed a Mark II.
1:46: Dialogue: "Let's do this!"
1:51:
Dialogue: Sakura: "That's because… it's… my dream."
1:51: Scene difference. Tsubaki's shop is not as prominently visible in the background.
Support Anime Herald on Patreon
If you enjoyed this article, why not consider backing us on Patreon? For just $1 a month, you can help support more articles like this, and gain access to goodies like exclusive behind-the-scenes articles and Director's Cut versions of classic content.