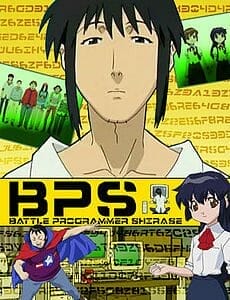 Earlier today, Maiden Japan announced that they acquired the domestic rights to Battle Programmer Shirase. The publisher will stream the title on select digital outlets, followed by a home video release.
Battle Programmer Shirase is a 2003 series from AIC. The project was directed by Hiroki Hayashi (Bubblegum Crisis: Tokyo 2040, Tenchi Muyo!), with Ryoichi Makino (Nightwalker: The Midnight Detective) and Ryuichi Makino (Battle Athletes, Re:CREATORS) providing character designs.
Maiden Japan describes the show as:
Akira's gifted programming and hacking skills have made him a legend on the darker portions of the internet, but in the real world, he's not as impressive.  In fact, he's basically a freeloader who depends on the kindness of his teenage great-niece, Misao, to get by.  And by get by, we mean that she owns the apartment he lives in and frequently comes over to cook for him!  But instead of selling his considerable computer skills for piles of cash to repay Misao with, Akira is happy to do his web-fu in exchange for gadgets and other otaku paraphernalia.  However, when the internet begins to be disrupted by a nefarious web presence who goes by the name King Of America, Akira may be the only one who can save the day!
Source: Maiden Japan (Press Release)