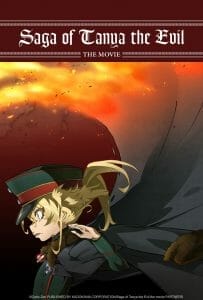 Fathom Events opened a web portal to announce that they will host a Crunchyroll Movie Night event for Saga of Tanya the Evil – the Movie. The screening will be held on May 16, and present the film in subtitled format. In addition to the feature, an interview special with director Yutaka Uemura will also be shown.
Tickets are set to go on sale on April 12, though Atom Tickets, Fandango, Regal Cinemas, and AMC Theaters are already taking orders.
Fathom Events describes the film as:
The time is UC 1926. The Imperial Army's 203rd Air Mage Battalion led by Major Tanya Degurechaff has won the battle to the south against the Republic's stragglers. They expected to be given a vacation after returning victorious, but instead receive special orders from Staff HQ as soon as they get home. They are told that there were signs of a large-scale deployment near the Empire-Federation border.

Faced with the prospect of a new major enemy, the desperate Empire fans the flame of war.

Meanwhile, an international volunteer army spearheaded by the Commonwealth set foot in Federation territory. As they say, the enemy of an enemy is your friend. They suffer through misfortune purely out of national interest, and among them is a young girl.

She is Warrant Officer Mary Sue, and she takes up arms hoping to bring the Empire, who killed her father, to justice.
Yutaka Uemura (FLCL Alternative, Punch Line) returned to helm the film at Studio Nut, with Yuji Hosogoe reprising their role as character designer. Kenta Ihara (Ajin: Demi-Human, Death Parade) was tapped to write the film's script.
The confirmed voice cast includes:
Tanya Degurechaff: Aoi Yūki
Isaac Dustin Drake: Binbin Takaoka
Rhiner Neumann: Daichi Hayashi
Matheus Johann Weiss: Daiki Hamano
Mary Sioux Warrant: Haruka Tomatsu
Hans von Zettour: Houchu Ohtsuka
Wilibald Koenig: Jun Kasama
Adelheid von Schugel: Nobuo Tobita
Severin Bientot: Ryōkan Koyanagi
Visha: Saori Hayami
Erich von Rerugen: Shinichiro Miki
Pierre Michel de Lugo: Takaya Hashi
Kurt von Rudersdorf: Tesshō Genda
Warren Grantz: Yūsuke Kobayashi
Source: Twitter (WTK)