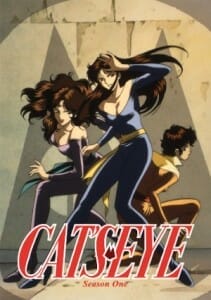 On April 15, Right Stuf announced that their license for classic anime series Cat's Eye has expired. The company is selling its remaining stock on DVD for $18.50 per season via the Right Stuf website.
Cat's Eye is a 1983 action-drama based on Tsukasa Hojo's (City Hunter) manga of the same name. The series, which spans two seasons, was directed by Yoshio Takeuchi (Season 1,Oishinbo, Harlock Saga) and Kenji Kodama (Season 2, City Hunter, The Rose of Versailles: I'll Love You As Long As I Live) at TMS Entertainment. Junichi Iioka (Lupin III: Part III, Soccer Fever) was in charge of series composition.
Right Stuf describes the show as:
Cat's Eye is the most notorious group of art thieves in Japan. No one knows their identities, but for most of Tokyo, the mystery only heightens their allure. To bumbling detective Utsumi Toshio, Cat's Eye is a colossal pain in the neck. They outwit him and the rest of the police at every turn. He would never dream of being in love with someone in Cat's Eye. Except he already is.

Toshio has no idea that Cat's Eye is actually his girlfriend, Hitomi Kisugi, and her sisters Rui and Ai. Running the Cat's Eye Cafe next door to the police station, they bring "hiding in plain sight" to a whole new level. But thievery and romance are difficult to balance. Hitomi will need all the help she can get to stop Toshio from discovering her identity – especially when he starts having feelings for her alter-ego!
Source: Twitter (RightStufAnime)