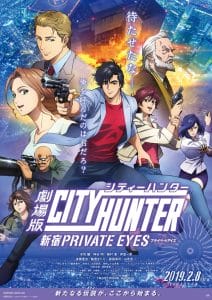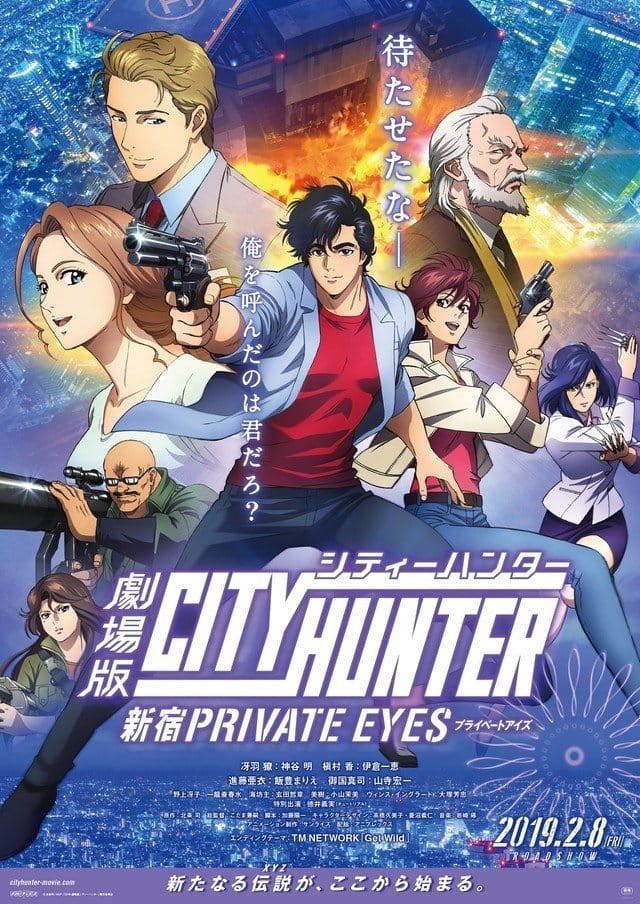 On April 20, Sunrise announced that Discotek Media will release City Hunter anime series, as well as feature film City Hunter: Shinjuku Private Eyes in North America. Discotek will give the film select screenings across the United States, and plans to release both the film and the anime TV series on home video.
City Hunter: Shinjuku Private Eyes will make its North American premiere on April 20 at Anime Boston.
Kenji Kodama (Kekkaishi, Case Closed) was tapped to direct the project at Sunrise, with Yoichi Kato (Aikatsu!, Yo-Kai Watch) writing the script. Kumiko Takahashi provided character designs.
T.M. Network performed closing theme song Get Wild, which made its return from the original City Hunter anime.
Other confirmed crew members include:
Music: Taku Iwasaki
Sound Director: Yukio Nagasaki
Art Director: Hiroshi Katō (Totonyan)
Chief Animation Director: Yoshihito Hishinuma
Unit Director: Takahiko Kyōgoku
Unit Director: Teruo Satoh
Editor: Daisuke Imai (JAYFILM)
Color Key: Yuichi Kuboki
Kenji Kodama previously directed the first three mainline City Hunter TV series, as well as three film and OVA projects:
.357 Magnum (Theatrical Film)
Bay City Wars (OVA)
Million Dollar Conspiracy (OVA)
The confirmed voice cast includes:
Ryo Saeba: Akira Kamiya
Kaede Makimura: Kazue Ikura
Saeko Nogami: Youko Asagami (as Harumi Ichiryusai)
Umibozu: Tesshō Genda
Ai Shindō: Marie Iitoyo
Vince Ingrado: Houchu Ohtsuka
Shinji Mikuni: Kōichi Yamadera
Miki: Mami Koyama
Hitomi Kisugi: Keiko Toda
Rui Kisugi: Keiko Toda
Ai Shindō: Marie Iitoyo
Shinji Mikuni: Kōichi Yamadera
Vince Englert: Houchu Ohtsuka
Conita: Yoshimi Tokui
Kamiya, Ikura, Asagami, and Genda are reprising their roles from the original TV series, OVAs, and films.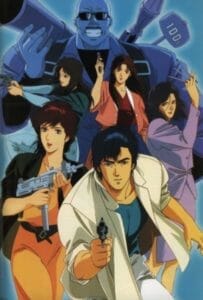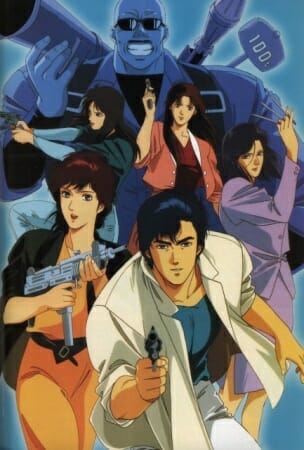 The  film is the first entry into the mainline City Hunter anime franchise since 1999, which saw the airing of TV special Death of the Vicious Criminal Ryo Saeba. The feature will move the setting to current-day Shinjuku, away from the glitz and excesses of the bubble era that the original had spawned from.
Akira Kamiya, who played Ryo Saeba in the original City Hunter anime franchise and spinoff show Angel Heart, will return to reprise his role as the sex-crazed sweeper. Likewise, Kazue Ikura, who played Kaori Makimura in the original City Hunter anime, will return to play the role.
Tsukasa Hojo's City Hunter manga made its début in the pages of Shueisha's Weekly Shonen Jump magazine in 1985. The series ran through 1991, spanning 35 compiled volumes. The title received four anime TV series, as well as a feature film, three made-for-TV movies, and two OVAs. All animation was previously produced by Sunrise.
ADV Films released the entire run of City Hunter, save Death of the Vicious Criminal Ryo Saeba, in North America. They described the title as:
Meet Ryo Seaba: ladies' man, troubleshooter and expert marksman. When you need more help than the police can provide, he's the solution. He's the City Hunter, and if he can't solve your problem, no one can. Welcome to the world of City Hunter where freelance troubleshooter Ryo Saeba works to keep the streets of Shinjuku safe. When calling the police just won't do, leave an "XYZ" message on the board at Shinjuku Station and the City Hunter will respond to your plea for help, especially if you happen to be a beautiful woman!
A Hong Kong live-action film adaptation starring Jackie Chan hit theaters in 1993, and a K-drama adaptation made its way to the airwaves in 2011. A Chinese live-action film adaptation will be released in December 2018 at its earliest, and a French adaptation under the title Nicky Larson is also in the works.
Tsukasa Hojo wrote an alternate-world spinoff of City Hunter, titled Angel Heart. The series ran in Shinchosha's Weekly Comic Bunch from May 2001 through August 2010, spanning 33 compiled volumes. A sequel manga, titled Angel Heart: 2nd Season ran from October 2010 through May 2017, spanning 16 compiled volumes.
Angel Heart received a 50-episode anime series, which began airing in the Summer 2005 broadcast season. TMS produced the adaptation, while Toshiki Hirano (Devil Lady, Magic Knight Rayearth) took the director's chair.
Source: Sunrise (Industry Panel) (via L.B. Bryant)