Good evening, dear reader, and welcome to our second-ever Convention Travelogue. Rather than write up the usual barrage of panel reports and news, I wanted to try something a bit different and more intimate about Anime Boston, as it's a con that is incredibly special to me. It's my second-ever anime con, and one that I've been happily attending since its first year in Boston's Park Plaza in 2003. And, well, I really wanted to discuss why I find this event so irresistibly charming.
Between articles, I'll be including little travelogue bits, where I dive into the overall experience of the weekend. The food, the sights, and those rare moments where I just cut loose and let things go at their own pace. These won't always be 100% anime-related, but I do hope you enjoy these little interludes!
With that in mind, let's get rolling.
4/18/2019, 8:30AM: Final Checks
The alarm clock beeps, its rhythmic chirping sounding in a cozy bedroom in a small home in a Rhode Island suburb. A cat yawns, with nary a care going through her mind as she walks over her owner and hops off the bed.
I let out a small yawn as I sit up, then shuffle toward the alarm clock, as I've done countless days before. The sun hangs high in the sky, at this point, as the cat hops onto her perch on the windowsill. She skitters a little as she misses her mark, then scrambles to look like she meant to do that. I smile a little as I turn off the alarm with a "click."
The house fills with the smell of coffee, as the brewer starts with a small, happy "beep!" and the sounds of the percolating black brew.
I grab my tablet, and begin to run down my checklist yet again, as I let my medication dissolve under my tongue. "Okay," I think, "I have my clothes packed, my gear in the bag, and my notebook packed. Seth will be here at noon. What else needs to be done?"
I let out a small sigh as the coffee maker beeps again, signalling the completion of its work. I flip on to the TV and tune it to the Roku app, taking a moment to ponder before ultimately choosing the Crunchyroll app, which loads with a hollow "blu-dook" sound. A moment later, the Pop Team Epic April Fool's special (well… one of the variants, anyway) is running on the screen. I giggle and snicker at the parodies and filthy humor, allowing my mind to wander before worrying about any final checks.
As the end credits rolled, I rose, stretched, and performed my morning exercises for one last time before I made final preparations to go. My phone buzzed, as a Google Hangouts message arrived. It was Seth.
"ETA, 12:17."
Soon, it would be time for a weekend like no other.
4/18/2019, 12:30PM: A Quick Lunch
Seth arrived at 12:17, right on time. I answered his knock on the door, and we exchanged our greetings. My cat, who had been lazing, sprinted over to see the new person. We took a few moments to discuss our travel plans.
Before heading off to Boston, though, we both agreed that lunch was a priority. And, unrelated to the current convention ahead, a Japanese feast sounded like a wonderful idea. We got into my car, and began a short trip (granted, in Rhode Island, every trip is short) to Haruki: a local landmark in Cranston that's been delighting diners for as long as I can remember. We stepped into the main entryway, and were quickly greeted by a hostess before we were seated in a comfortable booth.
For my meal, I had ordered the Salmon Teriyaki bento, which included rice, bean sprouts, and a trio of pork gyoza.
The salmon was scrumptious, with a subtly sweet flavor that was greatly enhanced by the tang of the teriyaki sauce. The filet was perfectly cooked, though the skin could have been a bit more crispy. The gyoza, meanwhile, was delightful, with the fatty pork being perfectly married with the salty flavor of the soy/rice vinegar sauce that it was bathed in.
As we ate, Seth and I started to dive into the nitty gritty of the Fate/stay night universe, before conversation drifted to Aniplex of America's upcoming boxed sets, and what we'd expect in terms of news from Anime Boston.
Overall, It was a fantastic way to start the weekend, and our timing seemed perfect as we returned to my place, and hailed a Lyft to the train station.
4/18/2019, 1:54PM: Setbacks!
As we sat in Providence traffic, I checked the schedule for the commuter rail to Boston. The next train would leave at 1:55PM, just ten minutes away. We had a fifty-fifty chance of making it, though I had a feeling deep down that we were destined for a setback.
The Lyft arrived at 1:54PM, just one minute before the train would depart. As we stepped in, we could hear the train making its exit from the platform.
We missed it.
Still, worse things could happen… this could be a Friday, and we could be late for the con, proper. We bought our tickets, took a seat on a nearby bench, and waited.
At 2:00, the Kickstarter for Big Eyes, Small Brains, a tabletop RPG that I had co-authored with L.B. Bryant and Attention Span Games, went live. This would become a focal point through my weekend, as the climbing dollar values would become keen. How close to our $4,000 goal would we get?
I tried to play it off coolly, but I had to admit that I was excited.
4/18/2018, 2:50PM: Shipping up to Boston
The 2:55 train to Boston pulled into the station at 2:45, accompanied by a crackly announcement over the intercom and the unceremonious flipping of its status on the station's digital schedule board. With a start, Seth and I lifted our bags, and made haste to the platform. A small chill could be felt in the afternoon air, as a breeze rushed by us in the tunnel.
We found our seats in the empty car, which was deathly silent in comparison to previous years. A few people chatted at the front of the cabin, but it was a far cry from the hustle and bustle that I had come to know in the fifteen years before.
By 3:07, the car lurched forward, and we were officially Boston bound. A grey sky hung above us, as trees and small suburbs passed us by. It felt as if the dreary skies were ready to erupt in the tears of a downpour at a moment's notice. Still, it'd take more than that to dampen our spirits.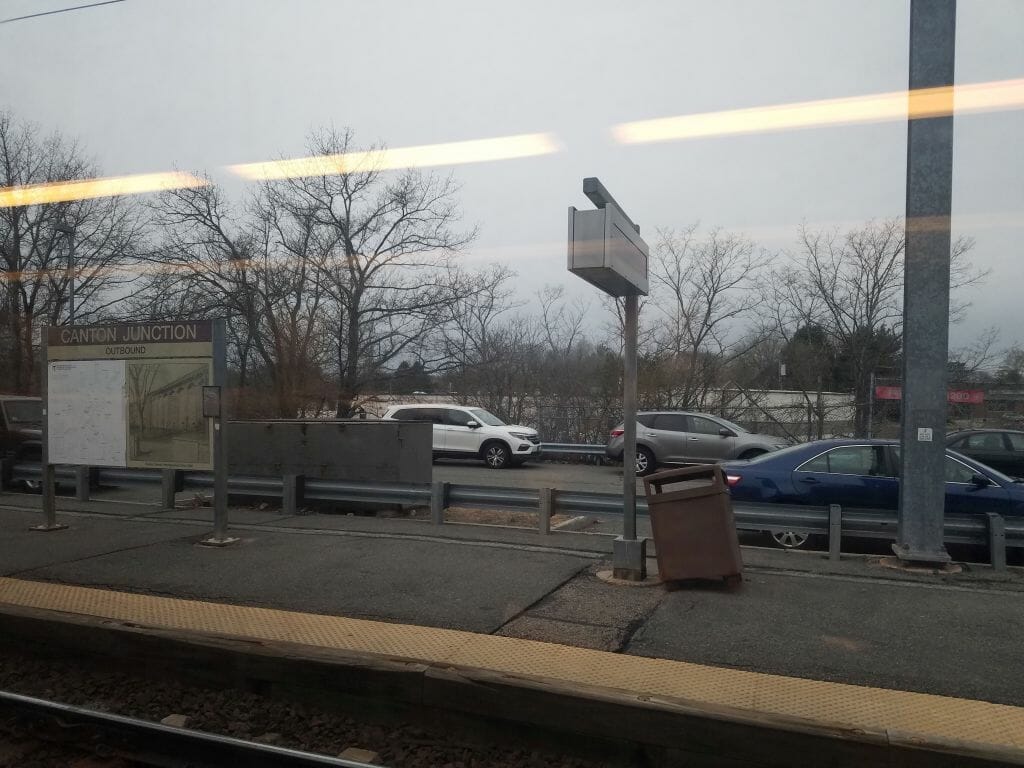 We arrived at Back Bay Station at 4:08PM, just an hour after departure. Gathering our things, Seth and I hurried toward the Prudential Center, passing by familiar landmarks and buildings that had guided our journey so many times before.
As we passed the Mandarin Oriental Hotel, and stepped into the Prudential Center's doors, I couldn't help but crack a small smile. We had reached our destination, er… almost. As we walked through the empty mall, I couldn't help but remark at, again, how peaceful things were. Just hours later, this area would be packed to capacity with costumed con-goers and attendees of all ages. Now, though, the closest thing to congestion was a pair of well-dressed shoppers stepping out of Godiva Chocolates.
We made our way to the Sheraton, and through the familiar (albeit empty) registration lines to claim our passes, and to check in for my panel: From East To West: The Superheroes of Japan And America. After that, we were off to reception to get checked in.
As we waited, Seth gave me a quick nudge and pointed my attention to the back of the line. Otaku Journalist chief Lauren Orsini had stepped in about fifteen spaces back. I excused myself, and hurried over to exchange greetings. We took a moment to catch up on the past months, but the endless march of the line would see our meeting cut short. We agreed to meet up later that weekend, before I hurried back to my spot.
4/18/2019, 4:29PM: An Experience to Remember
By the time we had found our room, and set our things down, it was already 4:29PM. Seth had made reservations for the two of us as Sorellina: an Italian restaurant that he had raved about. We picked up our things, and began to wander through the streets of Boston, as a few raindrops tinkled down from above. We stepped into the restaurant's doors, and I couldn't help but be taken in by the cozy interior and comfortable atmosphere.
We were seated near the bar, and a server brought us a menu. Ultimately, I would order the Crudo, followed by the Maccheroncelli for a second, and a Veal Saltimbocca for a main course.
The crudo was refreshing, with the delicate slices of Hiramasa playing wonderfully with the acidity of the Sorrento lemon and lime sauce playing nicely against the heat of the serrano pepper. The crumbles of croutons would provide a nice crunch to the texture, which was much appreciated against the soft texture of the fish.
The Maccheroncelli came on a recommendation by Seth, who exclaimed that it was "to die for." And, to be honest, that is an understatement. The fresh pasta played beautifully with the flavorful meatballs, whose dense and beefy flavor was unlike something I had ever experienced. The dark sauce that enveloped the dish was rich and velvety, with a savory, almost sweet finish to it. It truly was divine, a dish that I would not soon forget.
The Veal Saltimbocca was similarly divine, with three medallions of soft veal, wrapped in prosciutto. They sat as islands in a sea of pureed potatoes and matsutake mushrooms, which were rimmed with the velvety sauce that had elevated the dish that came before it. The veal was perfectly cooked, with a soft, buttery texture that played nicely against the crisp prosciutto. The matsutake mushrooms provided a nice, earthy balance while the creamy potatoes added a richness to the dish that couldn't be understated. The dark sauce was, again, a brilliant accent that brought the dish together, as it brought forth the umami of the veal.
Truly, a divine culinary experience.
As we exited Sorellina, the clouds seemed to part, as the low-hanging sun could be seen bathing the shimmering ground around us. A weekend like no other was about to begin, and we were both ready for the many memorable moments that would await us.
I would head down to the Prudential once more that evening, in hopes of sparking a pick-up game for Big Eyes, Small Brains. It didn't pan out as I hoped, but I did get to take one last stroll through the mall's glimmering halls, and enjoy the quiet of the moment before the storm that would hit the next day.