In the Sheraton Boston, on the fourteenth floor, a phone chirps impatiently. The happy melody it plays cuts through the silence of the hotel room, as I stir once more. It's the first day of Anime Boston, and it's time for the fun to begin. This hasn't set in for my sleep-addled brain, though, as I stumble out of bed, to the dresser to turn off my alarm.
I take a peek out the window, at the Boston skyline. While familiar, I can't help but smile, knowing that the weekend ahead would be one to remember. But first things first, I had to get ready before anything else. I slipped into the washroom to perform the daily rituals: shower, clothes, teeth, makeup.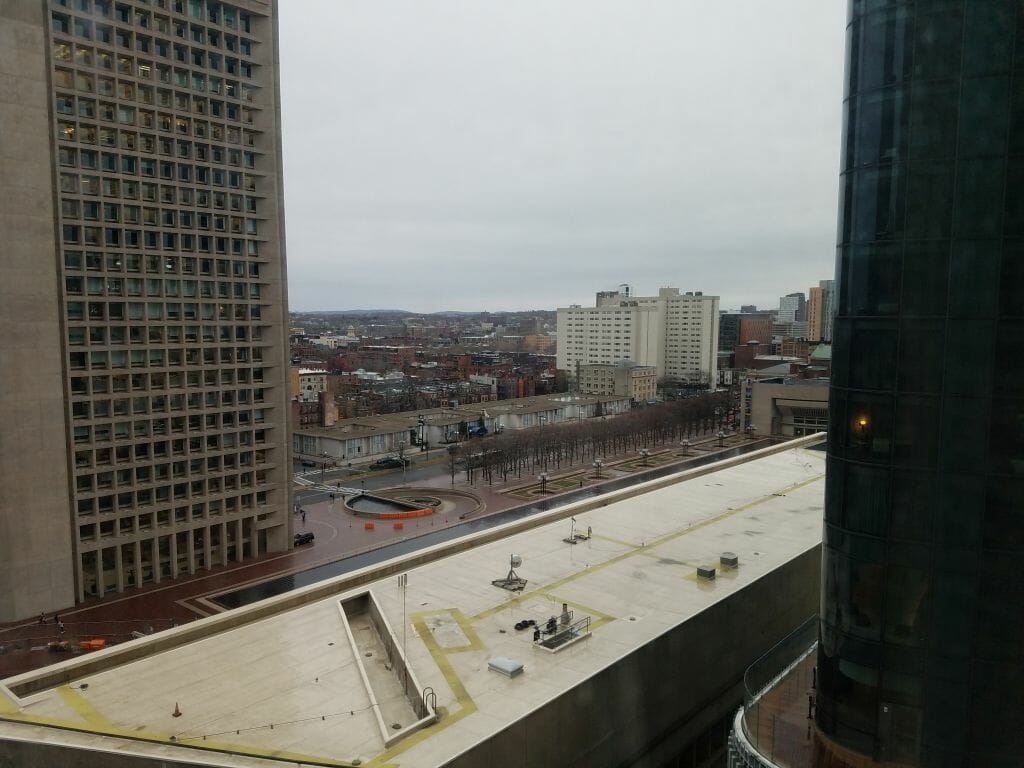 By the time I'm done, Seth is awake and browsing the morning news. As he steps into the washroom, I pull out my tablet and start to scroll through the headlines of the morning. I let out a small happy noise as I caught a new post on the PlayStation blog for the upcoming Project Sakura Wars.Translation would have to wait, though; more important things are afoot. I go through my equipment one last time, and verify my schedule for the day. I let out a small sigh as look at the events planned for the day: Opening ceremonies at 10:30, an interview at 12:30 with Yuri Lowenthal, and a talk with Richard Epcar at 2:30, MIYAVI's concert at 6:00… I was going to be busy!
As Seth stepped out, the clock was hitting 9:35. Rather than stop for breakfast, we both agreed that time was of the essence. We both made a quick breakfast of fruit before hurrying to the elevators.
4/19/2019, 9:45AM: Finally, The Show Floor!
As we made our way through the bag check, Seth and I quickly confirmed our game plans as we split off. I began to wander through the empty-ish halls, regaining my bearings once again. I wouldn't have the luxury of doing so once the con really kicked into gear. This year's theme was "Tales of the Shogunate," which was made apparent by the photo standees depicting various popular samurai characters, and banners printed with kanji were hung in the main stairwells.
Though it was nice to be able to explore for a while, time was not my ally. I made my way toward the Veterans' Memorial Auditorium at 10:15, as the doors opened. I entered in with the crowd, took my seat, and pulled out my notebook, because it was time to get to work.
4/19/2019, 10:15AM: Opening Ceremonies
Note: We covered this event in-detail in a standalone feature, so feel free to check that out for the details! For now, enjoy a few photos.
4/19/2019, 11:15AM: Into The Fray
A rush of people erupted from the doors of the Veterans' Memorial Auditorium, and into the waiting hallways of the Hynes. The sea of people was chaotic, as I was pushed forward with the flow.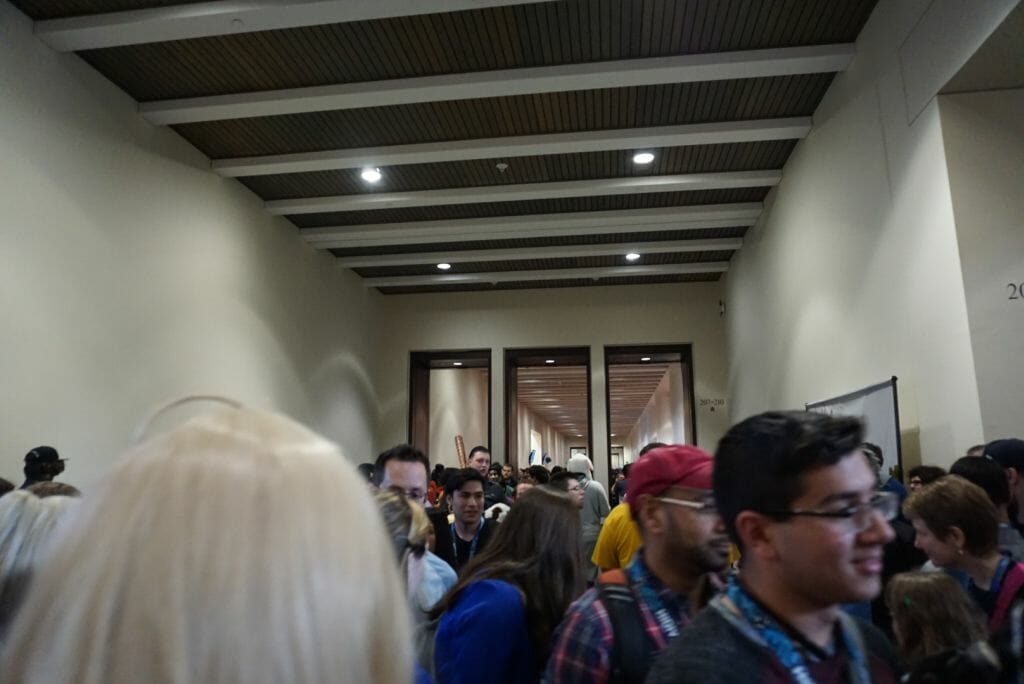 I quickly ducked to the side, finding some refuge in the Artist's Alley. I wandered for a few minutes, taking in the sights, and meeting the artists, before my phone began to beep impatiently. It was my alarm, notifying me that my first of four interviews for the weekend was imminent. I gathered my resolve before stepping out into the hall once more. Thankfully, the crowd had dispersed in the few minutes that followed. It was smooth sailing as I made my way to my first interview of the weekend, Yuri Lowenthal.
The hour seemed to fly by, as I, as well as representatives with five other outlets traded questions with Lowenthal. Before we knew it, we were delivering our final inquiries, and taking a final photo or two for our articles to come.
I looked at the clock on my phone. It was 1:30PM, and I had an hour before my next interview was scheduled. My stomach grumbled a bit, as if knowing that I had some time to kill.
As if on cue, my stomach grumbled impatiently. I knew that I needed to do something about that, and quickly scurried off toward the entrance to the convention center. I made a hasty retreat to Au Bon Pain: a place that would become somewhat of a refuge over the weekend, where I ordered a perennial favorite: a bacon, egg, and cheddar breakfast sandwich on an Everything bagel, along with an iced coffee.
The savory bacon worked as a wonderful complement to the creamy egg and mild cheddar, as the strong poppy and garlic flavors of the bagel served to round out the entire experience. It's a comforting lunch, warm, tasty, familiar, even if it's not the most nutritious.
The coffee was, well… the best way to describe it is "it was coffee." It wasn't remarkable in any way; if I wanted that, I'd take a walk to Blue Bottle, or even Starbucks in a pinch. It mainly served as a way to get caffeine into the body without much hassle, which was all that really mattered.
With my quick meal finished, I checked the clock: 2:05PM. Time waited for nobody, and interviewees certainly wouldn't wait for me to get through the security lines. With a small sigh, I picked up my gear, and hurried back toward The Hynes, to get ready to meet another living legend in the voice acting industry.
Support Anime Herald on Patreon
For just $1 a month, you can help Anime Herald grow into the biggest and best destination for all things anime related. Don't think it's just a donation, though! Backers get a number of perks, including behind-the-scenes articles, Director's Cut versions of classic content, early podcast access, and more!