4/19/2019, 3:30PM: Time to Unwind
As I stepped out of the interview room once again, I felt a small sense of relief. Finally, I had some time to kick back relax! I quickly hurried downstairs to a place that I probably shouldn't be heading, knowing myself: The Dealer's Room.
Inside, I scanned the many booths, which were packed with merchandise. DVDs, Blu-Rays, toys, video games, art books! Whatever you were looking for, there was a good chance that you'd find it here.
Well… for the most part.
I quickly learned that there are two reliable ways to make a dealer balk. "Would you happen to have anything from Sakura Wars?" I asked one, and received a look of utter bewilderment. Time and again, this happened as I sought out more merchandise from the twenty-three-year-old series.
Of course, this didn't bring anywhere near as many odd looks as my inquiries for specifically bad anime.
"Why… would you want that?" one vendor asked in confusion, their head tilting just a bit before I explained the fun of Bad Anime Night. Once they clued in, they seemed eager to show the usual favorites: Garzey's Wing, Photon, Darkside Blues… all promising, all glorious trash. Still, they weren't exactly titles that tickled my dark side.
Funny enough, it was Discotek Media's booth that proved to be the source for a new title that was bad enough to make audiences weep and wail as they ran for the exits. A cruel smirk played across my lips, as the vendor and her partner chatted on which shows would be bad enough to be considered bad for you. The partner piped up a moment later, saying "I hope you don't mind losing friends over this one," as he handed over a copy of Karate Master. I couldn't help but smile brightly as I responded with "If they are still my friends at the end of the night, I'm doing it wrong!"
Afterwards, it was time to find some, well… good stuff. And find it, I did, as I scooped up titles that somehow eluded my collection. K-On!, Squid Girl, Case Closed, Miss Kobayashi's Dragon Maid… I quickly found my bag filled to bursting with a cavalcade of modern classics.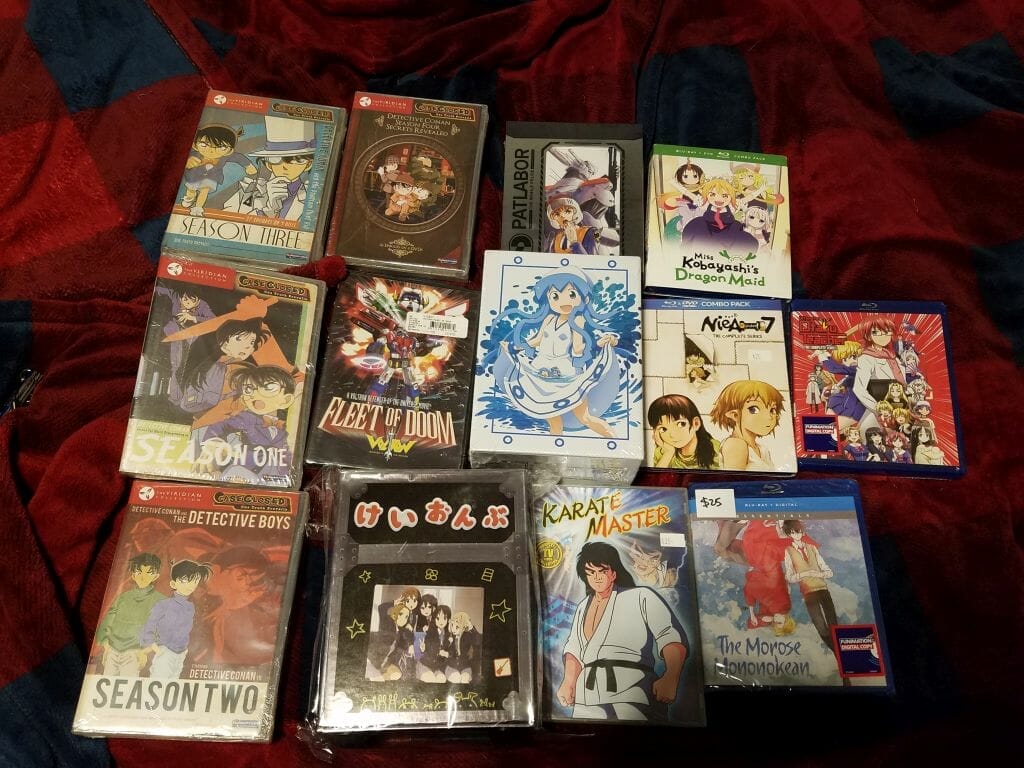 With my itch to spend thoroughly scratched, I figured it was time to visit an old friend. I made my way to the Science Fiction Continuum booth, where Brian T. Price was working. Price is somewhat of an icon for the convention, as he hosts Totally Subversive Toons and Bad Anime, Bad! Every year to great fanfare. When I stopped by, there was a brief lull in the customer flow. I popped over and we began to chat. As we talked, it became increasingly clear that Price was planning something big for the tenth anniversary of Bad Anime, Bad! I wasn't sure what at that point, but I was expecting a truly magnificent train wreck, which would make the crowd giggle and recoil at the same time.
Our meeting didn't last too long, though, as the booth began to grow busy again. We said our farewells, and returned to our normal routines.
Well, as normal as Anime Boston gets, anyway.
4/19/2019, 4:45PM: Dinner and a Demo
By quarter of five, I had gotten my shop on, and decided to hurry out of the hall before I decided to buy something I'd regret, like that Sakura Shinguji cel priced at $200. With MIYAVI's concert just over an hour away, it felt like the best course of action would be to grab a bite to eat. With dinner on my mind, I made a hasty trek to Eataly's La Pizza & La Pasta.
"Party of one," I said to the hostess, who directed me to the bar. As I took my seat, the barkeeper prepared a glass of water, as well as a serving of bread and olive oil. It was a lovely beginning to the meal, with the pillowy bread acting as a delectable sponge for the fragrant oil. It's a simple treat that I'll never not crave from time to time.
As the bartender circled back, I placed an order for a simple Margherita pizza. I pulled out my phone and began to go over the day's biggest news developments. I breathed a small sigh of relief, noticing that the news coming from both Anime Boston and Sakura Con was fairly light this time around.
Within a few minutes, the server came around with my pizza. It's a simple dish: San Marzano tomatoes, mozzarella cheese, and basil, served on a wood-fired crust. Still, as the saying goes, simple is often best.
The sweetness of the tomatoes played beautifully with the slightly bitter char on the crust, which helped to accent the creaminess of the cheese. The basil offered a nice fragrant note that helped to really elevate the entire dish to perfection. I smiled a little as I savored each bite, just losing myself in the moment of a delightful, relaxing meal during a busy weekend.
I checked my phone as I stepped out of Eataly, noticing that I had a message from a colleague who was hanging out in the Panelists' room. I swiped over to my clock: 5:25 PM. Plenty of time.
I quickly trekked back into the Hynes, toward the room. I paused for a moment when I arrived, remarking at how quiet everything was inside. It took a moment, but I clued in to two gentlemen were seated and chatting: BH Pierce and YouTuber Professor Otaku.
We exchanged greetings, and got to talking shop. First, we discussed our plans for the weekend, though the conversation quickly moved toward Big Eyes, Small Brains. We discussed the fundamentals behind the game's systems and the world, as they peeked at a preview copy of the book. Sadly, time was running short for all of us, as Professor Otaku had a panel coming up, Pierce had to prep for his own panel that evening, and I had to make my way toward the auditorium for MIYAVI's concert.
We said a quick farewell, as we parted ways. Though our meeting was brief, it was great to meet a few more folks in this lively community.
4/19/2019, 6:00PM: What's My Name?
Note: We will be publishing a full write-up of the MIYAVI concert as part of our Anime Boston 2019 coverage. For now, please enjoy a few photos from the event! All photos credit to Samantha Ferreira, taken in accordance with agreed upon photo policy for Anime Boston
4/19/2019, 8:30PM, An Annual Tradition
As MIYAVI left the stage, the room was left eagerly chattering, their ears still ringing from the aural experience that just occurred. For me, though, the night was still young. I wanted to check out one final panel for the evening. Seth, meanwhile, was heading for a screening of Lupin The Third: The Mystery of Mamo.
We parted ways once more, each to take on our tasks for the evening. Before anything, though, I had to see to a little tradition of mine.
Every year, since Anime Boston has been in the Hynes, I've made it a point to close off my first night with a particular treat from Au Bon Pain. I can't let a year pass without enjoying one of their chocolate croissants.
I scurried out of the convention center, my bad growing heavy around my shoulder, as I stole my way to the familiar yellow storefront that waited just outside. I hurried to the pasty case, where I found the treat was seeking. I plucked one from its resting place, and hurried to the counter, where I ordered an iced coffee, paid the clerk, and found a place to sit.
Now, the year was complete for me. Au bon Pain's chocolate croissants are a bit of a guilty pleasure for me. These sweet treats are flaky, tender, filled with chocolate, and coated in powdered sugar. With each bite, I could feel the weariness of the day starting to leave me. Sweet chocolate mixed with the bitter coffee, to produce a flavor that is nothing short of heavenly, in my books.
Alas, like most pleasures, it was fleeting. A few minutes later, I found myself finishing the last bite, my eyes again set toward the towering structure that awaited just outside.
4/19/2019, 9:00PM, Foundations of World Building
Note: We covered this event in-detail in a standalone feature, so feel free to check that out for the details! For now, enjoy a few photos.
4/19/2019, 10:00PM, The End of the Evening
I couldn't help but take a moment to watch in awe, as the packed room calmly filed out into the hallways. Deep down, I had to know that folks would be active even now, but it never ceased to amaze me at just how many there were every year. I let out a small smile and hoisted up my bag. It was time to get some work in for the evening. I slunk back to the Sheraton, and made my way to the elevator, then to my cozy, fourteenth-floor room. The weariness of the day finally hit me, as I collapsed into dead weight on my bed. I lazily went through the daily news reports, which had been arriving from friends and colleagues alike through the day, and got to work. It wouldn't be long after that, though, that sleep would claim me.
As the clock struck one, consciousness eluded me. It was time to get some rest, for tomorrow would bring about a few moments that I'd never forget.