Earlier today, the official Karakai Jozu no Takagi-san (Teasing Master Takagi-san) anime website updated with a new key visual for the upcoming second season, as well as details on the show's opening theme.
We break the details down below.
Key Visual
The image features Takagi and Nishikata flying a carp streamer. Takagi runs ahead, while her counterpart struggles to keep up.
Theme Song
Yuiko Ohara, who performed the opening for the show's first season, will return to perform opening theme song Zero Centimeters.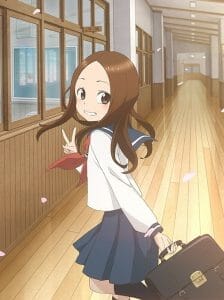 Karakai Jozu no Takagi-san returns to Japanese TV in July.
Hiroaki Akagi (Hina Logic – from Luck & Logic) will return to direct the new season at Shin-Ei Animation, with Shin'ya Une working as assistant director. Aya Takano (Himouto! Umaru-chan, Polar Bear's Cafe) will reprise her role as character designer, while Takuji Mogi and Natsuko Kondou work as sub-character designers. The team of Kanichi Katou (Idol Time PriPara, Jewelpet Happiness), Aki Itami (Animation Runner Kuromi 2, Forest of Piano), and Hiroko Fukuda (Amanchu! Advance, Uchi no Oochopus) will collaborate on the new season's scripts.
Other confirmed crew members include:
Music: Hiroaki Tsutsumi
Chief Animation Director: Takuji Mogi
Chief Animation Director: Natsuko Kondou
Chief Animation Director: Takehiro Suwa
Chief Animation Director: Aya Takano
The two main characters will see their roles reprised:
Takagi-san: Rie Takahashi
Nishikata: Yuuki Kaji
The show's first season aired in Wintr 2018. Crunchyroll streamed the season as it aired, and describe it as:
"I swear I'm going to tease and embarrass Takagi-san today!"

Nishikata, a middle-schooler, keeps getting teased by the girl who sits next to him in class, Takagi-san.

He tries every day to get back at her, but will he ever succeed? Takagi-san and Nishikata's youthful teasing battle starts now!
Source: Comic Natalie