The Skye's The Limit
A Final Fantasy XIV Travelogue
Mon grimoire,
It has been three fortnights since I've set out from home, in search of my true calling. The trip has been fraught with excitement, danger, et de grandes aventures! But… not really. It has been the journey of ennui, as les plaines et les villes passed by slowly in our small wagon. I have passed the time by making chitchat with mon nouvel ami, a merchant who is travelling to the Velar Sultanate. Through bonne fortune, I was also to head there. I had received a leaflet for the city from a representative of the Gillionway Trading Company. Within, it told of great riches, aventure, and a chance to grasp mon destin at the Thurmaturgy Guild!
As our carriage drew near, though, it seemed our journey was already at its finale. The Brass Blades stopped our carriage, and demanded tribute! But, as fate would have it, les monstres attacked! Amalj'aa laid siege to the area, drawing away our usuriers indésirables. We hurried away while they were busy, dashing into the gates of Velar! It is here that mon vie begins anew… and here that I would meet Gillionway's Lucien du Saule, who had been waiting for my arrival.
Until next log, ~Bonsoir
Today was the day I had first logged in to Final Fantasy XIV and, I'm not going to lie, it was my first real experience with an MMO since World of Warcraft, back in 2008. So, by pretty much all standards, I was new to, well… everything.
The game's initial quest line, though, offers a fantastic grounding on where to go and what needs to be done immediately. They send you to the must-see locations, like the bazaar, the Aetherium shard, and the guild that you'll be attending.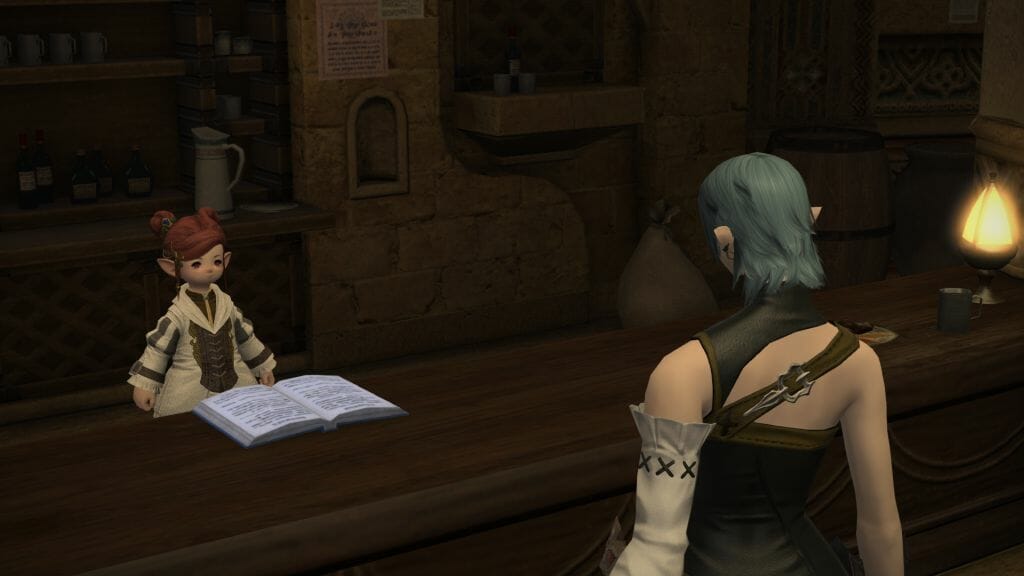 Moreover, the game offers a fairly strong overview of what each major station does, what to expect at landmarks like the Market Board, and even throws a few "getting to know the area" quests at the player to get their feet wet.
Now, shortly after I got started, I was met by Lucien, who had finally convinced me to give the game a try. We chatted for an hour or two, and walked around to see the sights as they explained the best way to really tackle the early game content. (Because, let's face it: nobody likes the "kill ten butterflies" quests!)
Shortly after we parted ways, though, I noticed the time, and opted to log out for the day.
Support Anime Herald on Patreon
For just $1 a month, you can help Anime Herald grow into the biggest and best destination for all things anime related. Don't think it's just a donation, though! Backers get a number of perks, including behind-the-scenes articles, Director's Cut versions of classic content, early podcast access, and more!