Earlier today, the official Kochoki: Wakaki Nobunaga anime website updated with a new trailer and key visual, as well as ten cast members and details on the show's theme songs.
We break the details down below.
Trailer
The 90-second promo introduces the major characters, using character dialogue to drive the main story beats. Opening theme song Shissō (Speeding) by Rib and Kiba to Tsubasa (Fangs and Wings) by May'n play as background tracks.
Key Visual
The image features Nobunaga posing with his blade, as Takigawa Kazumasu and Oda Nobuyuki characters pose behind him.
Cast
The series will add the following:
Oda Nobuhide: Taiten Kusunoki
Shibata Katsuie: Hidenari Ugaki
Hirate Masahide: Mugihito
Hayashi Hidesada: Kenichiro Matsuda
Hayashi Michitomo: Kosuke Toriumi
Sakuma Nobumori: Ryohei Kimura
Sakuma Morishige: Atsushi Tamaru
Oda Hidetaka: Ayumu Murase
Dota Gozen: Masako Katsuki
Saitō Dōsan: Tesshou Genda
Theme Songs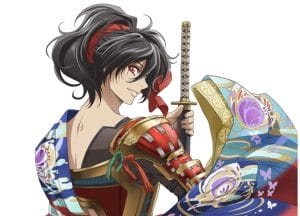 Rib will perform opening theme song Shissō (Speeding), while May'n performs closing theme Kiba to Tsubasa (Fangs and Wings).
Kochoki: Wakaki Nobunaga will air in July 2019.
Noriyuki Abe (Bleach, Yu Yu Hakusho) will direct the series at Studio DEEN, with Atsuko Nakajima (You're Under Arrest, Haunted Junction) providing character designs. Ryota Yamaguchi (Sailor Moon Sailor Stars, Blue Exorcist) is in charge of seires composition. Other confirmed crew members include:
Scripts: Ryota Yamaguchi
Scripts: Megumu Sasano
Nakajima, Yamaguchi, and Sasano previously worked on the Hakuōki anime franchise.
The previously confirmed voice cast includes:
Oda Nobunaga: Yūsuke Kobayashi
Takigawa Kazumasu: Junya Enoki
Oda Nobuyuki: Kaito Ishikawa
Sassa Narimasa: Makoto Takahashi
Ohana: Manami Numakura
Ikoma Kitsuno: Minori Suzuki
Oichi: Nao Tōyama
Tsuzuki Kurando: Satoshi Hino
Takugen Sōon: Shinnosuke Tachibana
Maeda Toshiie: Takuma Terashima
Murai Sadakatsu: Tomoaki Maeno
Ikeda Tsuneoki: Yūma Uchida
Kichō: Yumiri Hanamori
According to the website, Kochoki: Wakaki Nobunaga will follow Oda Nobunaga's life, starting with his teen years.
Sources: Comic Natalie, Ota-suke