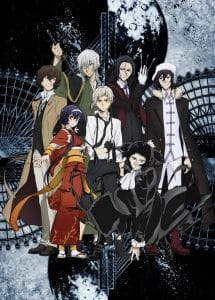 Earlier today, Funimation took to Twitter to announce that they will stream the English dub for Bungo Stray Dogs. The series will launch on FunimationNow on May 17, at 5:00PM Eastern (2:00PM Pacific). New episodes will be added on Fridays.
Bungo Stray Dogs returned to Japanese TV on April 12. Takuya Igarashi (Captain Earth, Ouran High School Host Club) is helming the new season at Bones, while Nobuhiro Arai (Chaika – The Coffin Princess) providing character designs. Yoji Enokido (Melody of Oblivion, Ouran High School Host Club) is in charge of the show's scripts.
Crunchyroll is streaming the series as a simulcast, and describes it as:
The White Tiger and the Black Beast – Nakagawa Atsushi and Akutagawa Ryunosuke's fight against Francis F. brings an end to the great war against the Guild. Life goes on as normal in Yokoyama, thanks to the continued truce between the Armed Detective Agency and the Port Mafia, who, together, saved the city from ruin. But there are still rumors of Guild stragglers and other crime organizations making their way in from abroad. Meanwhile, Dazai Osamu had premonitions of another impending disaster. Lurking in the darkness is the Fyodor D., leader of pirate organization Rats in the House of the Dead, his dreadful plans on the verge of execution.
Source: Twitter (Funimation)