Earlier today, the official Legend of the Galactic Heroes: Die Neue These anime website updated with two new visuals for the show's upcoming second season, as well as details on the show's theatrical run.
We break the details down below.
Key Visuals
The visuals, titled "Galactic Empire Version" and "Free Planets Alliance Version" show the main members of each of their titled factions.
Galactic Empire
Free Planets Alliance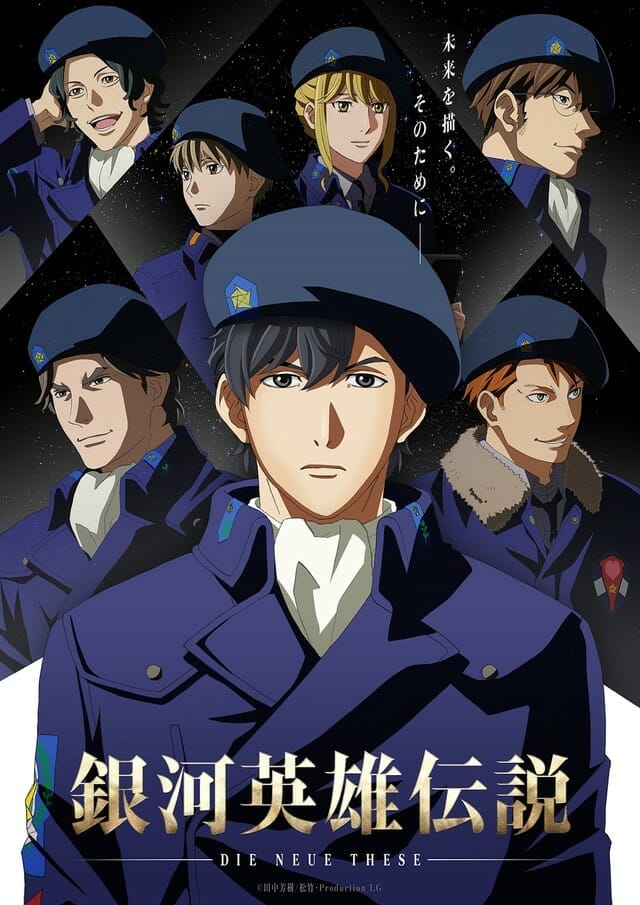 Theatrical Runs
The second season, which will be collectively titled The Legend of the Galactic Heroes: Die Neue These Seiran (The New Thesis: Stellar War), will screen as three films. Each feature will have a runtime equivalent to four TV episodes. The premiere dates are as follows:
9/27/2019
10/25/2019
11/29/2019
The first season aired in the Spring 2018 broadcast season.
Shunsuke Tada (Kuroko's Basketball, Starmyu) is directing the project at Production I.G., with the team of Yoko Kikuchi (El Cazador de la Bruja, Junjō Romantica), Iwao Teraoka (Japan Animator Expo), and Katsura Tsushima providing character designs. Noboru Takagi (Baccano!, Kuroko's Basketball) is in charge of series composition.
Other crew members include:
Original Concept: Yoshiki Tanaka
Chief Animation Director: Takayuki Goto
Special Effects Director: Atsushi Takeuchi
Mechanical Design: Atsushi Takeuchi
Mechanical Design: Shinji Usui
Mechanical Design: Shimon Ashikaga
Original Mechanical Design: Naoyuki Kato
Supervision: Wright Staff
Planning Cooperation: Kitty Entertainment
Production Cooperation: Tokuma Shoten
Production Cooperation: DMM pictures
Legend of the Galactic Heroes is a long-running anime series, based on Yoshiki Tanaka's influential series of sci-fi novels. It was a passion project by late director Noboru Ishiguro (Macross, Megazone 23), and his Artland anime studio. Ishiguro spent over a decade adapting the works as OVAs and theatrical films. Over 100 installments were made between 1988 and 2000.
Sadly, he passed away in 2012, due to a lung infection.
Over the summer of 2015, Sentai Filmworks licensed the Legend of the Galactic Heroes anime series, while Viz Media added the original novels.
Crunchyroll streamed the first season of Legend of the Galactic Heroes: Die Neue These in North America. They describe the title as:
Thousands of years into the future, humanity has advanced into space. Here it has divided into two countries and two different forms of government: the autocracy of the Galactic Empire, and the democracy of the Free Planets Alliance. The countries have been at war for 150 years. Near the end of the 8th age of the space calendar, the appearance of two geniuses will change history forever. The unstoppable genius, Reinhard von Lohengramm, and the unbeatable magician, Yang Wen-li. As heads of the Imperial and Alliance armies respectively, the two will face each other in battle over and over again.
Source: Comic Natalie