The Skye's The Limit
A Final Fantasy XIV Travelogue
Dearest Grimoire,
Mon dieu! The past days, they've been so busy!
It all began this morning, when I arrived in Crescent Cove… at first, I was taken by the views. All I could say was "C'est magnifique." The moment came to an end with quickness, though, as two fillettes rushed over. Bandits had come to this little haven, and they demanded a feast! I couldn't say "non" to them, so I rushed out to acquire the meats they required. On returning, they were simply overflowing with happiness.They explained that these vagabonds were here to trade in illicit Nashachite that was stolen from the mines.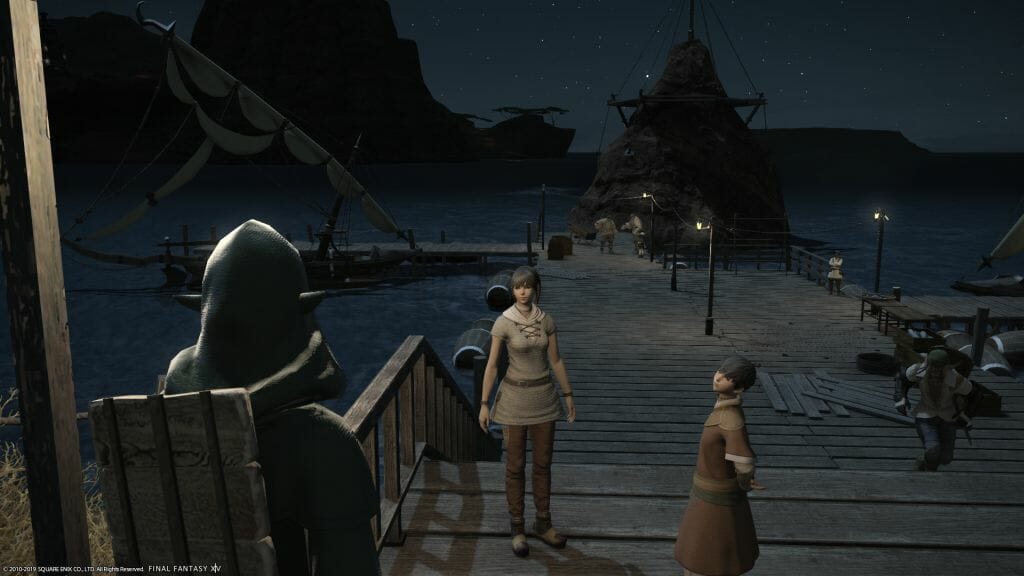 I was to see what would happen, but… oh, oh non. Petit Brass Blade Fufulupa overheard our conversation, and rushed off to find his Captain Baldewyn. But, as it turns out, Monsieur Baldewyn is not such a good person, and he has been supplying the stolen Naschachite! He claimed to be working for Lord Lolorito… a name I had not forgotten since our battle with the monstre of clay.
I had to rush as quickly as I could, to find Captain Baldewyn in a deal with un criminel! Fufulupa was stumbling into this dirty dealing as I arrived. He obviously would not let us live, after witnessing this, so it was to battle! He fought with skill and speed, though it was not enough! Fulfulpa an I, we were able to secure a victory before the great stone statues of the Footfalls!
As Baldewyn began to nurse his wounds, Leofric made his return, naming Fufulpa his successor, and placing the former captain under arrest.
La justice est servie~.
 On returning to Horizon, Fufulpa asked me to bring evidence that was retrieved from Bandewyn to mom amie Momodi at Ul'dah. With no time to spare, I ran… down to The Quicksand, where my aventure first began. Momodi knew exactly what this was, but swore me to secrecy, so I cannot speak of what the contents are! All I can say is that my next sortie will be with the great Owyne.
~Bon Chance
Tonight, I will be talking about the importance of doing your freaking job quests. Over the past two days, I've been taking a lot of time to basically catch up on the job-specific quests, particularly in Mining and Weaving.
Specifically, I've been working on the Guild Advancement quests that occur every five levels. To the game's credit, the Weaving test was surprisingly well thought-out, and requires the player to really go out there and apply the skills and little nuances you learned over the course of the Job to craft unique materials.
The Mining quest, though, was rough.
Both the Level 5 and Level 10 quests required a specific quantity of an item for the Guildmaster. In both of these cases, the task at hand basically amounted to running between five or six mining spots on a single wall, over and over again
The Level-5 goal was a stack of Bone Chips, which could be found near the railway tracks in Central Thanalan. The real painful duty came about when the guild wanted 99 Obsidian, which were found in Hammerlea (Western Thanalan).
Though both jobs were tedious as could be, the experience gained was fantastic – I was able to raise two levels in Mining while doing the Obsidian fetch quest alone, which will be sure to help once I get deeper into the game's crafting system.
Basically, I'm seeing the Guild jobs to be those "go out for your run" moments.  What I mean is that, when something like this presents itself, you really don't want to do something, and put it off until the last minute. Once you're out there, you start to actively curse, such as when running while you're in that ten-degree weather and your lungs hurt with every breath. Still, by the time you're done, you can just feel the tangible improvements you made for yourself.
So, yeah… go for that metaphorical run, and keep leveling your jobs up. Just don't try to run the marathon all at once, like I did over the past two days.
Skye Grandeterre is a Duskwight Elezen character played by Samantha Ferreira. She currently resides on the Zalera server on the Aether Data Center.
Previous installments of this column can be found via its main hub.
Support Anime Herald on Patreon
For just $1 a month, you can help Anime Herald grow into the biggest and best destination for all things anime related. Don't think it's just a donation, though! Backers get a number of perks, including behind-the-scenes articles, Director's Cut versions of classic content, early podcast access, and more!