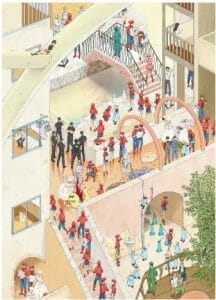 Earlier today, Aniplex of America announced that they will release Cells At Work! on Blu-Ray. The series will ship in a complete collection, which will carry a suggested price of $169.98 when it hits stores on August 27.
The publisher is also producing an English dub for the series, which will be directed by Christian La Monte with scripts by Blair Rowan.
The confirmed cast includes:
Red Blood Cell: Cherami Leigh
White Blood Cell (Neutrophil): Billy Kametz
Killer T Cell: Robbie Daymond
Macrophage: Laura Post
Platelet: Xanthe Huynh
Helper T Cell: Ray Chase
Regulatory T Cell: Erica Mendez
Dendritic Cell: Griffin Burns
B Cell: Erik Kimerer
NK Cell: Morgan Berry
Eosinophil: Kayli Mills
Senpai Red Blood Cell: Kira Buckland
Aniplex started streaming an English trailer for the show, which you can check out below.
The first season of Cells At Work! aired in the Summer 2018 broadcast season. Kenichi Suzuki (Drifters, Gundam Evolve) directed the project at David Production, with Takahiko Yoshida (Welcome to the NHK, Yowamushi Pedal) providing character designs. Yuuko Kakihara (Chihayafuru 2, Tsukigakirei) was in charge of series composition.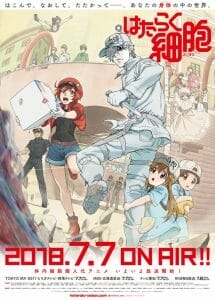 Aniplex of America currently holds the rights to the title, which they describe as:
This is a story about you. A tale about the inside of your body…

According to a new study, the human body consists of approximately 37 trillion cells.

These cells are hard at work every day within a world that is your body.

From the oxygen carrying Red Blood Cells to the bacteria fighting White Blood Cells,

Get to know the unsung heroes and the drama that unfolds inside of you!

From the popular manga "Cells at Work!" comes a brand new anthropomorphized anime TV series!

It's the oddly relatable and interesting story that is the life of cells!
Akane Shimizu's Cells at Work! manga launched in the pages of Kodansha's Monthly Shonen Sirius in March 2015. The series currently spans five compiled volumes, with the most recent book hitting retailers on August 9, 2017. Kodansha Comics currently holds the rights to the title in North America. They released the fifth volume on November 21, 2017.