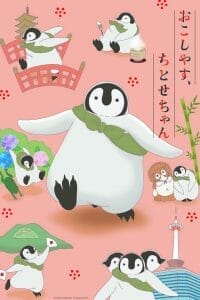 Earlier today, Crunchyroll announced that they will stream Welcome, Chitose (Okoshiyasu, Chitose-chan) as part of their digital lineup. The first eight episodes were added for subscribers in the United States and Canada today, with new episodes slated to hit on Wendesdays at 7:00PM Eastern (4:00PM Pacific).
Crunchyroll describes the series as:
A penguin chick that resides in Kyoto, whose name is none other than Chitose.

Fluffy and adorable Chitose loves delicious food and fun things. Guided by her curiosity, Chitose wanders the city of Kyoto, often found interacting with people and eating (being given) delicious food. See all the famous Kyoto landmarks, Kiyomizu temple, Ginkakuji, Gion from the perspective of a penguin. This short penguin anime series is nostalgic with a hint of warmth and sure to bring calm to the heart.
The series first aired in the Fall 2018 broadcast season.
Kyō Yatate (Bananya, CoCO & NiCO) directed Welcome, Chitose at Gathering, while Koguma scored the show's soundtrack.
Source: Crunchyroll