Earlier today, Funimation took to Twitter to announce the first two dub cast members for Nichijou – My Ordinary Life. The series will star the following:
Nano Shinonome: Monica Rial
Hakase Shinonome: Jad Saxton
The publisher started streaming an English teaser which previews the duo's performance, as Nano and Hakase deal play with a new feline friend. You can check it out below.
Funimation will re-release Nichijou – My Ordinary Life on home video and digital outlets on July 23. The new release will include the dub.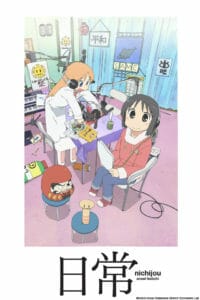 Nichijou – My Ordinary Life is based on Keiichi Arawi's manga of the same name. The series, which aired in the Spring 2011 broadcast season, was helmed by Tatsuya Ishihara (Clannad, Love, Chunibyo & Other Delusions!, Sound! Euphonium) at Kyoto Animation. Jukki Hanada (Love, Chunibyo & Other Delusions!, Love Live! School idol project) was in charge of series composition, while Futoshi Nishiya (Free! – Iwatobi Swim Club, The Melancholy of Haruhi-chan Suzumiya) provided character designs.
Bandai Entertainment originally held the domestic rights to Nichijou – My Ordinary Life and streamed the series on Crunchyroll. A home video release was originally slated for a 2012 release, but it was inevitably cancelled with Bandai's closure. Funimation announced that they acquired the title in November 2016. They released the title on subtitled home video on February 7, 2017.
Funimation describes Nichijou as:
Follow the adventures of three ordinary girls as they make life's awkward moments a thousand times worse. Along with a colorful bunch of classmates, they learn their most important lessons the hard way. Like whether goats are an appropriate form of transportation, who would win in a wrestling match between the principal and a deer, and most notably, if the three-second rule applies to weenies that fly through mohawks.

Meanwhile down the street, a pocket-sized professor makes life difficult for a robot who just wants to be normal. But normal is the last thing you can expect in a town where salmon fall from the sky. In fact, the only thing you can count on is your friends, but even they are totally weird.

From the creators of K-On! and Lucky Star comes a slice-of-life series packed with absurd antics and hilarious high school predicaments.
Source: Twitter (Funimation)